Defending champs Lizotte, Pierce coming off 7th place finishes in Vegas


As the Disc Golf Pro Tour kicks off Thursday in Scottsdale, Arizona at the Memorial Championship, the focus will be on the players, and even more so on how they're being transmitted to the viewers.
The Memorial is one of the longest-running and most respected tour events, and has been the site of some of the most exciting showdowns in the history of the game. Say what you will about the pros and cons of park style disc golf, it is hard to deny that watching the discs fly at Fountain Hills and Vista Del Camino is a great way to beat the wintertime blues.
Cameras Aimed
The biggest story of this event may be how the story of the tournament is told. They say that there is no such thing as bad publicity, but Steve Dodge and the DGPT public relations team might disagree considering the offseason they have had.
After announcing that all media would be done by an in-house DGPT production team, and that third-party crews, including but not limited to JomezPro, Central Coast Disc Golf, and Smashboxx TV, would not be able to provide lead or chase card coverage of DGPT events, the DGPT has been on the receiving end of some substantial backlash from players and fans alike. Chat boards and comment sections have been replete with declarations that, unless the DGPT welcomes back fan favorite production companies, the fans won't watch. Nate Sexton went as far to say that he will not be playing at certain DGPT events, partly in reaction to the new media policy.
In any event, the waiting is almost done and it is time to see what the DGPT has put together. As of publication, we do not have any more information about media crews helping to produce the live and post-produced content, but have been informed about the commentary teams for round coverage.
---
On the course, Simon Lizotte and Paige Pierce will be looking to defend their 2018 titles. Lizotte put together a solid first outing of 2019 at the Las Vegas Challenge and finished seventh. Pierce also finished last weekend in seventh, tied with Sarah Hokom. Pierce was in danger of missing the cut line in Vegas due to first and second rounds she would probably like to forget, but was able to get things back on track to salvage a top 10 finish. The courses this weekend will play similarly to the tracks in Vegas, which is to say long, open, and hazard-heavy. Both Pierce and Lizotte bled strokes to OB last weekend and will need to keep in the fairway and dial in their putts if they want to mount successful defenses.
It is hard to look at what Paige Bjerkaas and Calvin Heimburg did in Vegas and not consider them as favorites to at least make the podium. Both have the distance and control to score well, and both have shown mental fortitude beyond their tour experience. We know Bjerkaas is not scared of the spotlight, and Heimburg was able to turn what could have been a choke job of a final round into his first career PDGA National Tour win.
Courses and Schedule
As is tradition, Fountain Hills Park and Vista del Camino Park will be set up and in all their glory for the weekend. The Open and Women's Open divisions will be on the same courses on the same days. On Thursday and Friday, the MPO and FPO will play at Fountain Hills. On Saturday and Sunday, the open fields will play at Vista.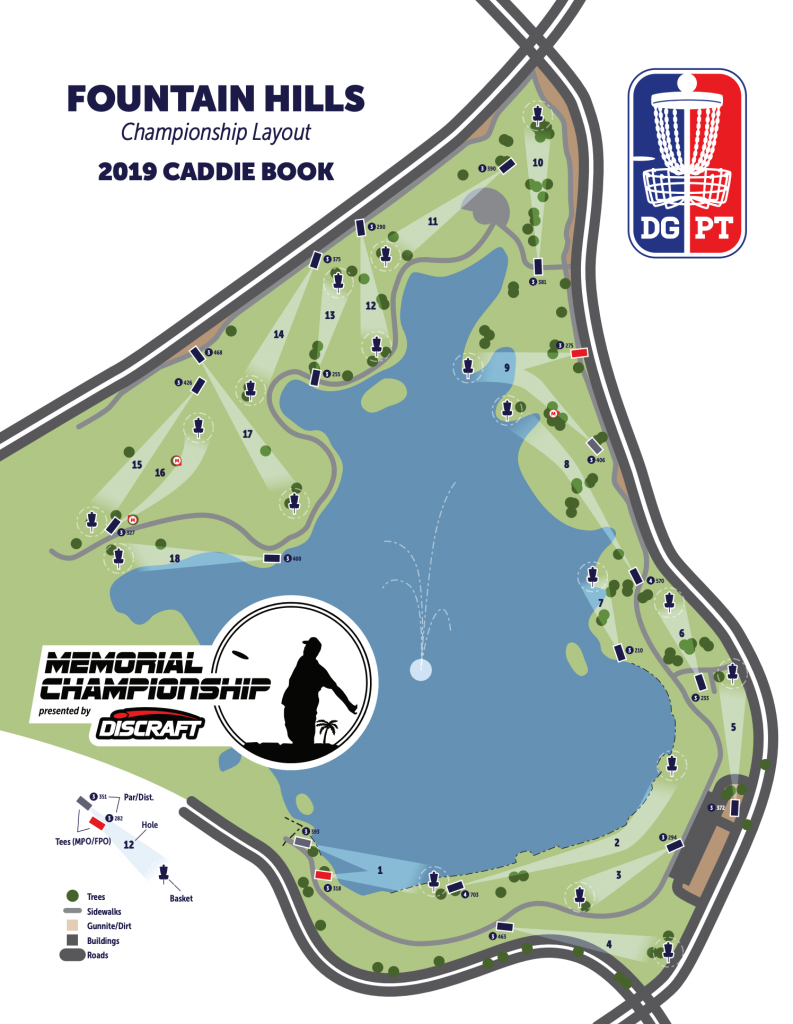 Fountain Hills Championship: MPO – par 56, 6,939 feet; FPO – par 56, 6,743 feet. Visually, this is the signature course for the event. The course winds around a pond with the eponymous fountain in the middle. Players will carry water or flirt with a splash landing on five holes. On landlocked holes, there are OB sidewalks, roads, and other elements to keep players honest and cognizant of their speed control. You can see the caddy book here.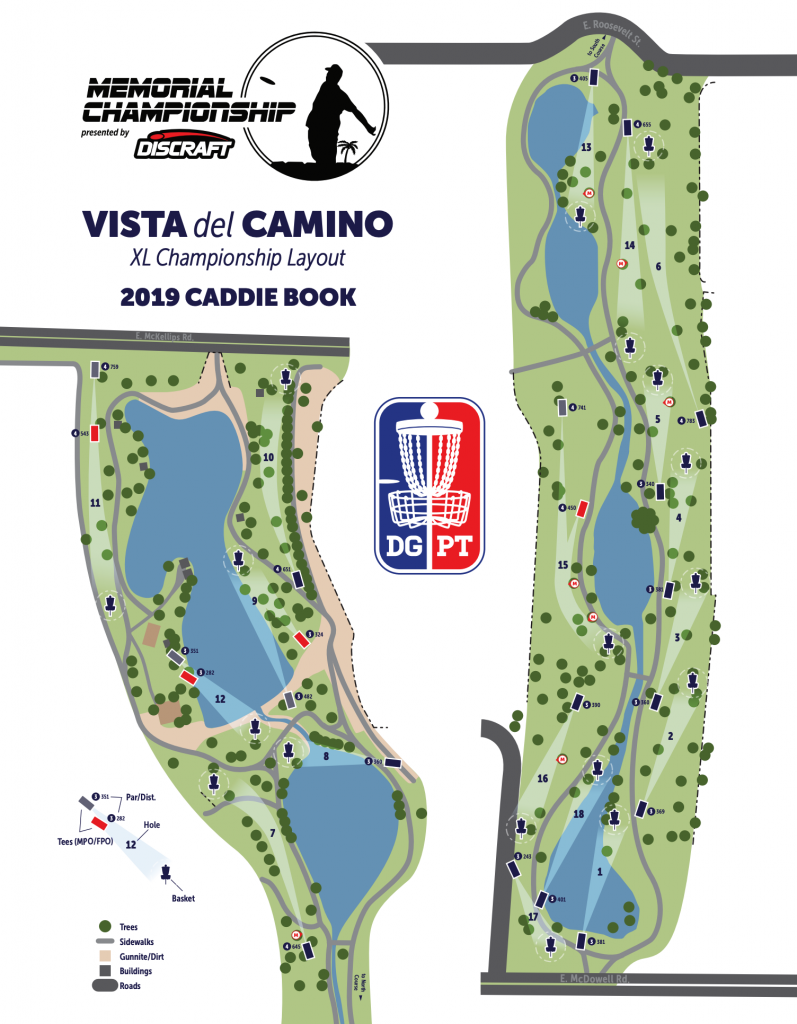 Vista del Camino XL MPO – par 60, 8,697 feet; FPO – par 60, 7,963 feet. Vista lacks the dramatic views that Fountain Hills offers, but demands that players throw it farther and more accurately. The park that the Vista course is located on is a much more narrow piece of land with a series of interconnected ponds running through the middle of it as well as roads and walking paths bordering and running through the course. All told, the course is longer and tighter than Fountain Hills, with more trees to boot. Competitors will also be seeing some changes, as hole 18 from previous years is now hole 1, and a newly-designed finishing hole is in play. You can see the caddy book here.
Crucial Shots
Eagle McMahon: "Hole 18 [at Vista] because it's a new hole and there's water completely down the right side and the landing strip is not much bigger than the circle. It's all about getting safe on the hole and giving yourself an easy putt for par. It absolutely could come down to this hole. I remember at the Shelly Sharpe Memorial, Anthony Barela beat Austin Hannum in a playoff because AB parked it, so there's some drama associated with the new hole already."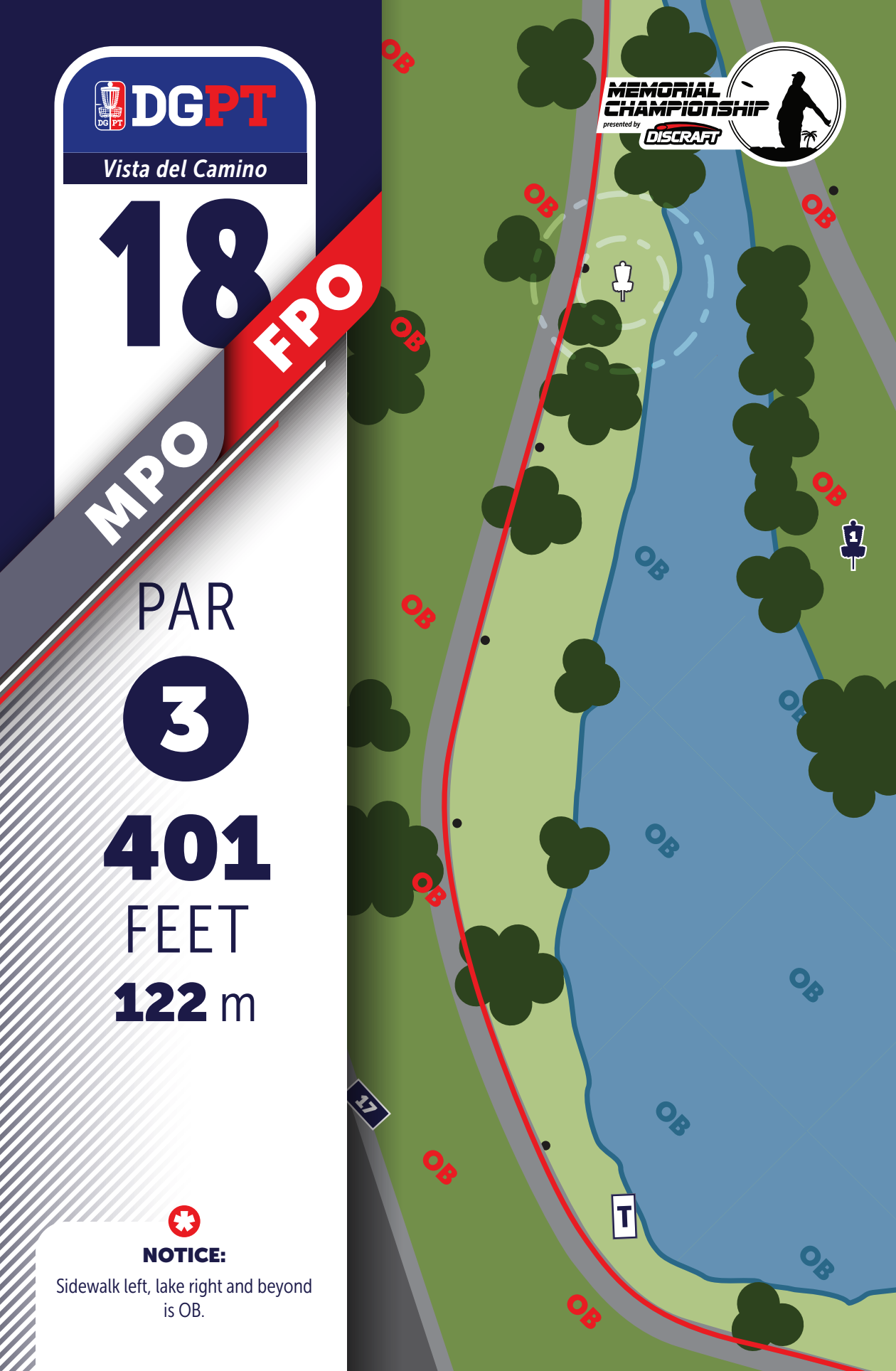 JohnE McCray: "First and last holes, set the pace for the day and finish strong. Two holes for me, I'd say."
Patrick Brown: "Instead of particular holes I'm just wanting to maintain focus and have patience, have patience through every hole, and stay within my game and mental state."
Extended Forecast
After last weekend's wet start in Las Vegas, we'll welcome dry conditions for the Memorial Championship this weekend. Upper-level ridging will move into the region this weekend, leading to warm and dry weather. Temperatures will warm into seasonal high temperatures in the low to mid 70s.
Thursday: Early tee times will see temperatures in the low 50s under partly cloudy skies. Calm wind conditions will accompany decreasing clouds in the afternoon as highs top out in the low 70s.
Friday: Temperatures will once again be in the low 50s for early tee times. Mostly sunny skies will accompany calm wind conditions. Highs will top out in the low 70s as cloud cover generally increases during the afternoon hours.
Saturday: The trend of low 50s for early tee times will continue on Saturday. The wind may pick up some out of the south and southwest as temperatures warm into the mid 70s by the afternoon hours.
Sunday: Mid 50s will again be likely as we begin championship Sunday. A 5 to 10 mph wind out of the southeast will transition out of the southwest during the afternoon. Highs will once again top out in the mid 70s.
Simon Lizotte and Paige Pierce picked up wins in similar conditions last year. Will they be able to repeat? Or will another player use the warm conditions to post the hottest scores?
How to Follow
UDisc Live will be providing stroke by stroke scoring. The Disc Golf Pro Tour, in case you hadn't heard, will be running all live and post-produced coverage of the event via their YouTube Channel. We can expect FPO and MPO live lead coverage at 10 a.m. and 4:45 p.m. eastern time respectively, and next day post-produced coverage of MPO lead and chase card, and FPO lead. Dynamic Discs and the Disc Golf Guy will also have post-produced round coverage available next week. All of the information can be found here.