Commentary partner Jeremy Koling also weighing DGPT commitment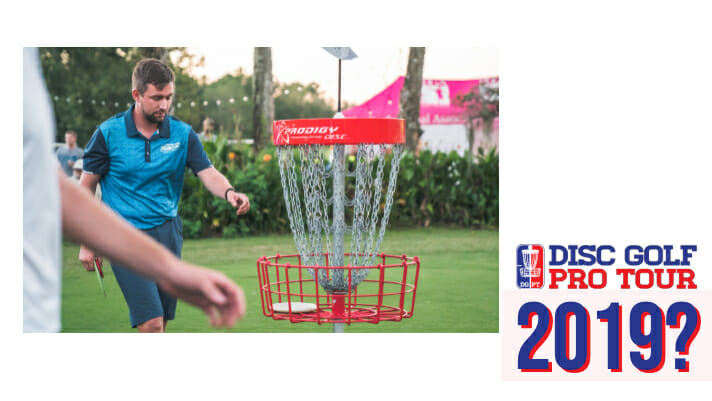 Nate Sexton made news Wednesday evening when he revealed that he would be skipping most of the 2019 Disc Golf Pro Tour schedule, but let it be known that is wasn't (entirely) for the reason many fans would have thought.
"My obligations as a father necessitated a choice be made between competing disc golf tours (DGPT and PDGA National Tour) this season," Sexton said. "I have chosen to prioritize the PDGA National Tour over the DGPT."
Sexton wife's, Brianna, is a fourth-year medical student, whose schedule has the family moving all around North Carolina for the first half of 2019 making it difficult for Sexton to commit to a full slate of tour dates. Brianna took time off from school in the past 18 months to allow the Sextons to tour full-time as a family with their daughter, Coraline, and dog, Joby.
He did, however, note that the DGPT's media plans do factor into his tour selectivity.
"I have worked closely with JomezPro and Central Coast Disc Golf over the years and I feel that I, perhaps more than anyone, owe both of those companies a lot for the platform they have given me," Sexton said. "The relationship I have with those companies is very important to me and to my brand as a professional athlete. That is why I have decided to play events where I can continue to collaborate with them and bring you as much Big Sexy commentary and Champs vs. Chumps as I can!
"The DGPT is its own entity with its own business interests and they made the decision to take their media in-house for 2019 and beyond. This is absolutely their right, and while I don't personally like it, it is not my choice to make and my opinion is clearly biased."
In a follow-up with Ultiworld Disc Golf, Sexton clarified that he would not be competing in the full circuit of JomezPro events, but thinks he will "probably [be at] some" non-NT tournaments the crew is filming. He said he was currently registered for Throw Down The Mountain, although he is not, "100-percent sure it is going to work out."
Sexton said he may still play some DGPT events such as the Ledgestone Insurance Open, as the defending champion, and the inaugural Portland Open.
Ultiworld Disc Golf also reached Sexton's "Big Sexy" commentary partner, Jeremy Koling, to gauge his level of commitment to the DGPT season.
"I'm in a similar boat," Koling said. "I'll probably compete in several more DGPTs than Nate, but I'm definitely prioritizing with the NT simply for commentary/Jomez reasons."
Koling is neither registered nor on the wait list for the Memorial Championship but is signed-up for the Waco Annual Charity Open where he is the two-time defending champion. He is currently scheduled to play Throw Down The Mountain and Nick Hyde Memorial, two events JomezPro will be covering.