They all dropped in the bucket, but who did it best?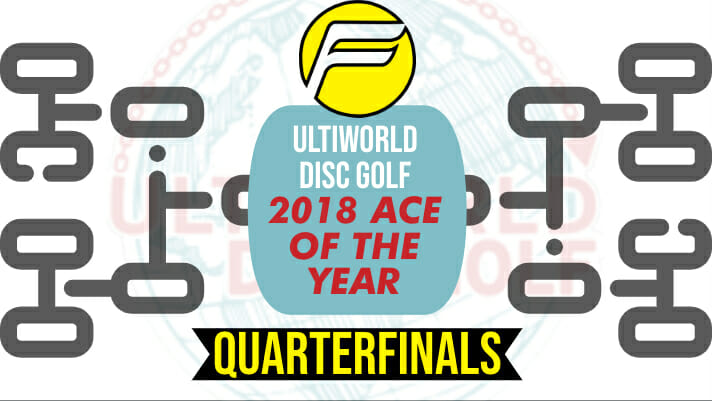 Ultiworld Disc Golf's 2018 Ace of the Year voting is presented by Friction Gloves; all opinions are those of the author. Check out our review of Friction's DG Gloves here.
The opening round of the Ace of the Year was a bloodbath for top seeds, as not a single one advanced into the quarterfinals! This is why voting matters people! And why seeding is a silly practice! Make sure you vote on your favorite ace of the year as we whittle it down to a final four.
---
#16 Chandler Fry vs. #9 Trevor Harbolt
In a major upset, Sias Elmore's thumber ace was beaten by Chandler Fry at the Canadian Championship.
And in a battle of aces on the same hole, Trevor Harbolt came out on top over Ricky Wysocki with his backhand at the MVP Open by a 0.45% margin.
#13 Bradley Williams vs. #12 Paul Ulibarri
It's a Texas-sized showdown, as Bradley Williams' Texas State ace wiped away Gregg Barsby from Tyyni, and Paul Ulibarri's sidearm was apparently more impressive than Eagle McMahon's bomb at the Oklahoma Open.
---
#15 A.J. Carey vs. #10 Matt Versola
It's a good thing Uli made it through one matchup, because A.J. Carey bested his USDGC ace with his own from hole 1.
Matt Versola was probably a sleeper in the no. 10 slot and he took down Emerson Keith to advance.
#14 Sindre Roar Fosse vs. #11 Margaret Sassaman
Sindre Roar Fosse's uphill skip proved more impressive than Linus Carlsson's Open weekend, and he advances from the Euro duel.
And a big shout out to Margaret Sassaman who ran away from Sarah Hokom here to take the final spot in the semis. Well deserved.
Voting ends December 14