Who are we missing? Who is in your top three?
The PDGA National Tour wraps up its season this weekend at the International Disc Golf Center with the Ed Headrick Hall of Fame Classic. It's been a soggy couple of days in Appling, Georgia as Hurricane Michael made landfall Wednesday in the Florida Gulf region and pushed rapidly through the southeast. Fortunately, the weekend forecast is perfect for golf: sunny and warm.
Last year the first round was contested on the Ed Headrick Course. Twenty five players scored double digits under par, and James Conrad set the course record with a 16-under par 48. Too easy. This year, the Open divisions play an updated W.R. Jackson Course each of the three rounds. Sticking to one course should be a welcome change. With limited opportunities for practice due to the inclement weather, and the onset of late-season fatigue, who's still got that fire in the belly to go out and win this weekend?
Charlie Eisenhood and Jamie Thomas made their picks on The UpShot, now the Ultiworld writers have their say. This week the top 50-percent of competitors rated over 900 in FPO and over 1000 in MPO were excluded from Dark Horse status.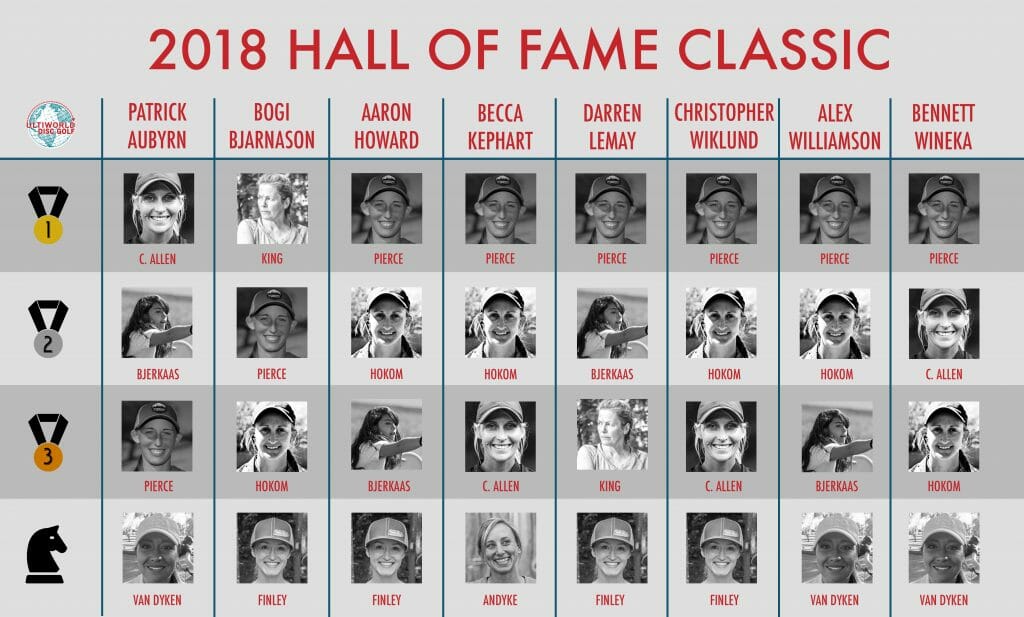 Rationale
Paige Pierce seems like she's in a good place right now. Winning the USWDGC and getting another crack at Winthrop Gold certainly don't hurt, either. She began the year on a tear, winning her first nine events, and hopes to close the year on a high note with another string of firsts. ~Darren LeMay
I interviewed Catrina Allen earlier this week. To say that I have a good feeling about her chances at the Hall of Fame Classic would be an understatement. Her competitive fire is intense and undiminished at season's end. Remember, Allen was the only player in FPO to shoot two rounds in the 60s on the W.R. Jackson Course last year, and averaged 994-rated golf in the process. ~Patrick Aubyrn
For the USWDGC I went full pocket pick with Holly Finley to make the podium as a Dark Horse and came up aces. Elaine King isn't technically a DH, but she's definitely a sleeper. I'm doubling down on my risky betting and picking King to win FPO at the HOFC. No further explanation needed. ~Bogi Bjarnason
Sarah Hokom may have hit a bit of a speed bump at USWDGC, but I expect a strong rebound this weekend. She took second last year and knows these courses well. Hokom should follow-up her first NT win of the season with another podium finish.~Becca Kephart
The IDGC is heaven to anyone who believes woods golf is the best golf. Paige Bjerkaas finished no worse than third at recent events featuring heavy woods: MVP, Nantucket, Worlds, and Delaware. A bounce-back from a disappointing ninth place finish at the USWDGC — on short courses that were occasionally no better than your average city park fare — seems likely, if not inevitable. ~Alex Williamson
The Cavalry
Holly Finley's rating has never been higher and she's fresh off top 10 finishes at two big tournaments. She's on the rise and may be zooming right past dark horse status. ~Aaron Howard
After a rough start to her return stateside — 26th at Worlds, ninth in a 15 player field in Delaware — Finnish expat Vanessa Van Dyken picked up her game in Michigan and tied with Holly Finley for second at the USWDGC. Expect this upward trend to continue and for Van Dyken to be in contention in Georgia. ~Alex Williamson
Although she hasn't played as many events as some other touring pros, Zoe Andyke has put together a very good season. The reigning putting world champion can put it all together for a strong finish. ~Becca Kephart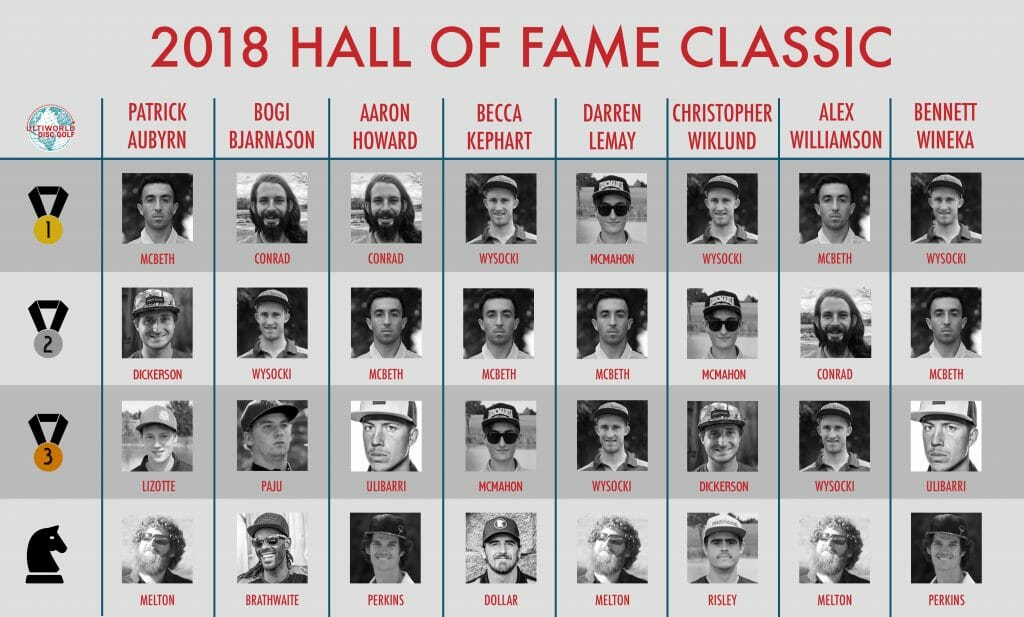 Rationale
It was Ricky Wysocki who prevailed in a three man playoff last year. He hasn't won an event since returning from Europe in July, but I think he's going to play well this weekend. Don't forget that he just put in a major effort in Delaware on a similar course. Basically, Ricky is overdue for a win and he may catch McBeth on a hangover. ~Benn Wineka
Paul McBeth is feeling healthy again after illness threatened to derail his USDGC. If Eagle McMahon and Ricky Wysocki turn in lackluster performances this weekend, McBeth has an outside chance to win the NT Points Series. Obviously, a victory in Georgia increases his odds. How can you pick against him? The guy hasn't trailed in an event since Worlds — seven rounds and counting — and he's keen to put a cap on an impressive second half of the season. ~Patrick Aubyrn
W.R. Jackson has a lot of trees, and James Conrad finished in the top five at the Hall of Fame Classic last year. Though he didn't finish up to his standards in the Delaware woods (17th), he conquered his open course demons and finished second at USDGC. Who doesn't want to see those beautiful Aviar shots in the woods on lead card coverage?! ~Aaron Howard
Before the season began, Eagle McMahon said he would be happy with any finish inside of the top 10 this year. With the exception of Worlds, where he placed 39th, he quietly achieved this goal at the other East Coast events. But it's not felt like he's been in contention since winning the Konopiště Open. Expect him to make some noise this weekend. ~Darren LeMay
Chris Dickerson hasn't cracked the top 10 at a National Tour event this season, but W.R. Jackson is tailor made for his game. Dickerson excels playing in the woods and dominates in the south. Last year he averaged 1035-rated golf at Jackson between Worlds, where he finished fifth, and the Hall of Fame Classic, where he finished seventh. We all saw what he was capable of at Ledgestone, a track that is not as well-suited to his game, so imagine what he can do when he is comfortable? ~Chris Wiklund
Paul Ulibarri has finished outside the top five twice since the Idlewild Open. Last week may have been one of those finishes, but he's been playing some of his best golf in a long time since the tour moved east. ~Benn Wineka
If anyone needs a strong finish to end his season, it's Simon Lizotte. The German has been in a bit of a funk since the MVP Open with especially disappointing finishes at Worlds (25) and the USDGC (52). His stated preference is for long, wooded courses where he can capitalize on his distance and accuracy. But he's a mercurial player. Will we see a focused or apathetic Simon this weekend? I'm betting on the prior. ~Patrick Aubyrn
I doubt Seppo Paju was pleased with his performance at USDGC last weekend, where he only showed his true colors (white and blue, obviously) in the third round. This weekend he's bound to proudly fly them from the first drive to last putt. Give the man some silverware to hang above his bed in the Moominhouse where he hibernates throughout the off-season. ~Bogi Bjarnason
The Cavalry
It's been a pretty darn good year for Zach Melton, who has found himself on high profile lead and chase cards galore. Add to that his top 10 showings on the wooded fairways of Maple Hill and Iron Hill and his eighth place finish at the HOFC last year, and you've got yourself one heck of a lefty dark horse (with a glorious mane, to boot). ~Alex Williamson
Nate Perkins finishes, on average, about eight spots higher at tournaments played on wooded courses as compared to open courses.  So I'm saying there's a chance! ~Aaron Howard
Mr. Philo Brathwaite wasn't quite sure whether to boom or bust at USDGC last week, so he decided to do a little bit of both: busting his heart out during rounds one and two and booming louder than the 1920s in rounds three and four. Expect him to carry that roaring momentum into the woods of Georgia like a possessed chainsaw careening toward the podium. ~Bogi Bjarnason
Matt Dollar keeps threatening for a round or two at big tournaments. If he can stay consistent, he has a great chance to make some waves this weekend in his home state.~Becca Kephart
AJ Risley has shown flashes of brilliance throughout the season but hasn't been able to hammer home the signature win. Risley is a surprisingly big, strong guy and has all the touch and power needed to finish well at this event. If he can keep his mental game strong, he should have a shot at his first National Tour win. ~Chris Wiklund