JohnE delivered in a make it or break it moment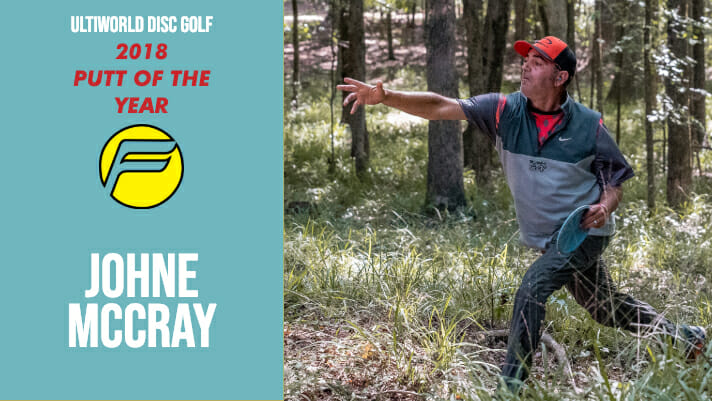 Ultiworld Disc Golf's 2018 Putt of the Year voting is presented by Friction Gloves; all opinions are those of the author. Check out our review of Friction's DG Gloves here.
In the most contested bracket from start to finish, it's no. 2 seed JohnE McCray who saw it to the end to take home the 2018 Putt of the Year.
With Paul McBeth and Gregg Barsby battling for the top two podium spots during the final round of the Hall of Fame Classic, McCray was trying to match players already in the clubhouse and finish in a tie for third. McCray played the 726-foot hole 18 perfectly, getting up the hill and around the corner after two shots on the scorable par 5.
He would need the eagle 3 to stay in a tie for third, and McCray was on the edge of Circle 2 but with a clear shot at the basket. As he is wont to do in these types of situations, McCray balanced his disc on his thumb, cocked it back near his shoulder, and released a turbo putt we'll remember for years to come.
Third place at the International Disc Golf Center was good, the putt was great.