Van Dyken and Finley tie for second; King takes Masters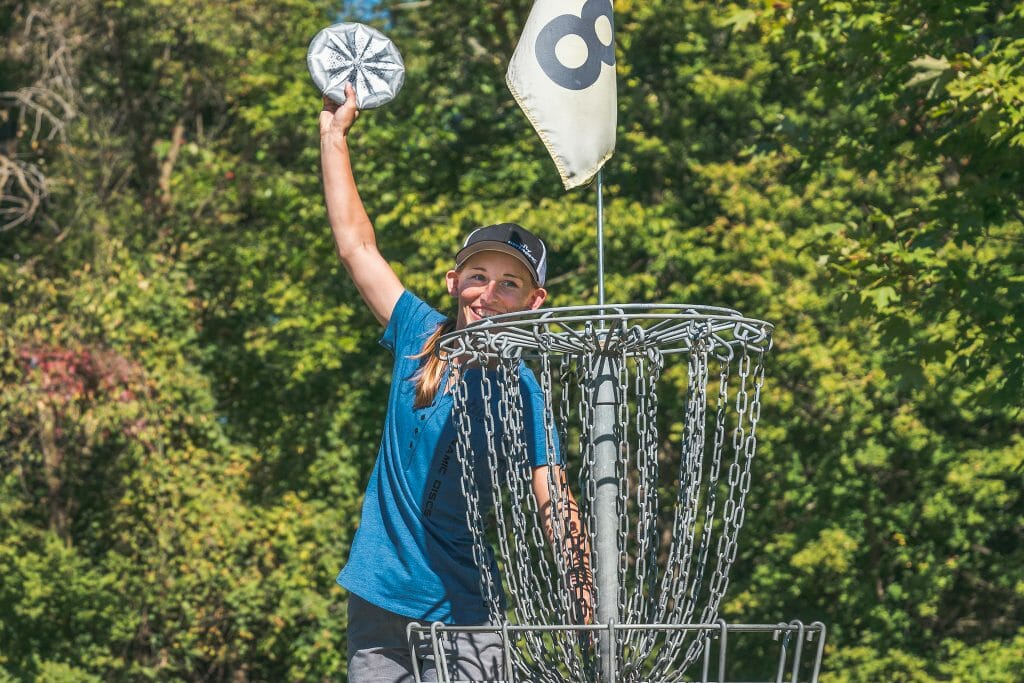 After a long weekend of disc golf, Paige Pierce lifted the 2018 United States Women's Disc Golf Championship trophy at Burchfield Park in Lansing, Michigan, joining Des Reading as the only other player to win three USWDGC titles.
It was a close battle over the final 21 holes, with players threatening to take the top spot from both the lead and chase cards. At one point, Holly Finley, who started the day just one back, was able to tie Pierce in first, and Vanessa Van Dyken was along for the ride as well.
Ultimately it was Pierce that prevailed, carding a 5-under par 61 to result in a 17-under par 246 total for the tournament, putting her two strokes clear of Finley and Van Dyken who tied for second at 15-under 248 total. Pierce and Van Dyken both shot the 987-rated hot round on Sunday.
Pierce credited her putting as the key to the win and United States Disc Golf Championship invitation.
"My putting was finally on, it's been struggling a lot lately so I think I improved quite dramatically on the putting green," Pierce said. "I'm pretty good at getting inside the circle, but not capitalizing from there. I was able to get a lot of birdies this weekend and minimized my mistakes."
With a slim lead heading into the final round, Pierce was mostly focused on staying mistake free.
"The other three rounds I had two terrible holes per round, so the final round I just wanted to get rid of those and keep it steady," Pierce said of her strategy.
Pierce was able to execute the game plan exceedingly well. Outside of one bogey on hole 2, she was clean the rest of the round, only carding birdies and pars. Throughout the final round, Pierce kept watch on PDGA Live Scoring knowing others were within striking distance.
"I was definitely keeping an eye on the scoreboard, anyone from the second card could have won as well," said Pierce. "Then when Holly hit a huge putt on hole 10 from like probably 70 feet, I really started looking at the scores just realizing I need to get every birdie I can get out here because it's really anyone's game."
But when asked about the courses and format, Pierce was not particularly happy.
"I wasn't a huge fan of the courses at all. They were very short shots, I mean, almost every single hole each of us had a putt even if it was a bad drive," Pierce said. "I didn't enjoy the fact either that we had four different formats essentially, it made us learn four different courses."
When asked about Van Dyken's comment that USWDGC should be at the same location every year, Pierce was in agreement.
"I completely agree as well. I was thinking that the men's, the USDGC, never moves, the tournament director doesn't change, all of it is just so consistent and I think that's why it's such a great tournament and very prestigious," Pierce said. "And the fact that every year US Women's, you don't even know where it's going to be, or who's running it, or what course you're on, or anything like that. I think it kind of lacks a little bit of the prestige and certainty in what you're going to play."
Kristin Tattar carded a 2-under par 64 in the final round to end her tournament with an 11-under par 252 total in fourth place. Catrina Allen and Zoe Andyke tied for fifth place with 9-under par 254 totals.
Elaine King won her first Masters USWDGC title by 20 strokes over Sara Nicholson. She averaged 956-rated golf for the weekend.