10 meters, 10 quick hits.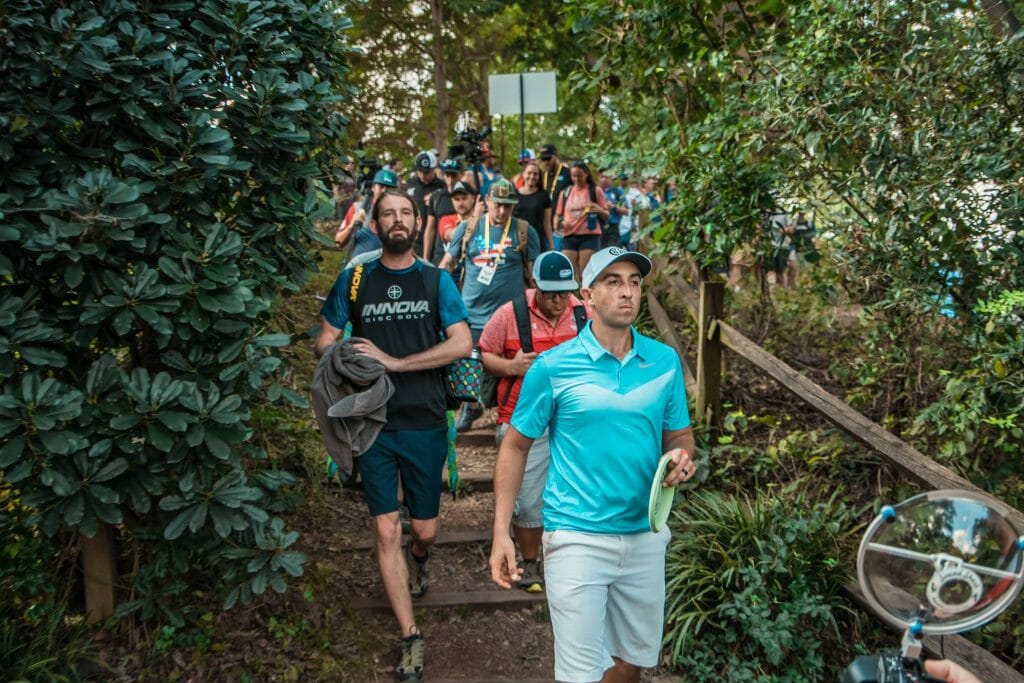 1m — Congratulations to Paul McBeth for winning his first major championship on American soil since 2015. Is there a better closer in the game? His final round 5-under par 62 wasn't a thing of beauty, but when he needed to make shots down the stretch, he dug deep and made them. Kevin Jones came within one stroke on holes 5 and 12, James Conrad tied it up on hole 13 and trailed by one heading into 18, but McBeth slammed the door. His approach on 18 will go down in the books as one of the best shots to clinch a victory in disc golf history. He is unshakeable; you just never get the sense that he's worried. And why would McBeth get nervous when he can go wire-to-wire without surrendering the lead at the United States Disc Golf Championship?
2m — When I interviewed Nate Sexton for the most recent installment of my column, View from the Top, he told me, "there are a couple of guys in our sport who can play at, maybe, 80-percent efficiency and still win: Rick, Paul, perhaps Eagle." Exhibit A: the 2018 USDGC. I would grade McBeth above the C-line, but not by much. Perhaps I'm being unfair. McBeast was on track for a 50-under par performance after two rounds. That's what we wanted to see, maybe even what we expected, as fans. A runaway. Despite tallying a meager 9-under par over the course of the final two days, McBeast still averaged 1061-rated golf for the weekend, 14 points above his 1047 player rating. Simply put, the law of averages may have doomed Conrad, Jones, and Sexton. The 2017 champion (1035) and Conrad (1033) needed to play approximately 25 points above their rating, Jones (1026) 35 points above his, to win. Against the curve, McBeth still earns his A-plus.
3m — On The UpShot Live, Jamie Thomas said there was no way that Paul McBeth — or anyone else for that matter — could shoot four rounds at 10-under par or better on the Winthrop Gold Course. I'm not sure I agree. McBeth looked dialed in on Wednesday and Thursday before regressing to the mean as he battled illness on Friday and Saturday. But to Thomas' point, only eight golfers carded rounds in the double digits under par for the tournament. The newly minted 2X was the only player to accomplish this feat twice, and his 13-under par 54 and 12-under par 55 were the best two rounds in the books.
4m — I'm going to catch some flack for saying this, but I think that the USDGC is hamstrung by its venue. Holes 4, 5, 17, and 18 are some of the best we see on tour all year. Iconic. Holes 7, 9, 10, 11, 12 are some of the worst. In the iffy bucket? Holes where roads or parking lots serve as critical architectural components, where fences divide in bounds and out of bounds, or where mozzarella sticks become arbiters of justice. Honestly, I believe there will come a day when the caliber of championship quality courses available worldwide will render the Winthorp Gold course obsolete. Why not get ahead of the curve and start scouting new locations now? I know that Winthrop University is a great partner and the recreation complex offers outstanding infrastructure, but at what cost in the long term?
5m — I have yet to see a triple island hole that isn't cringe-worthy.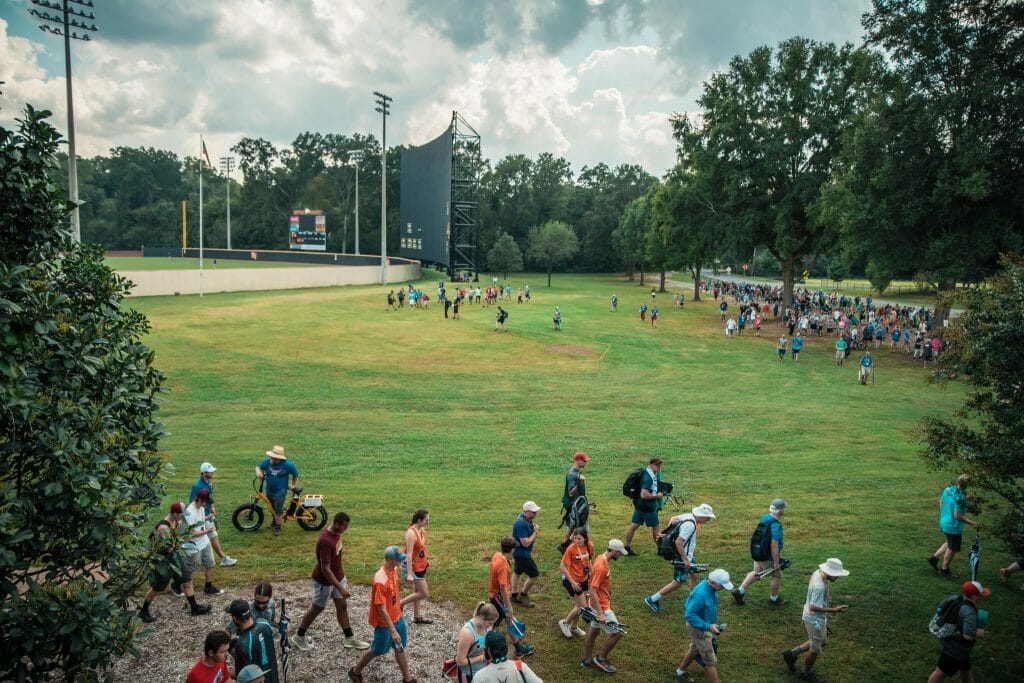 6m — More on the live coverage tomorrow. I wasn't displeased, but for the time being, suffice it to say that the concept was let down by the execution. Innova should definitely reprise Hole 17 Live next year with Fulcrum at the helm, because they have a recipe for success, they just need to adjust the seasonings.
7m — Garrett Gurthie and Adam Hammes eagled the 13th on Saturday. They were the only two players to accomplish this feat in 2018. The par 5 is an example of great course design, save its subpar aesthetics, testing decision-making and execution. I love that the pin placements are significantly different, and the scoring was really balanced all weekend. Check out UDisc Live for the full breakdown.
8m — I liked watching Linus Carlsson take his meter relief from the hay bales on the 17th green. American golfers tend to toe-heel three steps from the boundary, one, two, three. It's a somewhat humorous nod to the English measurement system (i.e. three "feet"). Carlsson measured the initial distance with two feet and then eyeballed the rest. Trust a Swede to know a meter. In fairness, you'll never exceed 100cm relief with three steps unless you're Shaquille O'Neal, whose (EU) size 56 shoes clock in somewhere around the 37.3cm mark.
9m — Kevin Jones sported a pair of wireless earbuds on the course this past weekend. He joins the likes of JohnE McCray, Barry Schultz, and Sarah Hokom in the small camp of high-level professionals who tune-out distractions. I'm not sure how I feel about earbuds on the course during tournament play, but lean against. The USGA bans headphones or earplugs that eliminate noise distractions. The USTA does the same. On the other hand, snowboarders are seldom without helmet jams. I'm probably just being a fuddy-duddy.
10m — If you're ever in the vicinity of Elgin, Illinois, check out the Rolling Knolls disc golf course. It was designed by Dana Vicich and installed in 2017. The property was formerly an 18 hole golf course and is now managed by the Cook County Forest Preserve. It features manicured fairways, multiple pin placements, and varied terrain amidst native prairie restoration. Wildlife abounds. Really lovely and fun to play.