Who are we missing? Who is in your top 3?
The United States Disc Golf Championship is the standard-bearer when it comes to professional disc golf. Pro Worlds may have the longer pedigree, but its 20-year-old younger sibling has the polish. For a week in Rock Hill, South Carolina, golfers and spectators alike revel in the "major sporting event" atmosphere cultivated by the folks at Innova East.
There are some controversial changes to the course and the live coverage format, but for a tournament staff that strives to push the envelope, this is par for the course. Whatever your thoughts on these matters, the 2018 USDGC is sure to provide its usual dose of high stakes, drama-laden action we've come to expect from the October Major.
Charlie Eisenhood and Jamie Thomas made their picks on The UpShot, now the Ultiworld writers have their say. This week the top 20-percent of competitors rated over 1000 were excluded from Dark Horse status.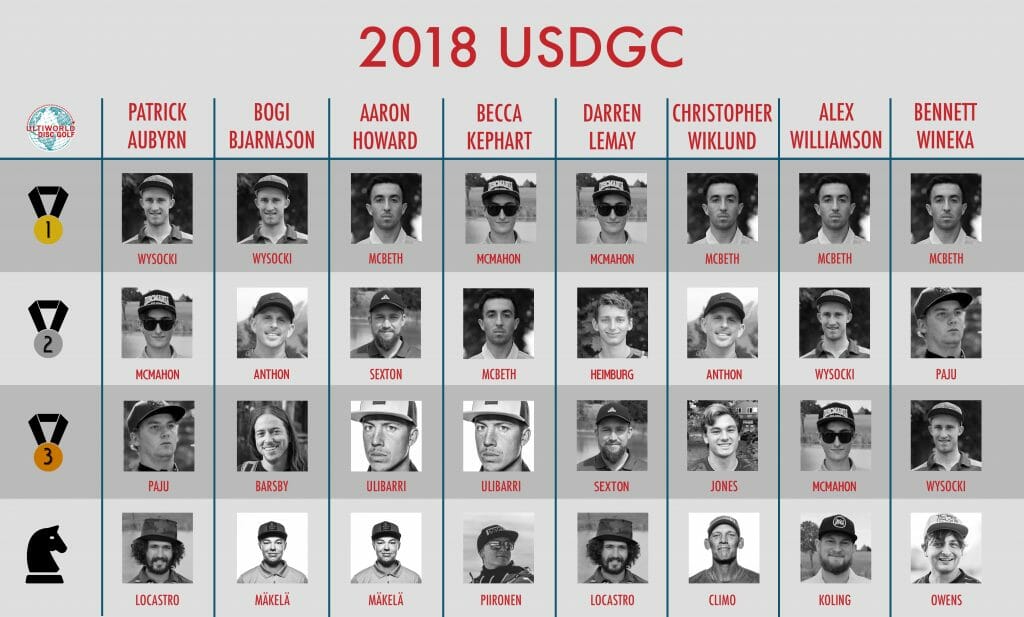 Rationale
Paul McBeth was the only Open player to find the podium at the last three big tour stops — the MVP Open, Pro Worlds, and the Delaware Disc Golf Challenge — and never finished below second place (2nd, tied for 2nd, 1st). Over the last month and a half, he's been the most consistent player on tour and he usually shines on the big stage. If McBeth isn't near the top this week, I'll eat my putter. ~Alex Williamson
Europe was Ricky Wysocki's playground earlier this year. He won three A-tiers and finished fifth at the Konopiště Open. Since returning stateside, he hasn't notched a "W" in five events. Wysocki went four tournaments without a win twice in 2017, and once so far in 2018. In 2016 his worst drought was two events. I'd say the two-time world champion is overdue. ~Patrick Aubyrn
Eagle McMahon is better than his finishes at the USDGC indicate. When he made his debut at Winthrop in 2015 he opened with a 59 and was in second place going into round two. In the weather-shortened 2016 edition, he led by three strokes with six holes to play in what would be the final round before it all fell apart on hole 13. Last year he was fighting through a late-season swoon and tied for 20th. 2018 is easily his best season to date, and I expect his best finish. ~Darren LeMay

Here's some trivia for you à la Jeopardy: In 2009, this player was the first competitor to ever shoot 53 on the Winthrop Gold course and has finished inside the top 20 at the USDGC in every one of his 10 appearances. If you answered, "Who is Joshua Anthon?" you are correct. ~Bogi Bjarnason
Winner of his most recent tournament? Check. Defending U.S. champion? Check. Pinpoint precision necessary for an O.B. heavy Winthrop Gold course? Check. Nate Sexton is ready to defend his USDGC title. Pay no attention to his subpar finish at Worlds last month, I am picking him to finish strong in Rock Hill. ~Aaron Howard
This will be Calvin Heimburg's first time competing at the USDGC. It is also his first year touring after August. He jumped 12 rating points, from 1019 to 1031 (current), over the summer. Footage from the 2017 MVP Open, where he finished in third place, showed his ability to play for the landing zone and demonstrated his top tier power. He'll play for eagles when the aggressive lines are available. ~Darren LeMay

Paul Ulibarri is trending upward at big events. After finishing 35th at the Ledgestone Insurance Open, he hasn't placed lower than fifth place. A veteran, Ulibarri will be competing in his 11th USDGC and looking for his first podium finish. He's come close before, finishing fourth in 2012. Expect his best in 2018. ~Becca Kephart
If Seppo Paju isn't on your list of best throwers on tour, ya list is boring. Paju finished sixth at Winthrop in 2017, and in two events stateside over the past month — Pro Worlds and the Delaware Disc Golf Challenge — he hasn't placed outside the top six. I'm pretty confident we'll be watching footage of Paju's rounds this year. ~Benn Wineka
Gregg Barsby DNF'd at the 2016 USDGC. Bummer. He cruised to a fourth place finish in 2017. Bounceback. Save for some inopportune double bogeys and an unfortunate incident in which a spotter's lunchbox kept his approach O.B. on hole 12, he would have finished second. Fortunately, his woulda, coulda, shouldas lie in the past now, and the A-position on the Island Hole awaits. All he has to do is take a deep breath, play it for par, and bring some silverware home from Rock Hill. After all, he recently beat a fairly large collection of decent players at some tournament in Vermont. ~Bogi Bjarnason
Kevin Jones had his big coming out party at the 2017 USDGC, and showed what he can do on a course like this when he is able to keep his disc in bounds. Jones certainly has the distance to gain strokes on the long par 4s, and he has the variety of shots both backhand and forehand to play the course "as intended." The biggest question for Jones this season has been, will he be able to reign in his aggressive nature to prevent bleeding strokes? ~Chris Wiklund
The Cavalry
Nikko Locastro has shown flashes of brilliance on the national stage in 2018. He was in contention at the World Championships until the fourth round and played his best golf on the Fox Run Meadows course, which should bode well for the 2009 USDGC champion. ~Patrick Aubyrn
Väinö Mäkelä had a very strong second half of the season in Europe. He is definitely a player on his way up. He won his most recent tournament and his rating has gone up 12 points, to 1024, since June! ~Aaron Howard
Leo Piironen has all the skills needed to make a run up the leaderboard. He's the reigning Finnish National champion and has competed at USDGC the last two years. Familiarity with the course will be another asset. ~Becca Kephart
Ken Climo is back in action. The USDGC will be the Champ's only sanctioned event in 2018 and first since the 2017 Throw Down The Mountain. We talk about disc golf being a sport for all ages and abilities, and Climo is a man of exceptional ability. Assuming he is practicing the course, any rust that may have accumulated during his hiatus from competitive play should be shaken off, and he should not be counted out of contention. ~Chris Wiklund (Ed. Note: Climo has withdrawn.)
It hasn't been the best season for Jeremy Koling. However, when he feels comfortable on a course, his level of play rises (as we saw earlier this year at the Waco Annual Charity Open). With Rock Hill being close to his hometown of Charlotte, North Carolina, and his 2016 USDGC championship not far in the past, that comfort level is likely pretty high. It wouldn't be a surprise to see him make a strong showing. ~Alex Williamson
Does being a lefty give you an advantage at USDGC? No idea, but Devan Owens bombs and has performed well in Rock Hill in the past. ~Benn Wineka