The women's rankings see movement while the top men don't budge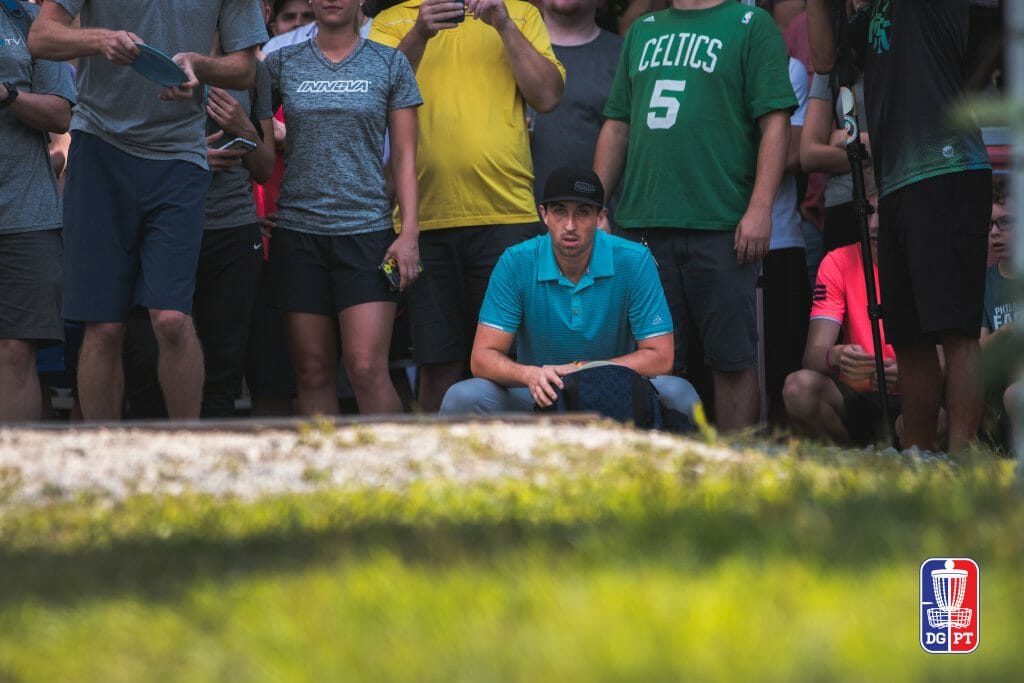 He may not have gotten a win since our last update, but a strong showing at the MVP Open keeps Paul McBeth atop the rankings as the PDGA Professional World Championship gets started at Smugglers' Notch Resort. James Conrad used his woods acumen to continue navigating his way up the leaderboard while Eagle McMahon maintains his hold as one of the game's hottest players despite only playing one event in the past six weeks. It feels weird seeing Ricky Wysocki lower down the list, but it just goes to show how wide open the field is at the moment.
The big shakeup can be seen on the women's side as Sarah Hokom handily took over first place after several weeks of solid outings, usurping Paige Pierce who's had a lock on the spot all year. While we won't get to see Henna Blomroos and Eveliina Salonen at Pro Worlds, the two's performances have been noted and rewarded accordingly. We are excited to see Kristin Tattar flex her game stateside for a bit.
Quick Hits:
Väinö Mäkelä won the 2016 European Disc Golf Championship in the Junior I Boys division; he took 3rd in Open last August. Talk about a meteoric rise. And get this, he doesn't turn 20 until later this month. Between June and August, his rating jumped 11 points to 1023. Watch out, USDGC.
Cale Leiviska's been written up in Circle M1nday and the Ultiworld Disc Golf Staff Picks this week. Give the man some Power Rankings! The Minnesotan hasn't played much outside of MN & WI this year, but he's up to his usual tricks: racking up wins in the heartland and capturing hearts when he hits the road.
Kevin Jones gets a lot of hype as a young player to watch on tour, but nobody should be sleeping on Grady Shue either. He's been hovering around our top 20 all season, but I wouldn't be surprised to see him finish out the year solidly inside our top 15, or maybe even top 10 — he finished out 2017 strong and we expect the same this year.
It's late summer and campuses around SEC country are back making noise on Saturdays — it's time for football (Roll Tide!). In terms of disc golf, that means 'Bama's best, Cameron Colglazier and Matt Orum, reappear on the touring scene like a predictable crimson tide, cashing in high finishes as they prepare for Worlds. They're two of the best players in the world who don't tour regularly, so don your houndstooth hat, sit back, and see how well they can finish this weekend in Vermont.
Conquering the Ledgestone Insurance Open was no small feat, and you have to think Nate Sexton has his mind on the similarities between Fox Run Meadows and the Lake Eureka courses. It's a good time to be playing your best golf of the season and Sexton seems to be doing so.
It was no fluke seeing Calvin Heimburg hold his own for two rounds on the lead card at the MVP Open. The young Floridian has been on the road since the Idlewild Open and has not placed below 11th in stacked fields over that time.
Quick Hits:
To date, Jessica Weese has played 27 events in 2018. She's slated to crack 30 for the year. Grinding it out on the road is not without its spoils, though: Weese has 5 wins at A-tiers, two since July, and routinely finishes in the top 4.
Catrina Allen drops again in our rankings, but it seems like less a result of her play and more so improved competition from the likes of Bjerkaas, Blomroos, and Salonen. She is still near tops in many significant statistical categories this season, so don't expect her to fall much further than this.
Since entering our last rankings for the first time, Paige Bjerkaas has two A-tier wins, has not finished below third and decided to take some time off from school to tour full-time. We are very much looking forward to a full season from Bjerkaas as her play has only gotten stronger the longer she's been on the road.
Not only did Paige Pierce drop from the number one spot, she fell all the way down to fourth. She hasn't looked herself for an entire tournament in some time. Pierce did capture a win at the Nantucket Open after two tournaments in a row where she finished off the podium.