A career-high round and family affair translates to first world title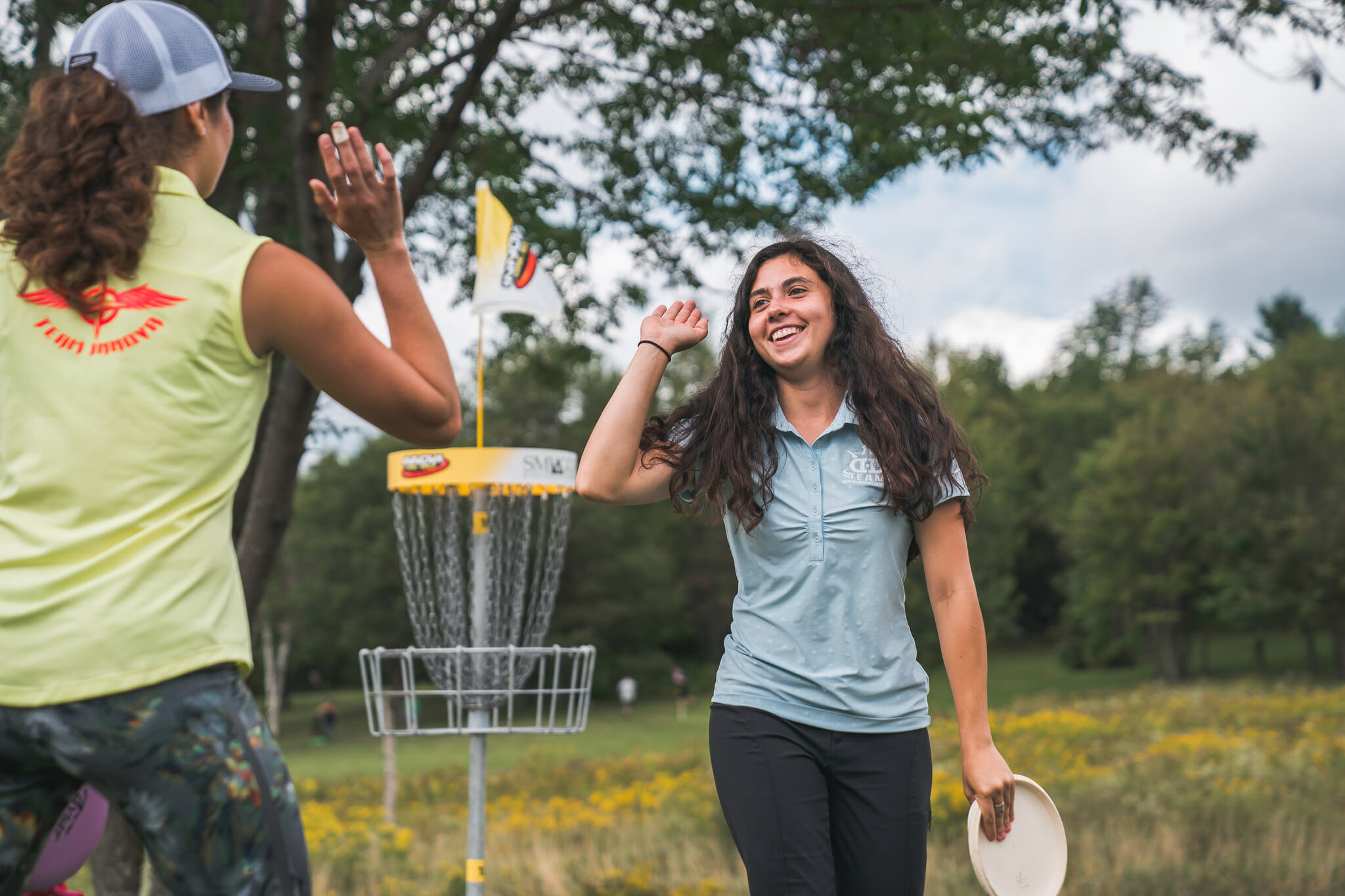 Smugglers' Notch provided the perfect template for the 2018 PDGA Professional World Championship. With its mix of courses — the wooded Brewster Ridge and OB-laden Fox Run Meadows — players were tested with every type of shot. It didn't seem like the venue for an upset, but Paige Bjerkaas showed us quickly that she deserved to be considered among the world's best. And after turning in the 2018 Female Performance of the Year with her Pro Worlds win, she technically is the world's best for at least one turn of the calendar.
Bjerkaas' domination came into view on day two, the first play through of three rounds at Fox Run. To put it as plain as possible, Bjerkaas was playing a different game than the rest of the field.
"I stuck to my game plan and executed it exactly how I wanted it," she told Ultiworld Disc Golf after her round back in September. "It was just perfect: I did what I wanted. There were a couple birdies out there that I didn't expect to get, was pretty stoked about that."
Even though the course checked-in at over 8,300 feet, and almost half of the track is a par 4 or 5, Bjerkaas decided to chip away at the layout rather aggressively attack. The putter-heavy plan took the out of bounds stakes out of the equation.
"[I was] just being conservative," said Bjerkaas. "There were a lot of holes where the other girls threw OB and I was inbounds because I threw a putter. There are quite few holes, a lot of the par 4s, where I just threw putter off the tee to stay in the fairway, putter to make sure I was inbounds, putter upshot, and then putter in the basket. If the wind was right and the hole allowed me to throw a putter and get a decent par, that was what I was gonna do."
Bjerkaas' 5-under par second round was rated 1028 and was five strokes better than the next best player. Her only bogey and OB stroke came on the 18th hole and Bjerkaas led the day in fairway hit percentage. After 36 holes she was six strokes ahead of the field, and never looked back.
Paige Bjerkaas Pro Worlds Fox Run Round 2
The five round tournament was by no means over after day two, however. Bjerkaas again turned-in one of the better cards during round three, the last go-round at Brewster Ridge, and was riding high with two rounds to go on the Fox Run course she had picked apart.
Early during round four, it seemed Bjerkaas had maybe lost her touch, and that a Major title was not yet in the cards. Maybe it was the lack of true experience coming into play.
The conservative plan that had taken Bjerkaas to new heights was not clicking. After three holes her lead had almost vanished, going 5-over par including a double and triple bogey. Sarah Hokom and Paige Pierce were not back squarely in the picture.
Momentum turned on hole 7 though. The beastly 1,085-foot par 5 was a menace all weekend, with only four FPO players to shoot par or better on the hole at the tournament. Even with the wind having picked up on Saturday, Bjerkaas was able to card the par, just like she did every round, and watched Hokom, who had drawn it close, go OB three times on the way to a quadruple bogey. From there Bjerkaas seemed to settle down, going even par on the back nine to maintain a cushion heading into the final round.
While she was never truly challenged, Bjerkaas still had to keep her head on her shoulders with Hokom and Pierce doing everything they could to mount a comeback. She was one of only three women to score even par or better on Sunday. Even Pierce was conceding the win to Bjerkaas by hole 15. Bjerkaas wrapped things up with a convincing 6 stroke margin of victory for her first Pro Worlds title. 
"I have never competed in such a high pressure situation," Bjerkaas told UWDG this week. "So when I was playing and was making those clutch putts and drives, I surprised myself. That whole week I surprised myself!"
Watching a player come into their own as Bjerkaas did was a storyline you can maybe prepare for. When she did it with her mother carrying her bag all weekend, and dad manning the uDisc Live scorecard each round, it seems unbelievable even in an inspirational sports movie cliche way.
But here we are with a new world champion, one that many of us did not see coming. The five round dominance makes sense for the Female Performance of the Year. And even if we weren't ready for the crowning of Bjerkaas, it didn't mean she didn't think she was capable.
"I knew I would win one day," Bjerkaas reflected. "But I did not expect to win this year. Especially because Paige [Pierce] and Hokom both had a phenomenal season. My goal was top five. However, I knew that I was due for a win. I had a third place finish and quite a few second place finishes leading up to Worlds, and I felt my game getting better and better."