Can Wysocki finish off a three-peat? Will anyone knock off Pierce?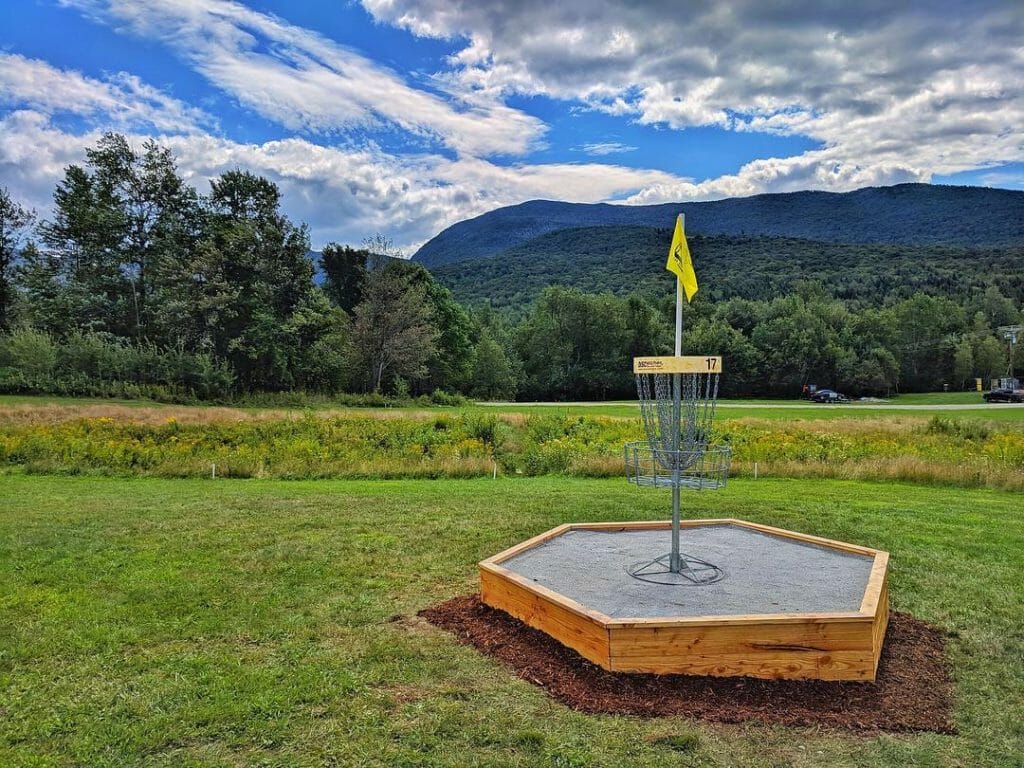 Do you hear that? The distant sound of wheels rattling along a track? The chuff-chuff-chuff of a coal-fed engine at work? Shhh…listen…chooooo-chooooooo…can it be? It must be! The 2018 PDGA Professional World Championship hype train is arriving at the station.
This season has been one of the most exciting and entertaining in recent memory. We've been treated to the ascension of Eagle McMahon, Chris Dickerson's regional dominance, Paige Pierce threatening to run the table early on, Paul McBeth's 18-under par round at the Great Lakes Open, and James Conrad's come from behind win at the MVP Open, just to name a few without going back through the archives.
As the summer draws to a close and schools reopen for the year, the world's best disc golfers are heading north to Smugglers' Notch Resort in Jeffersonville, VT as the leaves begin to change to decide the world championships.
Storylines
The Complex That Ricky Wysocki Built
Since 2012, there have only been two Open division world champions: Paul McBeth and Ricky Wysocki.
Since 2013, there have only been two players who have won at Smugglers' Notch during the Green Mountain Championship: Ricky Wysocki from 2013-2016, and Nate Doss in 2017.
Doss will not be competing at Pro Worlds this year, so if history is to be our teacher, Wysocki should be the odds-on favorite to take the win this year to finish off a worlds threepeat.
We emphasize should, because Wysocki has hit something of a rough patch since returning from Europe in early August. He finished in eighth at the Ledgestone Insurance Open, third at the Vacationland Open where he was one of only five players rated 1000 or better, and eighth again at the MVP Open. At Ledgestone, Wysocki struggled with the tightly roped fairways and ubiquitous OB. At Maple Hill, his putting was just off.
It is worth noting that Wysocki has not successfully taken on a wooded course like Brewster Ridge for more than one round this season. He missed Idlewild, collapsed in the third round of the MVP Open, and finished in 13th at the Waco Annual Charity Open back in March. His record of success at Smugglers' Notch speaks volumes, but we have not seen the dominant play from Wysocki in 2018 that we saw in 2017 and 2016.
Many eyes will be locked on McMahon to see if he can make the jump from National Tour-to-Major-to-Worlds winner, all in one season. History may not be on his side, however, a focused McMahon is a dangerous man. And don't sleep on McBeth, there's a reason he's still atop the power rankings. 
Will Even Year Doom Pierce, Open The Door For Others
Just as we have seen cracks in Wysocki's armor, the defending Open Women's world champion Paige Pierce's performances at Ledgestone and MVP have left a lot to be desired. Pierce finished more than 10 strokes back of the leaders at both events.
Pierce's poor showings have opened the door for the likes of Sarah Hokom and Jessica Weese to take big wins of their own, and for their names to be bandied about as not only potential threats to Pierce's dominance of the field, but as players with more than legitimate shots at wrestling the title of world champion from Pierce's grip. It should be noted, Pierce has only won world titles on odd-number years (2011, 2013, 2015, 2017). 
Hokom has been the most consistent challenger to Pierce in 2018, and has finished in the top 10 of every event she has played this year, and only missed the podium in five of the 24 events she has entered. Hokom has shown all season that she is comfortable and competent playing at any style of course. She was first in fairway hits and second in putting at Maple Hill, which bodes well for Hokom on the Brewster Ridge course, and she's also proven she can hang on more open, long throwers courses such as Gleneagles at the San Francisco Open. She has never won at Smuggs, but she has also never finished outside of the top three.
Catrina Allen has traditionally played well in Vermont, having won the GMC in 2016 and 2015. She's played particularly well on Fox Run Meadows where her distance can be a difference-maker.
The Courses


Brewster Ridge DGC Gold (Open Women: Wednesday and Friday; Open Men: Thursday and Saturday,): Par 61, 7,760 feet. Brewster Ridge is heavily-wooded and has been lengthened by 700 feet since last year's Green Mountain Championship. Brewster Ridge offers a challenge reminiscent of Idlewild or Maple Hill, and will require players to stay out of the thick rough and densely forested areas off the fairway. The course rulebook only identified four holes where OB is a factor, instead the course punishes bad shots with natural OB. Two new holes will be added prior to the event, including a replacement for the 225-foot dinker that was hole 6.


Fox Run DGC Gold (Open Men: Wednesday, Friday, and Sunday): Par 63, 9,345 feet. Fox Run is a completely different vibe than Brewster Ridge, as long, narrow fairways are the name of the game. OB comes into play on every hole, and players will be more concerned with their landing zone at this course, much like Winthrop Gold or Lake Eureka. The monster par 5 hole 7 was extended to 1,225 feet.
Fox Run DGC Blue (Open Women: Thursday, Saturday, and Sunday): Par 63, 8,165 feet. Despite checking in at around 1,000 feet shorter than the Gold layout, the women will be teeing off from the same pads as the men on holes  1, 2, 3, 5, 6, 10, 13, 15, and 17. All OB which applies to the Gold layout applies to the Blue layout as well.
Past Winners
| Year | Open | Open Women |
| --- | --- | --- |
| 2022 | Paul McBeth | Kristin Tattar |
| 2021 | James Conrad | Catrina Allen |
| 2020 | n/a | n/a |
| 2019 | Paul McBeth | Paige Pierce |
| 2018 | Gregg Barsby | Paige Bjerkaas (Shue) |
| 2017 | Ricky Wysocki | Paige Pierce |
| 2016 | Ricky Wysocki | Valarie Jenkins |
| 2015 | Paul McBeth | Paige Pierce |
| 2014 | Paul McBeth | Catrina Allen |
| 2013 | Paul McBeth | Paige Pierce |
| 2012 | Paul McBeth | Sarah Hokom |
| 2011 | Nate Doss | Paige Pierce |
| 2010 | Eric McCabe | Sarah Stanhope |
| 2009 | Avery Jenkins | Valarie Jenkins |
| 2008 | Dave Feldberg | Valarie Jenkins |
| 2007 | Nate Doss | Valarie Jenkins |
| 2006 | Ken Climo | Des Reading |
| 2005 | Nate Doss | Des Reading |
| 2004 | Barry Schultz | Birgitta Lagerholm |
How to Follow
Check in here at Ultiworld Disc Golf for recaps of each round from the Open and Open Women field. Jamie Thomas and Charlie Eisenhood will be on site providing daily analysis and episodes of The Upshot. UDisc Live is on tap providing live scoring. Post-production, next-day video from the event is set to be released on the Jomez Productions and Central Coast Disc Golf YouTube channels. The Disc Golf Pro Tour will be providing updates via their Instagram, with event photos from Alyssa van Lanen.
Live coverage has been expanded for the event at Smugglers' Notch Resort, with Smashboxx TV broadcasting both Open and Open Women lead cards starting Friday, September 7 during round three. Terry Miller will be lead commentary and will have the PDGA's Steve Hill providing reports from the sideline. Hannah McBeth will also be in the booth with Miller during FPO coverage, and Robert McCall will takeover for McBeth for MPO.
The PDGA will be providing updates via its Instagram, Twitter, newly-revived YouTube, and Facebook.
Extended Forecast
Weather conditions can certainly change over a period of five days, but overall the weather looks to be pretty good for Pro Worlds at Smugglers' Notch. Temperatures to start the tournament will be quite warm. However, a cold front, which may bring some rain on Thursday, will likely usher in cooler conditions to end the tournament.
Wednesday:
 

7 AM: 61° with southwest winds around 10 mph.

 

11 AM: 75° with southwest winds around 10 mph.

 

3 PM: 85° with southwest winds around 15 mph. Gusts up to 20 mph possible.
Thursday:
A cold front will be moving through the region during the early morning hours. This may prompt a line of showers and storms to accompany the front. Once the front moves through, temperatures will fall throughout the first part of the day as northwest winds move into the region.
 

7 AM: 67° with scattered storms possible. Winds shifting from the southwest to northwest around 15 to 20 mph.

 

11 AM: 62° with isolated showers possible. Northwest winds around 10 to 15 mph possible.

 

3 PM: 68° with northwest winds around 10 to 15 mph.
Friday:
 

7 AM: 48° with a gentle north breeze.

 

11 AM: 60° with a north wind around 5 mph.

 

3 PM: 65° with a north wind between 5 and 10 mph.
Saturday:
 

7 AM: 45

°

with a north wind around 5 mph.

 

11 AM: 55° with a north wind around 5 mph.

 

3 PM: 58° with a north wind between 5 and 10 mph.
Sunday:
 

7 AM: 44° with a southeast wind around 5 mph.

 

11 AM: 56° with a southeast wind around 5 mph.

 

3 PM: 62° with a southeast wind between 5 and 10 mph.
The biggest concern regarding the weather will come on Thursday morning. A few lightning strikes can't be completely ruled out as the cold front moves through the region.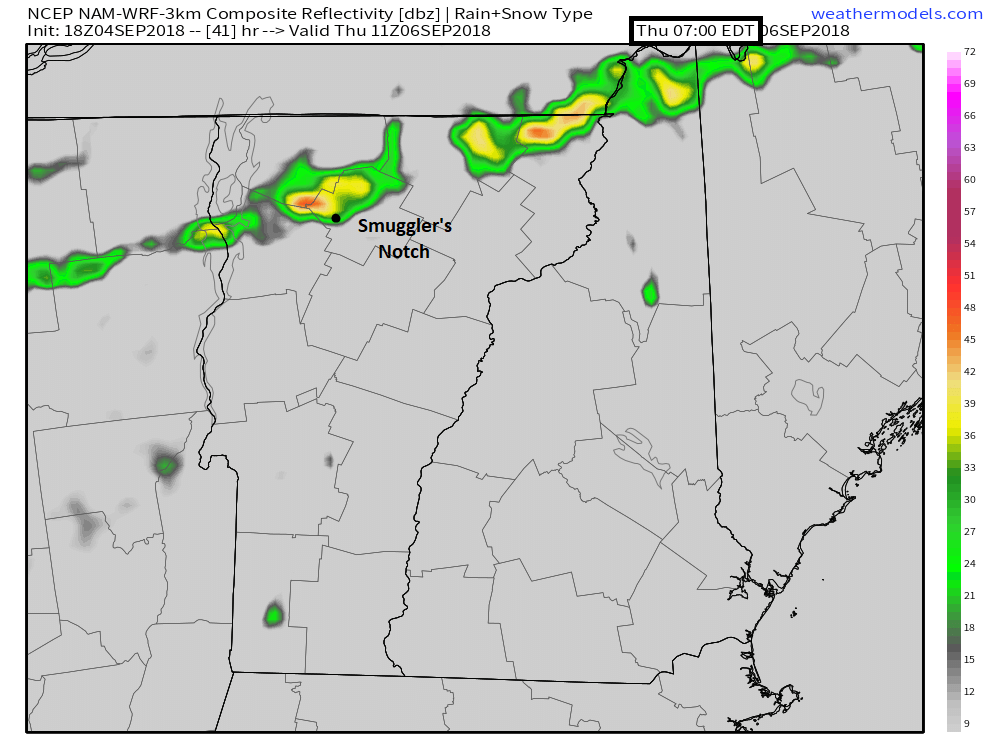 The chance of storms will not be the only sign of a cold front in the region. The wind will shift from out of the southwest to out of the northwest shortly after the front passes.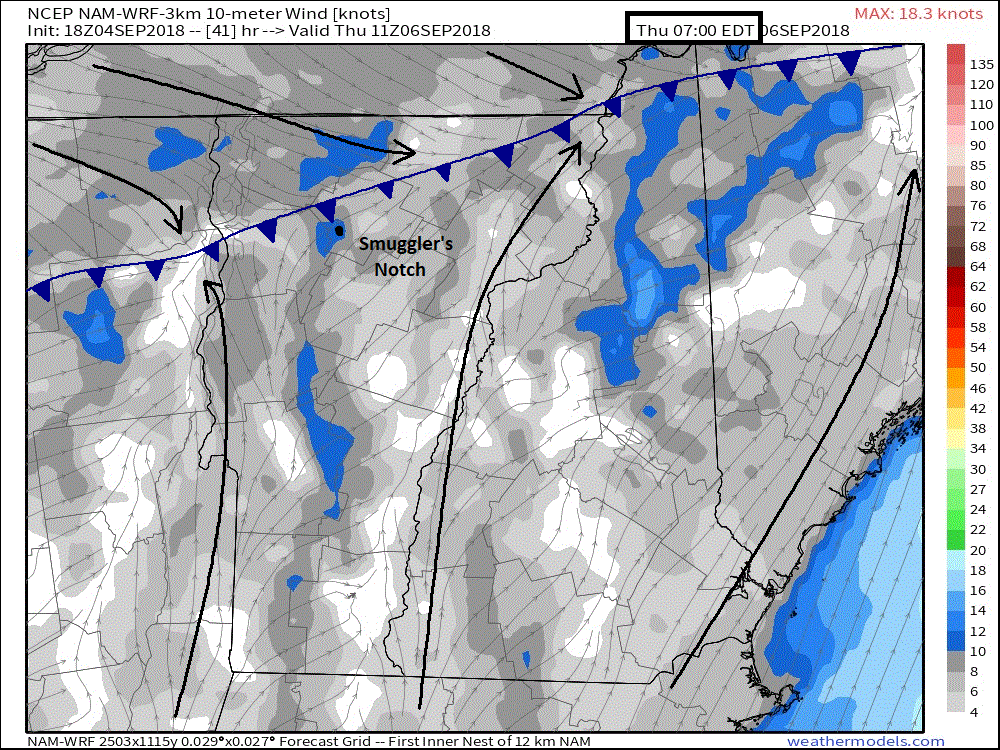 Following the cold front will be the cooler conditions. Early morning tee times Friday through Sunday will likely be the coolest conditions we've seen on tour since the Jonesboro Open. Fortunately, no snow is in this forecast.