Who are we missing? Who is in your top three?
September in Vermont is great. The leaves are just starting to turn and the mornings predict autumn on the horizon before giving way to late summer's warmth. Add five rounds of PDGA Professional World Championship action to the mix and you've got a recipe sure to please all of the disc golfers in your life. Charlie Eisenhood and Jamie Thomas made their Worlds picks on the air last week, now the Ultiworld Disc Golf writers give it a whirl.
This week, the top 25-percent of women rated over 900 and men rated over 1000 were excluded from Dark Horse status.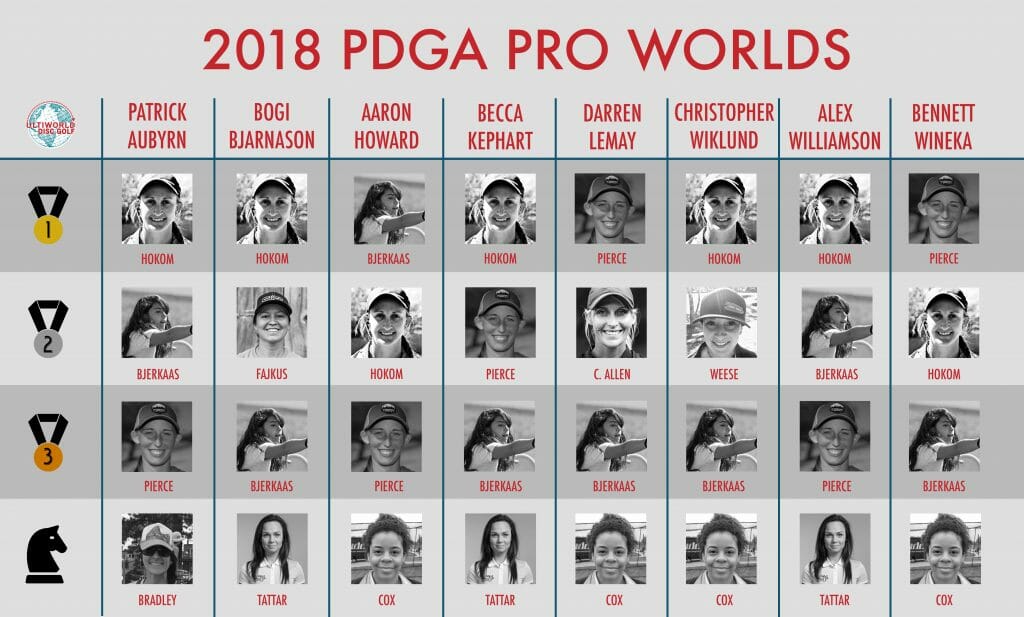 RATIONALE
It's hard to pick against Sarah Hokom right now, so I won't. Averaging 988-rated golf over her last five Disc Golf Pro Tour rounds gives her the needed momentum for the win. Plus, she lost the Green Mountain Championship by one stroke last year. The sting of that narrow defeat should account for extra motivation. ~Becca Kephart
Paige Pierce is still the best player in women's disc golf. With five rounds to get things done in Vermont, I'm not concerned about the mid-season swoon. (Editor: You saw what she did with two rounds in Nantucket, right?) ~Benn Wineka
Paige Bjerkaas is all in on disc golf and I am all in on Paige Bjerkaas. She has all of the tools and is playing well to boot. Everything about her game is trending upward, which suggests she should get a big win soon! Why not Worlds 2018? ~Aaron Howard
Although UWDG's own Aaron Howard has all but destroyed our collective romance with the wonders of putting, I refuse to believe that Lisa Fajkus's short game won't net her a podium finish at least. Don't you dare prove me wrong, Lisa! ~Bogi Bjarnason
A hiccup at Maple Hill shouldn't be a sign of things to come at Worlds for Jessica Weese. Two bad rounds doomed her hopes in Leicester, but she's played the majority of her recent tournament rounds above her rating and should be confident going into the week at Smuggs. ~Chris Wiklund
Catrina Allen has played in 18 Majors over the past 7 seasons. She's finished in the top three 15 times, including five of the last six, and never outside top four. This stretch includes her lone World Championship title. Oh, she also has two wins in the last three years at Smugglers' Notch. ~Darren LeMay
The Cavalry
Last we saw Nicole Bradley play against the touring field was during the west coast swing. She finished ninth at DeLa and sixth at Milo. Her last four finishes: 1, 1, 1, 1. ~Patrick Aubyrn
Go look at Kristin Tattar's season and you won't find a finish below fourth place. That includes big performances, such as tying with Paige Pierce and Catrina Allen at the Skellefteå Open for second place. ~Becca Kephart
Rebecca Cox has notched 12 straight top-six finishes including World Mixed Doubles but has yet to finish top five at a major. Honestly? A podium finish this week should eliminate her Dark Horse consideration. ~Darren LeMay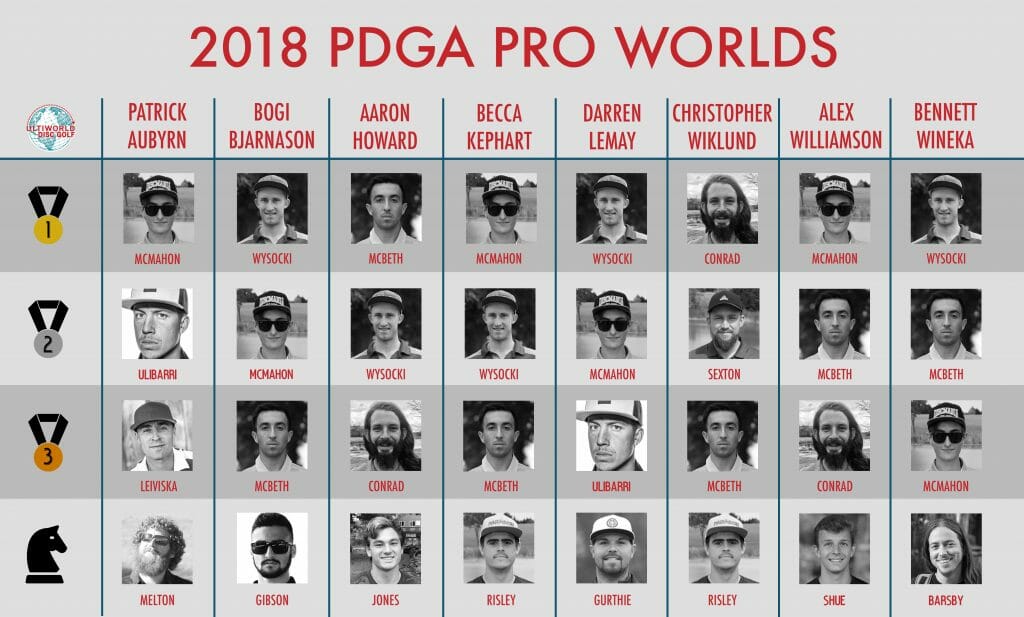 RATIONALE
Of the three highest rated players in the world, Eagle McMahon is the only one to have finished in the top 10 at every event he's played this year. McMahon's disappointing eighth place at the MVP Open will only motivate him to bring out the talons in Vermont. ~Alex Williamson
Smuggler's Notch is Ricky Wysocki's special place. He feasts on the Green Mountain courses and could easily summon another 1100-rated round. 2018 will be more of a slough than previous years, but the odds are in Wysocki's favor to hoist the World Champion trophy if his putting is on point. ~Bogi Bjarnason
Paul McBeth lives for Worlds. He was in the running at last year's Green Mountain Championship before withdrawing due to injury. He is the highest-rated player in the field and will undoubtedly redline it this week in an attempt to reclaim his title. ~Aaron Howard & Alex Williamson
At the MVP Open, James Conrad demonstrated his woods proficiency. It should be on display again at Brewster Ridge. While he sometimes admits to struggling on open courses, Fox Run Meadows has plenty of trees to help him visualize his lines. Conrad has all the tools necessary to take the win. ~Chris Wiklund
It's been 12 years since Paul Ulibarri won Am Worlds. He seems especially driven to win the big one this year. He took fifth at MVP and Nantucket and he's never missed the top five in VT. Call it a gut feeling, but I think he shows up this weekend. ~Patrick Aubyrn
Nate Sexton can navigate the woods, and as we saw at Ledgestone and the 2017 USDGC, he is more than able to manage an OB-roped course that demands accuracy off the tee. Whoever wins this year's worlds will need to be able to do both consistently, and Sexton is nothing if not consistently capable in all aspects of the game. ~Chris Wiklund
Cale Leiviska underperformed at Ledgestone and MVP. Typically he plays those courses very well. He also plays very well at Smuggs. Worlds TD Jeff Spring has Cale down for the "W." I'm also betting that he bounces back in a big way after two down weekends in August. ~Patrick Aubyrn
The Cavalry
I picked Zach Melton as my Dark Horse before he won the Nantucket Disc Golf Open. His Idlewild performance is still on my brain. The guy throws good lines and hits big putts. ~Patrick Aubyrn
Out of the entire MPO Dark Horse pool, Drew Gibson has shown by far the most promise this season. This isn't rocket science, folks! ~Bogi Bjarnason
A.J. Risley proved he has the skills to win at the Ledgestone Open. Risley can avenge his Ledgestone let-down with a podium finish and put a cap on the feel-good story of 2018. ~Becca Kephart
Brewster Ridge and Fox Run Meadows both require a reliable forehand and backhand. And on the big stage where nerves come into play, I like the veteran Gregg Barsby to make the lead card. ~Benn Wineka
Grady Shue's got chops. He finished sixth at the Memorial Championship and fourth at the MVP Open. The North Carolinian is comfortable in the woods and throws easy distance – a good combo for this weekend's mixed track. ~Alex Williamson
Kevin Jones is very fun to watch play golf and his ceiling is as high as any player in the field. Perhaps as high as any player ever. Enough said. ~Aaron Howard
Garrett Gurthie has not played a Major in four years. He only has three top-five finishes in 19 Majors played, but 16 years of playing professionally gives him the experience needed to finish high. ~Darren LeMay