10 meters, 10 quick hits. Notes from Nantucket, loose ends from the MVP Open, and Worlds miscellany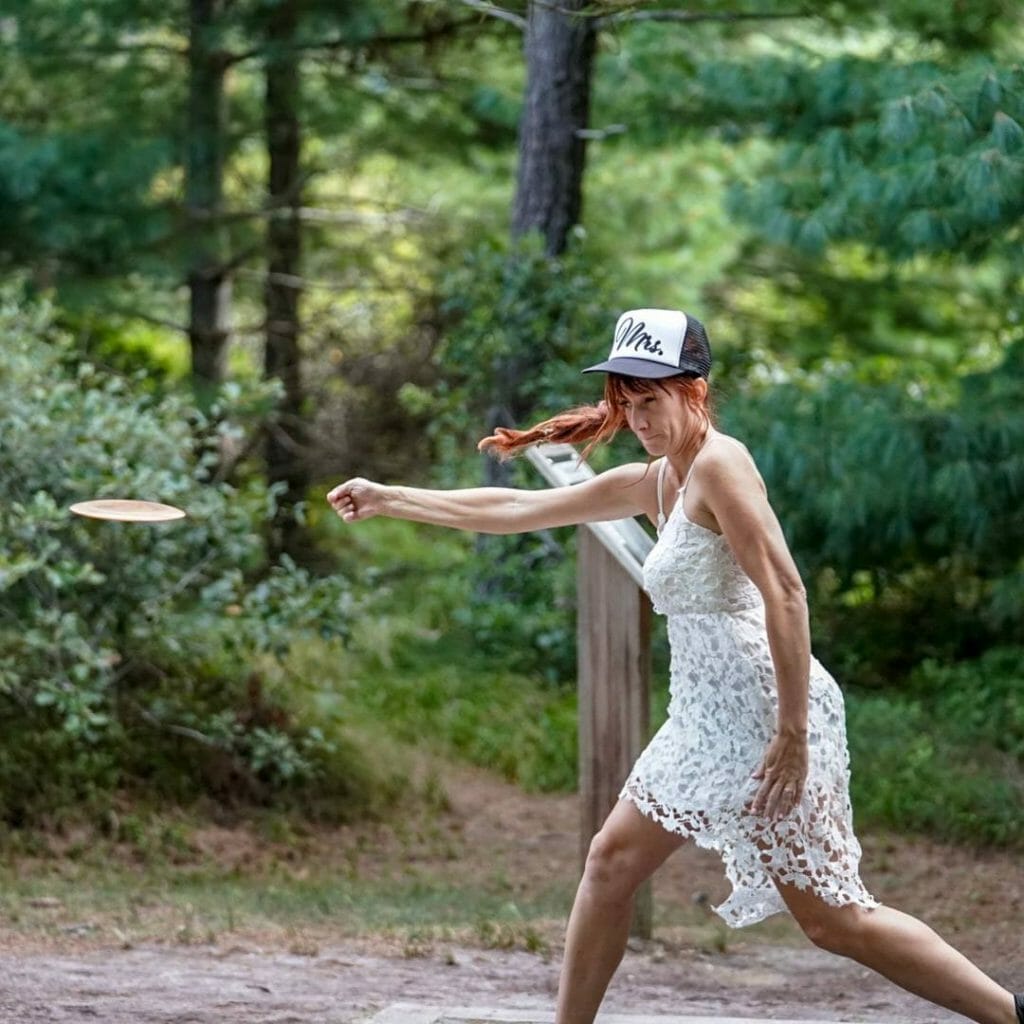 1m — A WhalePants-load of congratulations to Tina and Eric Oakley on their nuptials! I expect Eric will have a more boisterous skip to his run-up than usual at Pro Worlds. Dark horse, anyone?
2m — Shiver me timbers! Paige Pierce cruised to victory at the Nantucket Open on Saturday. She averaged 986-rated golf over two rounds and beat Paige Bjerkaas by 6 and Sarah Hokom by 11. Pierce was a bridesmaid in the aforementioned Stanaitis-Oakley wedding, and like her newlywed Dynamic Discs teammate EO, she hopes to take that post-matrimonial good juju with her to Vermont.
3m — File this under weird coincidences: the top three putters to finish in the overall top 10 at the MVP Open, Lizotte, McMahon, and Shue, all play for Discmania. And each one of them went 49/50 inside of the circle.
4m — Speaking of putting stats, I hope UDisc Live releases a feature that allows us to mute putts made from inside of 3.33 meters (~11 feet — notated as 5 feet in the app). Circle 1 putting percentage is more accurately represented by tabulating only mid- and long-range C1 putts. I analyzed the stat lines for the top 10 finishers in MPO at the MVP Open. When all C1 putts factor into the average, conversion rates ranged from 89-percent (Heimburg, Melton, Wysocki) to 98-percent (Shue, Lizotte, McMahon). Eliminating putts made within 3.33 meters changes the range from 74-percent (Melton) to 97-percent (McMahon). The 9-percentage point spread doubled to 23-percentage points. Here's my chart:
Putts
>3.33m
R1
Made
R1
Total
R2
Made
R2
Total
R3
Made

R3
Total
UDisc
C1 %
Adjusted
C1 %
Conrad
9
11
5
5
7
8
94%
88%
McBeth
13
14
7
8
9
9
96%
94%
Heimburg
5
8
7
9
11
12
89%
79%
Shue
1
1
8
8
8
9
98%
94%
Ulibarri
6
6
3
4
6
7
96%
88%
Lizotte
6
7
11
11
7
7
98%
96%
Barsby
10
12
4
6
8
9
90%
81%
Locastro
10
10
5
8
5
5
94%
87%
Melton
3
4
10
13
4
6
89%
74%
McMahon
9
10
12
12
11
11
98%
97%
Wysocki
10
13
9
9
9
12
89%
82%
5m — I lived in a suburb of Milwaukee from 1984-95. My dad used to pull me out of school to attend the Brewers' first home game of the season at the old county stadium. Paul Molitor was my favorite player. Cale Leiviska is Molitor's nephew. Rooting for Cale makes me feel like I'm 10 again, rooting for Molitor and the Brewers. The Minnesotan finished fourth at the GMC in 2016 and 2017. I'm looking for him to crack the top 3 in his third appearance at Smugglers' Notch. #UWDGpickspreview
6m — So the Big Six  — Pierce, Hokom, & Allen in FPO and McBeth, Wysocki, & McMahon in MPO — score top 3 performances like clockwork. At least one of the aforementioned women has claimed a podium position in every DGPT, NT, and Major this year, and only once was the MPO trio shut out completely: just a month ago at Ledgestone. Something to keep in mind when you make your picks.
7m — Related: Pro Worlds is a five-round tournament this year. Three of Eagle McMahon's four high profile wins came at four-round events. Ricky Wysocki has only won one of the same length, The Ale Open, and Paul McBeth has not won a four-round tournament this year.
8m — In the Jomez coverage of the 2017 GMC, Nate Sexton and Jeremy Koling have a brief conversation about the newly raised green on hole 8 at Brewster Ridge. Nate opines, "It really makes the course look good… but bottom line, it's just a roll-away machine…but I'm not going to say that I don't like it because it does look beautiful and it does add difficulty." Despite his conditional appraisal, Sexton seems, ultimately, to dislike the modification. Two weeks ago, Koling and his fellow panelists at the DGPT roundtable on basket size unanimously agreed that upshots on par 4s and 5s are usually too easy. Viewed in this light, Sexton's commentary struck an off chord because the altered green seems to be exactly the type of course design that the pros want. It certainly makes the hole more challenging: you need to stick the bullseye, or lay-up short of the dais to avoid careening off the rocks. I wonder if it's grown on him in retrospect?
9m — The Caddy Book for Pro Worlds hasn't been released to the general public yet, but per my perusal of the scorecards, there are definitely some changes to look out for. Gone is the traditional sixth hole at Brewster Ridge — the 225-foot dinker out into the glade with an elevated basket. Good move by the staff. It averaged 0.615 strokes under par at the 2017 GMC and was by far the easiest hole on the course. Contra hole 7 at Fox Run Meadows. The longest hole on the weekend was stretched from 1,150 feet to 1,225 feet. It already averaged 0.75 strokes over par. Sheesh!
10m — I began this column with a married couple and I end with a married couple. Valarie Jenkins, 4x. Nate Doss, 3x. That's seven professional world championship titles between the two. Doss won the 2017 Green Mountain Championship, and Jenkins finished third, two strokes out of first. I wasn't the only one at Ultiworld DG that needed to revise their podium picks when the duo withdrew last Wednesday. Will they be missed or what?! Cheers to new beginnings at Bevel Craft Brewing.