Lizotte feeling home field advantage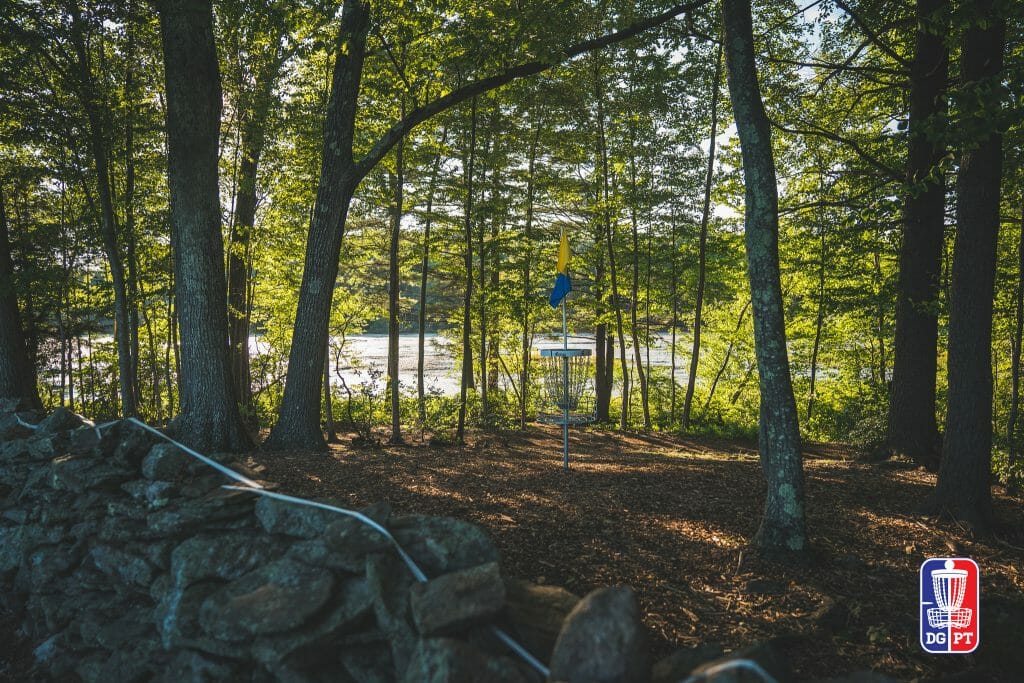 Maple Hill is one of the most well-regarded, and picturesque stops on tour. Like nearby Fenway Park, the venue is one of those places that just feels special when you enter, and the feeling lingers long after you leave. The course has existed since 2002 and after years of high-profile events it maintains a timeless quality, but this season's MVP Open at Maple Hill brings some notable changes.
MVP Disc Sports is the title sponsor this year, taking over the title sponsor designation from Vibram which shuttered it's disc golf operations earlier this year. This year's tournament will be the final regular-season event of the Disc Golf Pro Tour before the tour championship in Jacksonville this October. Finally, the 2018 tournament will only span three rounds as opposed to the four-round schedule we've enjoyed in years past.
Storylines
McMahon and Lizotte Make Their Return
It has been over two months since we have seen both Lizotte and McMahon playing together on American soil, but the run ends this weekend.
At the 2017 Vibram Open at Maple Hill, McMahon lost to Wysocki by two strokes. This year McMahon's more conservative style of play may help him make up that difference. So far in 2018, McMahon has been hitting fairways at 75-percent and has an OB rate of .078. At the end of 2017, McMahon was hitting 69-percent of his fairways and had an OB rate of .137. Those differences may seem small, but consider that McMahon's win at GBO was by a single stroke, and his win at the Beaver State Fling was only by a margin of two strokes. Those hit fairways and reduced OB rates are indicative of a less aggressive, or at least more patient style of play which has translated into wins.
Lizotte, on the other hand, has stayed steady in his strategy and stats. In 2017 he hit 74-percent of his fairways and went OB at a rate of .097. This year, he has been hitting his fairways 72-percent of the time and has an OB rate of .098. Lizotte will be entering this weekend fresh off his victory at the European Disc Golf Championship, which should give him a touch more confidence than he naturally carries himself with. He also currently lives within 30 minutes of Maple Hill and said on PDGA Radio that he is looking forward to being able to go home after a round and sleep in his own bed. The top players will already be very familiar with the course, but familiarity and comfort may give Lizotte an edge.
Pierce and Parity Atop the Women's Field
The top players in the Open Women's division have all been playing exceptionally well over the past month and a half. Pierce is still the favorite to win any tournament she plays in, but we have seen the rest of the field make some noise of their own over the summer. Each of the top six rated players-Sarah Hokom, Pierce, Catrina Allen, Lisa Fajkus, Jessica Weese, and Madison Walker-has won an A-Tier, DGPT or PDGA National Tour event since July.
As noted on The Upshot podcast, Weese has been playing above her rating and finishing very well over the past several tournaments. Weese's impressive victory at Ledgestone is just the latest in what has been a somewhat unheralded season of consistently good play. Weese has only finished outside of the top 10 once this season and is riding an eight-tournament streak of top 4 finishes at A-Tiers and DGPT events. She should certainly be considered a threat to at least podium this weekend, and maybe take her second high-profile win in a row.
Given the parity we have seen at the top of the FPO this season, could 2018 be the year we see Pierce's winning streak at Maple Hill come to an end? Probably not. Last year Valarie Jenkins had Pierce on the ropes going into the final round, but Pierce made up a five-stroke deficit to take the win.  Since 2014, Pierce has won the event by an average of 3.25 strokes. For comparison, Piece's wins this season at DGPT and NT events have come by an average of 5.75 strokes.
Course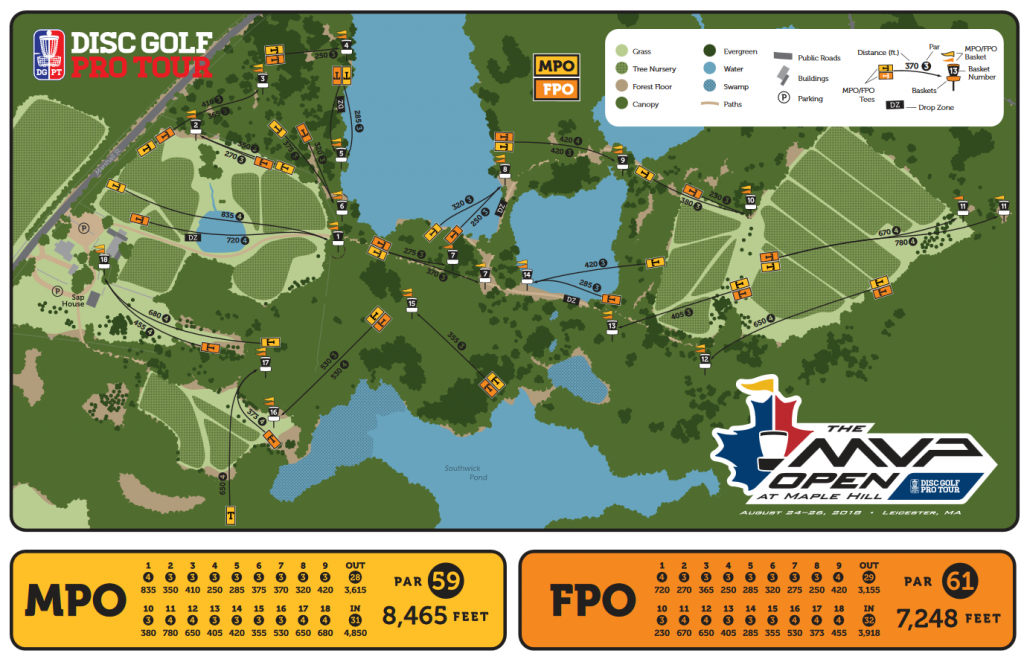 Maple Hill- Gold (Open Men: Friday through Sunday): Par 59, 8,465 feet. Water hazards come into play on holes 1, 4, 5, 8, 9 and 14. The only hole where dry-land OB will come into play for the top of the field will be holes 2, 6, and 18. Although there is OB directly off the tee on a number of other holes over the course, it would take a truly disastrous throw to bring them into play. This year's layout is a touch shorter than in 2017. Hole 10 has been shortened from 520 feet to 380 feet, and 18 has been lengthened from 605 feet to 680 feet.
Maple Hill – Mixed Layout (Open Women: Friday through Sunday): Par 61, 7,248 feet. Last year the women played the Blue tees and baskets at Maple Hill. This year, the women will be playing a layout that combines elements of the four different tee and pin positions which are available at Maple Hill. This year's layout plays the same overall length but will give us the opportunity to see the Open Women attack Gold pin and tee positions on holes 2, 4, 5, 9, 12, 13, 15, 16, 17. For those counting along, that means that the Open Women will be playing half of their round on the exact same layout as the Open Division.
The caddy book for both Open divisions can be found here.
Past Winners
| Year | Tier | Open | Open Women |
| --- | --- | --- | --- |
| 2022 | DGPT | Simon Lizotte | Natalie Ryan |
| 2021 | DGPT | Adam Hammes | Catrina Allen |
| 2020 | A/DGPT | Paul McBeth | Paige Pierce |
| 2019 | A/DGPT | Paul McBeth | Paige Pierce |
| 2018 | A/DGPT | James Conrad | Sarah Hokom |
| 2017 | A/DGPT | Ricky Wysocki | Paige Pierce |
| 2016 | A/DGPT | Bradley Williams | Paige Pierce |
| 2015 | NT | Ricky Wysocki | Paige Pierce |
| 2014 | NT | Jeremy Koling | Paige Pierce |
| 2013 | NT | Paul McBeth | Valarie Jenkins |
| 2012 | NT | Cale Leiviska | Catrina Allen |
| 2011 | NT | Nate Doss | Sarah Hokom |
| 2010 | NT | Nikko Locastro | Sarah Cunningham |
| 2009 | NT | Barry Schultz | Sarah Cunningham |
| 2008 | NT | Avery Jenkins | Valarie Jenkins |
How to Follow
Check in here at Ultiworld Disc Golf for recaps of each round from the Open and Open Women field. Tournament Reporter, Chris Wiklund is on site in Leicester, MA. He will be providing observations and interview from players through notebook features after each round, as well as regular updates via our Twitter and Instagram.
UDisc Live is on tap providing live scoring. Post-production, next-day video from the event is set to be released on the Jomez Productions and Central Coast Disc Golf YouTube channels. Par Save Productions and Tee Time Disc Golf will also be on site shooting video which will be available following the conclusion of the event. The Disc Golf Pro Tour will be providing updates via their Instagram, with event photos from Alyssa van Lanen. Live streaming of the Open division feature and lead cards are available on the Disc Golf Pro Tour channel, produced by SmashboxxTV, with the feature and lead cards of the Open Women's division set to be broadcast in the hour before the Open live broadcast. The Open Women's coverage kicks off at 2:00 p.m. and the Open coverage starts at 3:00 p.m., Eastern Time, Friday through Sunday.
Extended Forecast
High pressure will be in the northeast the weekend of the MVP Open at Maple Hill. This will lead to nice conditions, which may lead to some hot scores from the players.
Friday:
8 AM: 65° with westerly winds between 5 and 10 mph.
3 PM: 79° with westerly winds between 5 and 10 mph.
Saturday:
8 AM: 65° with a southwest wind around 5 mph.
3 PM: 78° with a southerly wind around 5 mph.
Sunday:
8 AM: 64° with a southwest wind around 5 mph.
3 PM: 78° with a southwest wind between 5 and 10 mph.
Overall, the wind should remain relatively calm, though the occasional breeze should come out of the west or southwest. This may mean players are faced with a headwind on the iconic hole 14. Hole 14 is a par 3, measuring in at 420 feet for the Open division and 285 feet for the Open Women division. Hole 14 carries water nearly the entire distance of the hole and players traditionally look for an overstable disc to carry them to safety on the left side. With a headwind discs may stand up a bit more, bringing the water carry even more into play.