Finns Paju and Mäkelä finish out podium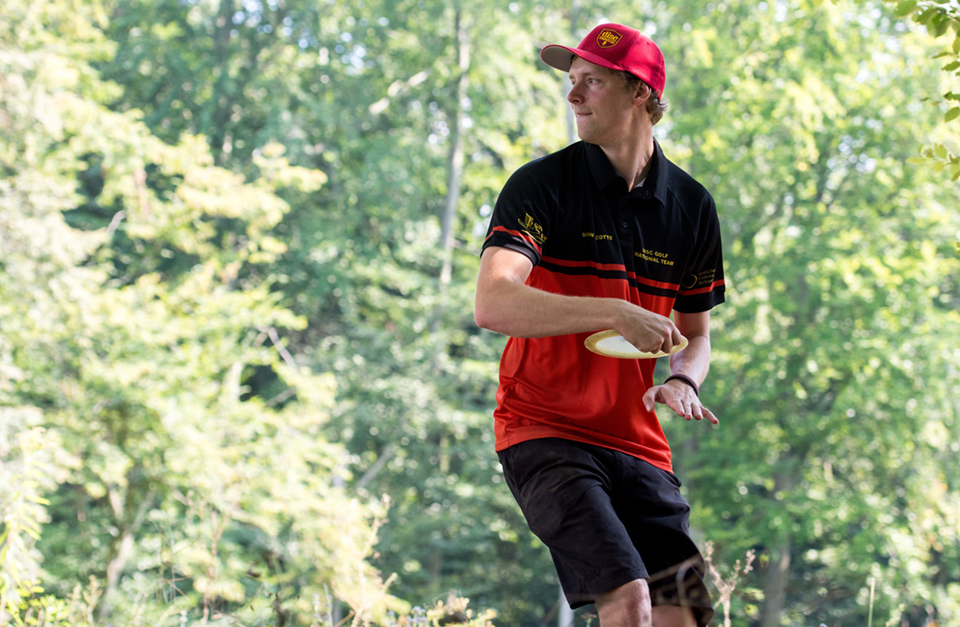 Just as five of the eight Ultiworld Disc Golf writers who participated in last week's European Disc Golf Championship staff picks predicted, German Simon Lizotte has been crowned the 2018 European Champion in the Open division. The win wasn't wire-to-wire—Lizotte was behind Finn Seppo Paju and Estonian Silver Lätt and tied for third with Finn Pasi Koivu after the first round—but once Lizotte gained a lead in the second round, he didn't relinquish it.
Averaging 1048-rated golf over the course of the tournament, the 1036-rated Lizotte's final total was a 32-under par 208. This gave him a comfortable win over second-place finisher Paju, who ended with a 27-under par 213 total. The 1027-rated Paju shot a 1043-rated 8-under par 52 in the final round to push fellow Finn Väinö Mäkelä—who shot a 4-under par 56 final round—from second to third place. Mäkelä finished with a score of 24-under par 216, four strokes ahead of Koivu, Lätt, Dane K.J. Nybo, and (yet another) Finn Leo Piironen, who all shared fourth place with 20-under par 220 totals.
The layout at the 2018 European Disc Golf Championship for Open was a par 60, 2530-meter (8,301-foot) version of the Spa Hills Disc Golf Course in Toplice Sveti Martin, Croatia. To borrow the apt descriptions of the course from the tournament's official website, it's a course built around a "9-hole ball golf course and nearby meadows and forests" and contains "a lot of elevation" while "combin[ing] open and tighter fairways." It is notable that both Lizotte and third-place finisher in Open Women Kristin Tattar suggested in earlier comments to Ultiworld Disc Golf that some of those "tighter fairways" involved a lot of luck to navigate.
Lizotte, who entered the final round with a six-stroke lead, never had a reason to be nervous over his final eighteen. His lead never dropped below four strokes, and it didn't stay that close very long. Both of Lizotte's closest competitors—Mäkelä and Paju—reached that mark on hole 10. All three parred 11. Then, Lizotte birdied the wooded, 106-meter (348-foot) hole 12 while Paju parred and Mäkelä took a double bogey, taking Lizotte's lead up to five over Paju and seven over Mäkelä. Lizotte said it was "after [his] second shot" on the next hole that he was certain the championship was his. He eagled 13 (a par 5) as Paju parred and Mäkelä birdied, giving him more than one stroke to give on each of the remaining holes.
"It means a lot!" Lizotte said regarding how he felt about again being European Champion. "I was focused on this event this whole year. It's a relieving feeling to have accomplished what I've been working towards and to get back my European Champion title from 2012. Especially since I had to wait four years after losing by one stroke in 2014."
Paju ended his round by birdieing his five last holes of the tournament, giving Mäkelä no chance to earn back the second-place spot where he had started the day. Having held no illusions that catching up seven strokes on one of the most talented European players in history to win the tournament was a likely possibility, Paju showed nothing but enthusiasm for his final standing.
"I feel really good about my round and especially the finish," Paju said. "I knew that it would be extremely difficult to win, so second is really satisfying."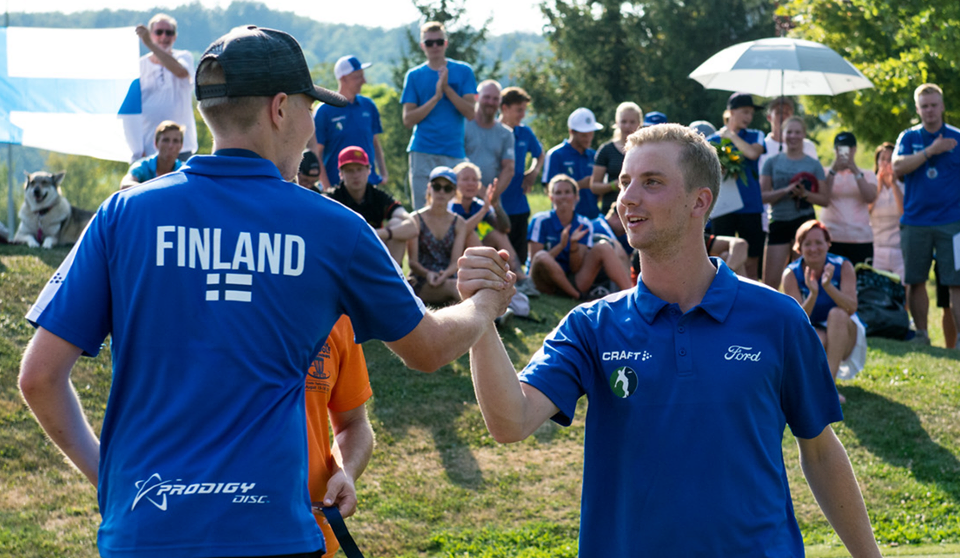 Paju partially credited his high finish with the return of an old friend to his game.
"I've been practicing a lot of my regular putting," Paju said. "And in practice, I've been making putts…but when I've had even a little bit of pressure—like in a practice round for scores with other good players—I've felt like my putting wasn't really good. So on the morning of the first round, I tried my old [push] putt just in case. The first putt was from like 8-meters and it went right in, and I just had really high confidence to use that style the entire tournament. It was extremely calm the whole tournament, so I had no problems with the push putt. I only missed one or two putts in Circle 1."
Mäkelä admitted his last round was no "dream round," but he was still pleased with his overall finish.
"I'm pretty satisfied," Mäkelä said. "After my bad first round, I never thought that I would be standing on the podium. Overall my game felt very good. My last round was a little bit of a rollercoaster from the beginning, but the back nine was my own game."
Mäkelä's next comment showed that his mind has already moved on and is focused on his next big challenge.
"Now hard training for the USDGC!" he exclaimed.
Speaking of the future, many of our readers are likely wondering how this win is making Lizotte feel about taking on the big U.S. names again as he heads to the MVP Open.
"Feeling good about next week," Lizotte—who has spent much of the year living in Massachusetts very near the Maple Hill course where the MVP Open will be played—said. "My first 'kinda' home course feeling. It's only my second tournament at Maple Hill and last year's was great fun. Looking forward to it."
However, Lizotte ended his comments about the MVP Open with a statement that showed he wasn't moving on too quickly from the joy of his long-awaited EDGC victory.
"To be honest, not really thinking about that [tournament] at this point," Lizotte said.