Who are we missing? Who do you have in your top three?
Ultiworld Disc Golf jumps back across the pond this weekend to Toplice Sveti Martin, Croatia for the European Disc Golf Championship. Charlie and Jamie will make their picks on the Upshot, now the staff make theirs. This week, the top 5 rated men and women were excluded from Dark Horse status.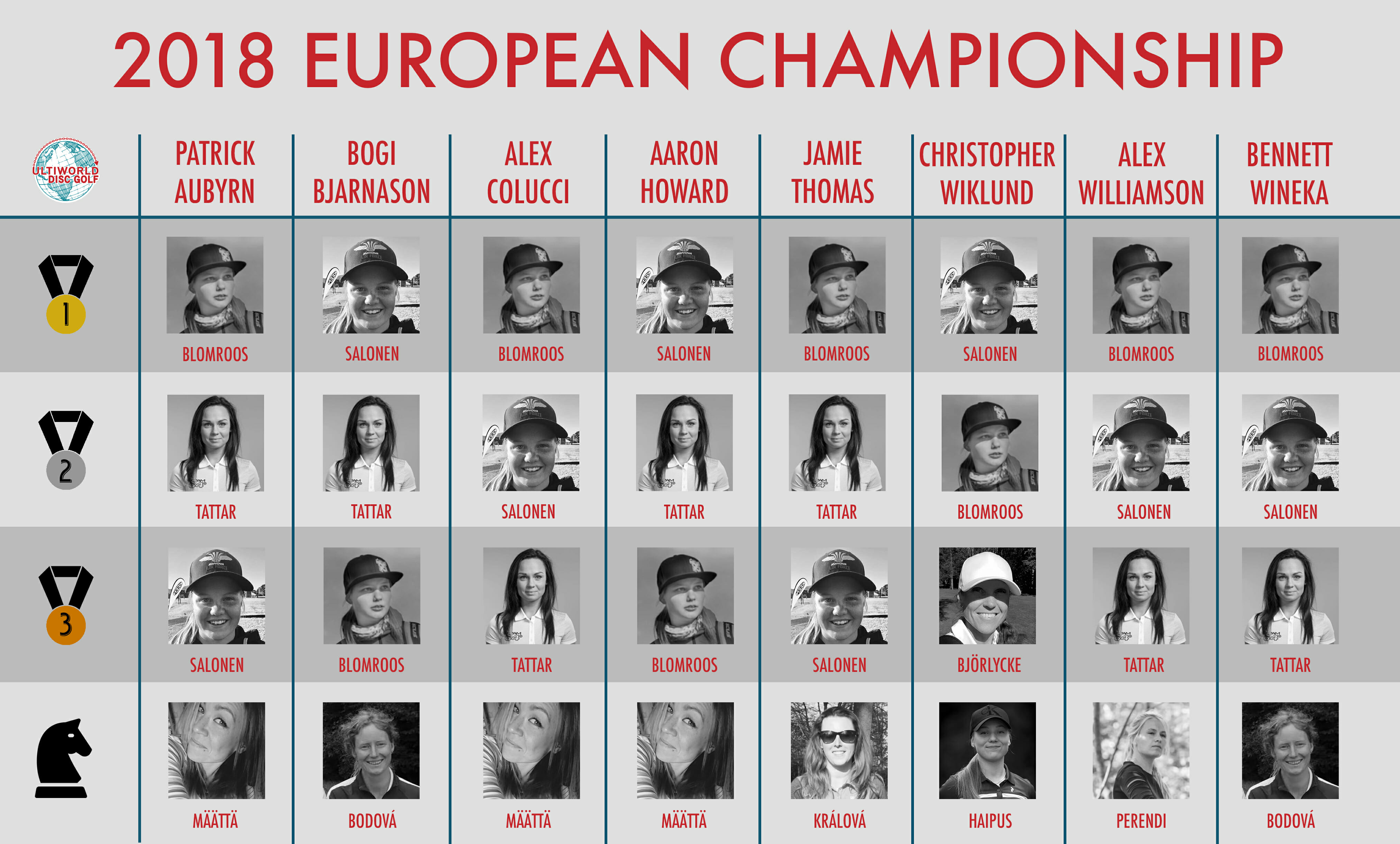 The virtually unanimous staff consensus is that Eveliina Salonen or Henna Blomroos will win the EDGC with Kristin Tattar crashing the podium for silver or bronze. Christopher Wiklund was the only writer to go straight chalk and pick the top three rated women in order, placing Swede Sofie Björlycke third behind the Finnish front-runners. Will Vanessa Van Dyken, the fourth highest rated woman in the field, sink our collective ship?
RATIONALE
Eveliina Salonen speaks softly (or not at all) but carries a big stick. You won't see her coming until she climbs to the top of the podium above you (again!). ~Bogi Bjarnason
2018 has been something of a breakout season for Kristin Tattar of Estonia. She's only been playing PDGA events for four years, and has demonstrated significant consistency this season and improved her player rating. That experience has shown through at high-level events all around Europe and she seems poised to be a consistent podium finisher for the foreseeable future. ~Alex Colucci
Henna Blomroos has the power to play with anyone in the field. If she can putt well, third place may be a conservative pick on my part. ~Aaron Howard
The cavalry: After personally witnessing Katka Bodová administer last rites to the Open de España last February, where she crushed the opposition by 18 strokes, I'm confident that if the front-runners here show any cracks in their armour, Bodová (or "The Beast from the East") might slip through and do some real damage. ~Bogi Bjarnason
Anna-Sofia Haipus has put together a very strong season, finishing in the top 10 of every event she has entered this season. She just hit the 900 rated milestone in July and while she may not yet be ready to take down the likes of Salonen or Blomroos, she has plenty of big stage experience and quality performances under her belt. ~Christopher Wiklund
Hannele Määttä has been incredibly consistent this year, with top 10s across the board. If she can avoid those big numbers look for her to have a surprise high finish. ~Aaron Howard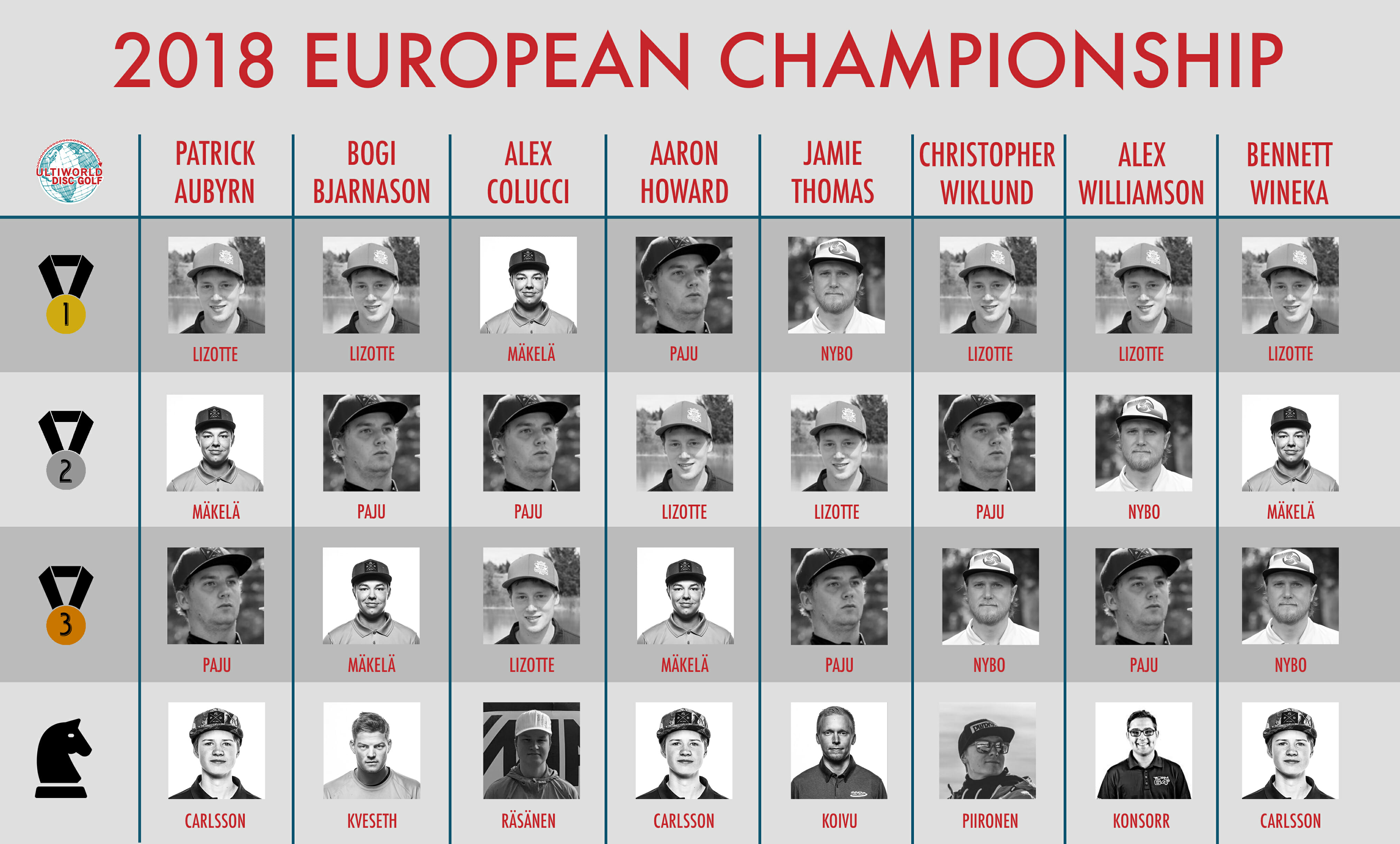 Just like our Open Women picks, the Open podium features four competitors: Simon Lizotte (5 first place votes) appears to be the staff favorite, while Seppo Paju, Väinö Mäkelä, and Karl Johan Nybo all come in with one first-place vote each. Apparently we're a pretty risk-averse bunch this week. If there's a shakeup at the top like we witnessed at the Ledgestone Insurance Open, we're in for a rough weekend on the picks front.
RATIONALE
Simon Lizotte hasn't played in the European Championship since 2014, and he hasn't won it since 2012. Those facts, along with his last event being a fourth-place showing at The Open in Sweden, make me believe he must be thinking a little bit about using the European Championship to reassert himself as the top player on the continent. With his skills and three weeks of rest from competition, I have little doubt he'll do just that. ~Alex Williamson
A young Fin to keep an eye on, Väinö Mäkelä has been on quite a run recently. An impressive win at Turku means momentum is on his side. ~Bennett Wineka
Seppo Paju slayed the Franz Ferdinand course at the Konopiště Open. The Spa Hills Disc Golf Course appears to present similar challenges. His proficiency in the woods and ability crush drives with accuracy should help him separate from the field. ~Patrick Aubyrn
The cavalry: In the last PDGA update, German Kevin Konsorr reached his highest rating ever: 1012. True, he rarely plays outside Germany—and Simon Lizotte essentially never plays in it—but he is almost always the player to beat at any tournament he attends in his home country (proven by how he hasn't finished outside the top two at all this year). With plenty of power, accuracy, and a great attitude on the course, he can easily keep pace with the better-known European pros if he finds his stride. ~Alex Williamson
Leo Piironen won the Finnish Nationals in July against a strong field and a very demanding course. Piironen was one of five players who finished under par for the tournament. More recently, he finished sixth at the Prodigy Pro Tour-Turku, but still appears to be playing his best golf of the season coming down the home stretch (Editor's note: Piironen's status as a dark horse is questionable, seeing as he is the reigning European Champion). ~Christopher Wiklund
Linus Carlsson is on a roll with top-five finishes all over Europe. The 998-rated Swede has averaged 12 points above his rating since Tyyni and finished in third place at the Ale Open against the deepest field he's met this year. For that tournament, Carlsson played 1031-rated golf and, in case you've forgotten, bagged two aces for good measure. Look for him to continue his hot summer in Croatia. ~Patrick Aubyrn & Bennett Wineka