Interviews and video about how hole 1 was designed and played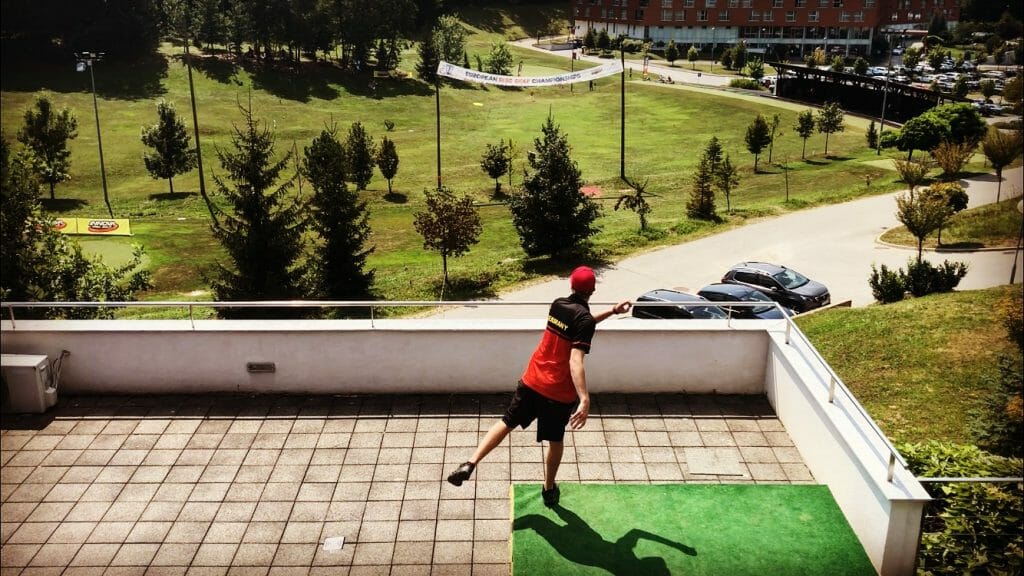 Traditional wisdom dictates that you do not throw tournament players into the deep end right out of the gates on hole 1. Not with a design that creates both stress on the tee, anxiousness the day before about going into the next round, and the distinct possibility that players will exit the hole immediately needing to aggressively attack the rest of the course — in this case a heavily wooded and technical front 9 — to make up for a single, double or even triple bogey opening frame. Instead, as Estonia's European Championship bronze medalist Kristin Tattar points out, you gently ease players into their day and the challenges ahead with a hard-earned birdie or must get par. Perhaps a par 3 hole averaging around 2.8 for the field?
While traditional wisdom might not be everybody's stein of beer, you'd be hard pressed to find someone eccentric enough that they'd advocate starting a major tournament with a hole that plays as the second hardest on the course for the MPO, MP40 and MJ18 divisions coming in at .6 over par with only 3 birdies recorded in 493 attempts. Or as the single hardest hole for the FPO, FP40, MP50; MP60 and FJ18 divisions, averaging a full stroke over par without a single birdie carded.
While the rest of the European Disc Golf Championship course was very well balanced and fair, this was nevertheless the harsh reality that faced Europe's top players in Sveti Martin Na Muri, Croatia last week. So Ultiworld Disc Golf took the time to ask important figures from the tournament — top finishing pros, and course designer Jonathan Baldwin — for their opinions on the hole I earlier termed the 'Gates of Doom' while offering some of my own thoughts along the way, along with video clips to see how the hole was attacked. But first up is my conversation with EDGC tournament director Dinko Simenc.
Simenc: [Jonathan Baldwin] was not around anymore when we set up the OB stakes, but the concept of how it will look like was discussed with him. And he did not see the banner and tee pad ready. There might have been some modifications if he'd been around. But, I still feel it was a good hole, although, for any future events on the same layout I would make the basket 5 or 10 meters closer and try to have the banner straight instead of being bent as it was.

Bjarnason: In my personal opinion the concept of the hole was great, but the rules and layout were far too punitive. I think It could've been made much better by two simple tweaks:

Make everything short of the mando safe. Due to the trees and the angles involved, placing the drive short of the mando would probably produce more bogeys than it would pars.

Going out-of-bounds on the drive after making the mando shouldn't result in a drop zone. Just make everything outside the ropes a hazard.

Simenc: We were considering a hazard area and discussed it, but at the end we decided to go with this concept. I am not sure anymore what was the main reason, maybe just a safety issue – if that would be hazard and you would be able to have a risky tee shot and get a chance to putt for 3, more players would probably go for it at full power and more discs would miss the mando and end up in the direction of the hotel parking lot. We wanted to avoid that.

From my perspective, the hole would be way better if we were able to keep the banner straight. That would already give additional space for attacking the basket. But, anyhow, even if this was not the best hole, it did create a lot of separation. For any future events that might happen with the same layout, I will probably just bring the basket 5 or 10-meter closer, and also consider your suggestion to make everything short of the mando safe.
Based on Simenc's comments, I was left with two questions: do we really want to create a lot, if any, scoring separation, on the first hole? And, if so, shouldn't we seek to eliminate the element of chance from the equation altogether?
---
Ultiworld Disc Golf reached out to a number of the top finishers with a simple question about the hole: What are your thoughts on hole 1 at the European Disc Golf Championship?
Eventual winner Simon Lizotte was the only one on the Open division podium to survive hole 1 bogey-free all weekend.
Simon Lizotte Hole 1 Euro Champonship
He responded with a simple statement:
It was a good try to have an exciting starting hole (laughing emoji)
Runner-up Seppo Paju hit the banner in round three, resulting in a triple bogey 6:
Seppo Paju Hole 1 Euro Championship
We teed off from a balcony/terrace, through a triple mando onto a island. I think the shot was fun throwing down the hill 140 meters, but the triple mando was unnecessary and didn't look good at all. This was the only bad hole on the course in my opinion.
Väinö Mäkelä, who finished in third place in Open:
If the banner would've been tighter or a different material then it would have been okay. And there wasn't a safe play at all. You had to try and shoot your first shot to the island. And the wall in front of the teepad was too high for short people.
Pasi Koivu finished tied for fourth in Open and shot a triple-bogey 6 on the hole on round two:
Pasi Koivu Hole 1 Euro Championship
First time I saw it online I thought, what a hole to begin with (and why would someone design a hole like that?). But when I got to Croatia I realized it's just a putter shot through the mando, which was actually quite large, and play for par. I missed it once, a slight breeze lifted my putter which hit the mando. In my opinion, it wasn't that scary, but I saw few players overthink it though. The hole would've been much better either without the mando or without the OB.
Perhaps the strongest criticism comes from Estonia's third-place finisher Kristin Tattar, who, along with the entire Open Women's podium picked up some bogeys on the hole:
In general I think it was a very weird hole. It was on a balcony very high up and then there was a triple mando which didn't look very nice because of the EDGC banner, which was pretty loose.

In addition, there was very tight OB and some trees right in the fairway. I think they could have done a better job designing it. It was a big score separator as well and didn't really show who was a better player. You could have easily ended up with a 4 or a 5 on that hole. I think a good starting hole would not be an easy birdie hole but a must get par. But I think many players were happy even with a bogey 4 on that hole.

Additionally, I can say that the rest of the course was nice and I really think they did the best that they could considering they are still a "young" disc golf country.
---
Finally, here's course designer Jonathan Baldwin's take on the design after seeing it played in a tournament:
I had such high hopes for this hole. I really liked the idea of throwing from the terrace down to the driving range. I thought it would be a great showcase of our players and make them feel like they were really playing something special in terms of a hole and an event.  I knew that we would need a stage of some sort to get players elevated enough to throw comfortably over the railing and Dinko said that he could build something to do that. Initially I wanted a par 4 where players could throw into a landing zone, similar to the fairway that we ended up using, but wider, and then have to play a shorter shot onto what would be the island ball golf putting green that was another 30 or so meters from where the pin was for the tournament. The idea being that very long throwing players could go for the small green in one shot if they wanted to risk not landing on the green. That was the plan when I went there in late June. Once we got there it became apparent to me that we couldn't do that due to safety of spectators and possibly hotel guests that would hopefully be coming over and watching. So we made two adjustments, moved the pin shorter, and made a triple mandatory to keep the disc's flight safe from spectators and hotel guests or anybody in the parking lot that wasn't aware of the event.    

Unfortunately, the triple mandatory ended up being too restrictive due to the height of the banner and the way it hung or "drooped" down and there really wasn't enough room for players to go for the green. I guess things don't always come out like you plan them, but safety was our primary concern. If another event were to happen there, that hole would be redesigned based on what we learned from this event.
---
And last, three more clips of how the hole played.
Icelandic J18 player Blær Örn Ásgeirsson was one of only two Junior players to beat the hole on every round, the other one being eventual J18 Champion Bohdan Bilek. Here's Ásgeirsson:
Blær Örn Ásgeirsson Hole 1 Euro Championship
Estonia's Robin Lepik and Denmark's Sebastian Kubel Pauli missing the mando in round two:
Robin Lepik hole 1 Euro Championship
Sebastian Kubel Pauli  hole 1 Euro Championship