Salonen slides to second while Králová and Tattar are now tied in third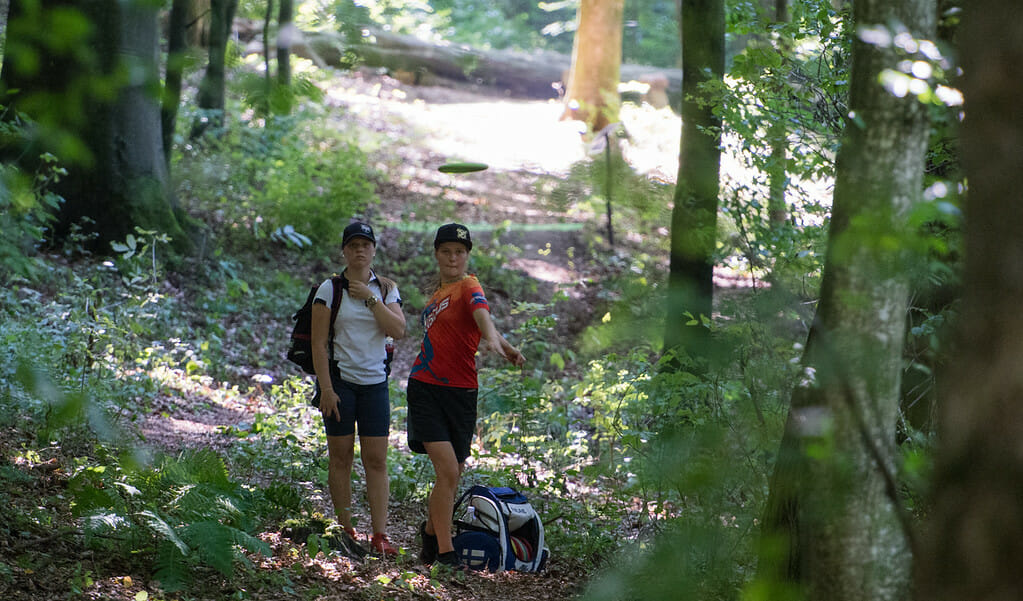 More like Henna BOOMroos.
The 2018 Finnish Open Women champion Blomroos showed again why she deserves her recently-earned national crown by dropping an astounding 1024-rated second round at the European Disc Golf Championship in Croatia. Her 8-under par 54 moved her from a three-way tie for second place and three strokes behind former leader Eveliina Salonen to a three-stroke lead over the field. Her stroke total stands at 116.
Salonen's 2-under par 60 effort has her at 5-under par 119 through two rounds and in second place. She is trailed by Eva Králová from the Czech Republic and Estonian Kristin Tattar, who are tied for third with 4-over par 128s.
1st: Blomroos
Often, Blomroos fits the stereotype of Finns as a reserved people. When first asked for a comment about her second round play, her reaction was rather subdued.
"My driving was good today," was all Blomroos said originally about her round—one of the highest rated of any by a female player this year. In fact, according to PDGA Technology Director Steve Ganz, it's the third highest rated round of the year in the Open Women division. That puts Blomroos in some rarified territory with the likes of Paige Pierce, who can claim the two highest rated rounds for herself.1
After a few follow up questions, Blomroos did elaborate, however.
"I am very happy," she said. "And the round felt good almost all the time. After hole number 12 I noticed this round would be good."
It's worth pointing out that hole 12 was a place where she put the finishing touches on a turkey. For tomorrow, Blomroos has straightforward plans and hopes.
"I don't want to think too much," she said. "If I don't throw many bad shots, I'll be happy."
2nd: Salonen
Salonen wasn't very excited about her own play, but she was happy to witness the success of her friend and fiercest European competitor, Blomroos.
"My round was so tough today," she commented. "I had a not-so-good feeling and the front nine was just surviving…but it was nice to see Henna's amazing round!"
Tomorrow her goal is simply to improve, especially on the front nine. She finished par on that stretch today whereas yesterday she was 3-under par.
Tied 3rd: Králová
Králová—whose 893 rating is just the 14th highest in a field of 24—is perhaps the biggest surprise near the top of the leaderboard. From her comments, it could have something to do with the course.
"The front nine of this year's EDGC course suits my game well," she relayed. "I played two birdies and zero bogeys and felt really confident with my game. I managed to hit most of my lines perfectly."
However, it wasn't all perfect.
"Unfortunately, I slowed down in the second half," she lamented. "I bogeyed all holes from 15-18 mostly because of bad upshots and not good enough putts."
Despite the disappointing end, Králová doesn't plan to change much for round three as long as the wind doesn't pick up. She explained that this is because, even though she isn't winning, she's extremely satisfied with her current position.
"This my first EDGC ever and I cannot be happier that I'm playing like this," she said.
Tied 3rd: Tattar
Tattar's feelings about her play at the halfway mark of the tournament seem like they could best be described in a game of charades by a nonchalant shrug followed by a determined clinch of the fist.
"I feel like didn't do anything really bad but I also didn't do anything great," she reflected. "I know I have the potential to do better so I just have to keep pushing."
As for planning ahead, Tattar generally has a "go-with-the-flow" attitude, including if that flow consists of holes that depend more on luck than a player's skill.
"I can't really predict anything since the first part of the course is very wooded and even if you have a good shot you can end up with a bogey," she said. "So hopefully I hit my lines and also have a bit of luck on my side. That's all I can hope for."
Generally, she hopes to just "make good shots and play up to [her] potential."
Further down the Leaderboard
Just behind Králová and Tattar are Vanessa Van Dyken and Sofie Björlycke, who are at 5-over par 129 and 6-over par 130 respectively. Van Dyken moved up the leaderboard, getting herself back in contention, while Björlycke fell from her previous position. The Swedish champion was tied for second after round one and dropped yesterday after shooting 6-over par for her second round. German Antonia Faber also slid from formerly being tied in second to eighth place after finishing with a 9-over 71 on the day, moving her total to 9-over par 133. Slovakian Katka Bodova holds seventh place with an 8-over par 132.
---
Those were a 1025-rated first round at the Samui Swine Classic in February, and a 1059-rated opening round at the Jonesboro Open in April. ↩