Weese's first Disc Golf Pro Tour win of 2018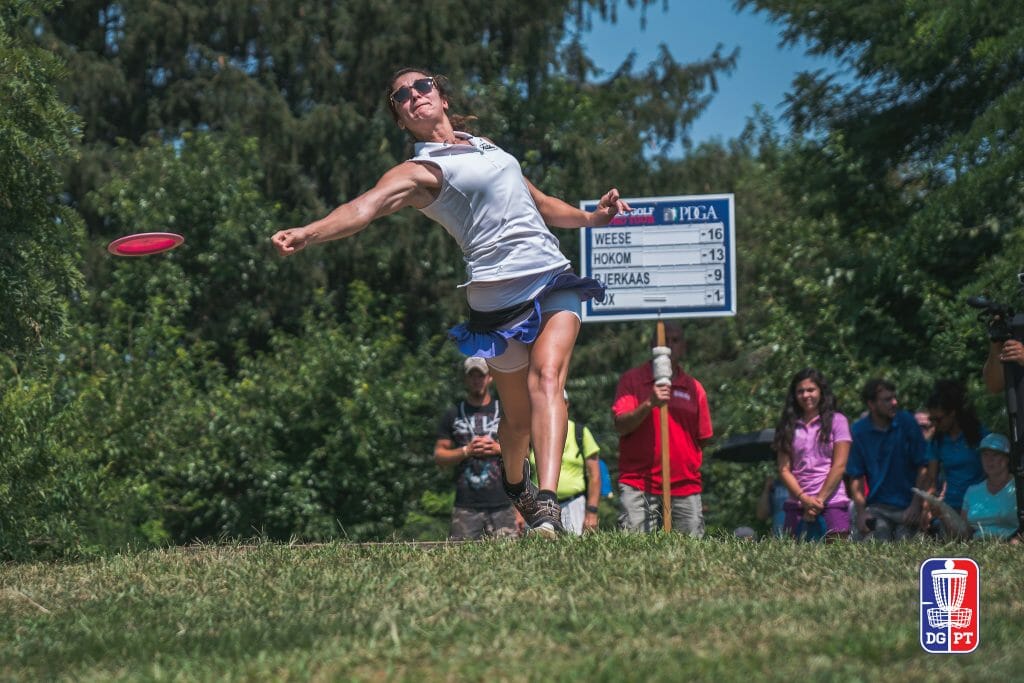 For most golfers, a season with four A-Tier wins and top-five finishes in Disc Golf Pro Tour and PDGA National Tour events would be a success. Beyond expectations really. It's not enough though when you know you are capable of turning those top-fives into wins.
This has been 2018 for Jessica Weese. A perennial challenger for wins at premier events, she hasn't been able to put together an entire tournament this season. Last year at Ledgestone she took Valarie Jenkins to a playoff before finishing second, but after two rounds this weekend, it looked like it may be more of the same season trend for Weese.
Except in round three, she started collecting birdies and didn't stop Sunday during the final round at the Ledgestone Insurance Open. According to UDisc Live, Weese led the field in birdie percentage and put herself position by getting into Circle 1 at the best clip of any player as well.
"I had a game plan today to come in and play consistent," Weese said in a post-round interview with Terry Miller. "I didn't really want to go for any crazy shots. Just try to maintain my lead."
The five-stroke lead she took into the day turned into a two-stroke win. Weese finished Ledgestone with a 5-under par 54 at Sunset Hills for a 15-under par 219 total. It wasn't all cruise control for Weese, however, as she had a resurgent Sarah Hokom making her own move.
Hokom's Ledgestone was similar to Weese's — two slow rounds before getting revenge and picking up lost strokes on the second run-through both courses. Coming off one hot round during moving day, Hokom matched her 7-under par from Saturday with a 52 in the final round with only one bogey, bringing her four-day tally to 13-under par 221 total.
Momentum looked to temporarily be on Hokom's side after she picked up a stroke on Weese on hole 4 with a birdie banger from 38-feet.
Hokom proceeded to reel off three more birdies in a row, gaining another on Weese. When Weese caught an unfortunate OB roll on hole 11 for a bogey and Hokom nabbed another birdie-2, the lead was erased with the women tied up as the final stretch approached.
"I was really fortunate to get [hole 11], I don't think I've ever thrown it that close to the pin before," Hokom said while providing commentary during round four. "I used to play it safe…but I found the upshot so difficult that I figure I may as well take the risk off the tee, and you still have a putt if you're long OB."
But as quickly as it came, Weese shut the door on the comeback. Hokom played a safe lay-up on the island hole 12 and Weese proceeded to park her hyzer for a drop-in birdie. She'd continue, parking three more holes over the next four during a 5-consecutive-birdie streak to build back up a 3-stroke margin by hole 17.
That's how you finish an event. 
"The island hole [12], I was debating if I was going to lay it up or not. I thought [Hokom] went for it from the tee pad and made it into the circle so I decided I better put it in the circle and give myself the opportunity," Weese said, coping to a change in that safe game plan, as well as a misread of her opponent's play. Upon realizing what had actually happened, she gladly took the stroke and "never looked back."
Playing on the lead card with Weese and Hokom was Paige Bjerkaas, who had a bit of a roller coaster start to her round but leveled it out for a 2-under par 57. Her tournament total of 8-under par 226 total was good for solo third, and her third podium finish on the DGPT this year.
Catrina Allen, Paige Pierce, and Lisa Fajkus all worked their way up the leaderboard on Sunday, but they each, ultimately, had too deep a hole to dig out of. They finished fourth through sixth respectively. Allen was top of the field in fairway hits and parked shots but wasn't able to convert her scoring opportunities. For the first time all season, Pierce did not finish a DGPT event she participated in as a leader in any statistical category. Fajkus topped Open Women with 93-percent putting from inside Circle 1 but didn't consistently get herself in those birdie positions.
The Disc Golf Pro Tour heads next to the MVP Open at Maple Hill in Leicester, Massachusetts, which kicks off August 24th.