Weese 'big putts' her way to second place; Pierce drops to chase card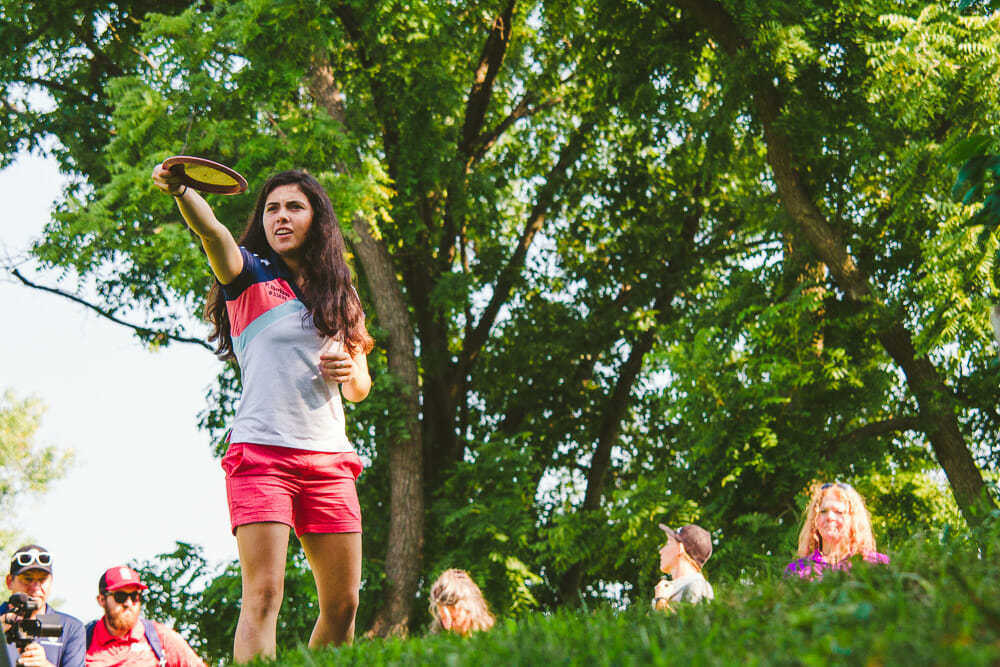 The Sunset Hills course is filled with out of bounds danger, but Paige Bjerkaas avoided OB strokes for the most part and collected seven birdies on her way to the outright lead in round two of the Ledgestone Insurance Open. Several other players seemed to find their groove in Friday's round as well, but a few notable names struggled.
One Paige Up, One Paige Down
Bjerkaas continued her consistent play as of late, shooting a 5-under par 54 which was the hot round of the day. That performance was good enough to vault her into the lead where she currently sits with a two-stroke lead over Jessica Weese. Bjerkaas started out slow, collecting two OB strokes and two bogeys through the first four holes, but pick up the pace and stayed clean after that. Two of her seven birdies to finish out the round came from parked shots inside five feet, two more from circle's edge putts, and one from 38 feet out — her only Circle 2 connection on the day.
Weese, on the other hand, connected on three Circle 2 putts on her way to a 2-under par 57 score. That resulted in her holding on to solo second place. Those three Circle 2 putts from nearly 40 feet out accounted for half of her six birdies. Those long makes helped mitigate her four bogeys on the day, two of which were the result of OB strokes.
Catrina Allen also had a solid round. Outside of a double bogey on hole 12 and a bogey on hole 3, she carded birdies and pars. She matched Weese's 2-under par 57 outing and remains in third place.
While the rest of the lead card found success, Paige Pierce had her ups and downs. Pierce's aggressive style of play rewarded her with some birdies and par saves that other players might not have been able to achieve, but it also got her into some trouble. For example, following an eagle look after a fantastic drive on hole 14, Pierce three-putted her way to a triple bogey. She also had a monster drive on hole 17 but unfortunately missed the mando. Her 2-over par 61 was enough to drop her to a tie for sixth-place and off the lead card at the tournament's halfway point.
Gannon Moves Up to Lead Card
Missy Gannon's 949-rated, 3-under par 56 mark moved her up two spots to solo fourth place, which means she will be on the filmed lead card tomorrow.
"I felt like my round today was very smooth and level," Gannon said, reflecting on her round. "Not too many highs and not a lot of lows. My plan of attack going into today was to just keep it in the fairways, avoid OB and, most importantly, stay calm!"
This proved to be an effective strategy as Gannon managed to finish without carding a single OB stroke. She also said she plans to maintain this strategy as the field moves back to the Northwood Park course tomorrow. This will be Gannon's first time on a lead card at a Disc Golf Pro Tour event.
Widboom Waltzes up the Leaderboard
Ellen Widboom made the biggest jump up the leaderboard, moving up 11 spots into a three-way tie for 10th place after putting together a 3-under par 56 round. She also managed to avoid OB entirely.
"Last night I told myself I was going to shred and play my game," Widboom said after the round, describing her approach heading into the event's second day. "Not concentrate on anything but each individual shot — oh yeah, and have fun!"
She also offered her approach to avoiding the OB saying, "…I honestly just took it out of the equation. Out of sight, out of mind kind of deal."
Lots of Golf Left
While the top players managed to put a little bit more scoring separation between themselves and the field, the Ledgestone title is still up for grabs. Nine players are now within seven strokes of the lead. With two rounds still left to play, there's opportunity for moves to be made as the field heads back to Northwood Park for moving day.
---
The lead card of Bjerkaas, Weese, Allen, and Gannon is scheduled to tee off at 8:54 a.m. local time. You can follow along with the live scoring at UDisc Live, and edited video footage from the round begins at 3:00 p.m. eastern time on the DGPT YouTube channel. Check back in here at Ultiworld Disc Golf for recaps and coverage of the final two rounds.