Hokom shoots a 997 rated round to move into a tie for second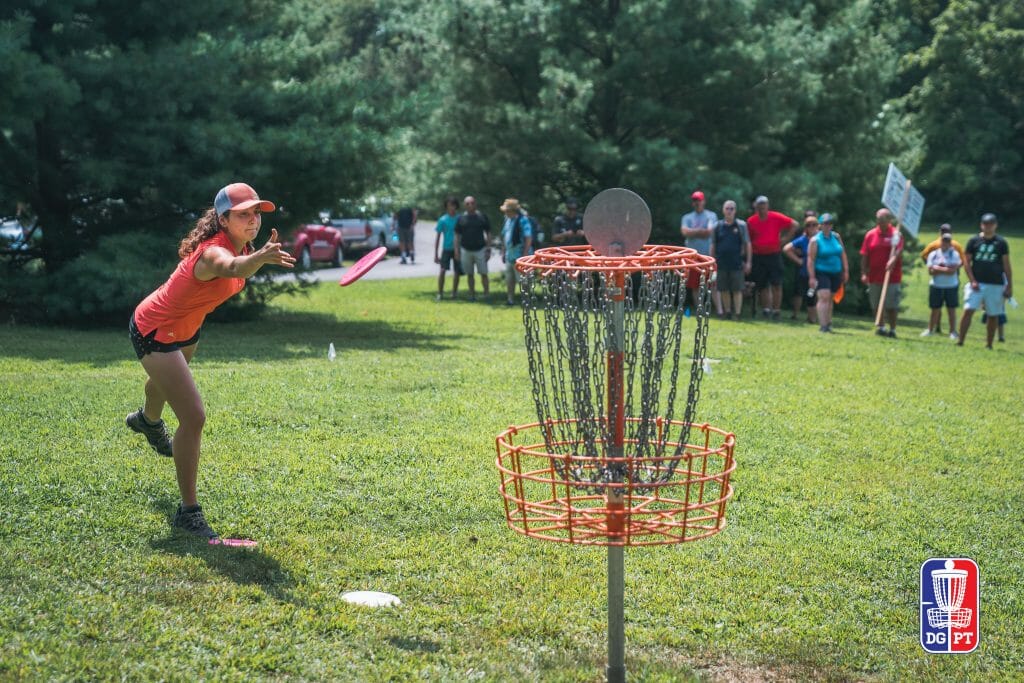 After the Ledgestone Insurance Open's second day at Sunset Hills golf course, the Open Women's division was back in the trees at Northwood Park for the final time on moving day. With more vertical obstacles back in play, Jessica Weese took advantage of her ability to throw a massive forehand and an accurate backhand off the tee. Those skills combined with 94-percent Circle 1 putting helped her regain the lead. She carded eight birdies on her way to a 6-under par 52 round, to move her leading total to 10-under par 165.
Weese's strong day on the putting green was due in large part to her accuracy from distance. For example, she parked the 321-foot hole 6 with a backhand drive. Then on the 276-foot hole 7, she utilized a forehand drive to get in range to convert back to back birdies. That birdie putt on hole 7 came from 38 feet out, and it was just one of two putts from Circle 2 she had to attempt on the day. Additionally, she only had to attempt one Circle 1 putt from outside 16 feet on the day according to UDisc Live stats. Ultimately, she ended the day with a four-stroke lead over Sarah Hokom and Paige Bjerkaas.
Hokom Scrambles into Second, Tied with Bjerkaas
Hokom shot the hot round, a very impressive bogey-free 7-under par 51, rated at 997. She also executed a 100% scramble rate, which was a mark unmatched by any of her competitors. Like Weese, Hokom was strong in terms of reaching the green accurately and taking the pressure off her putting. Yesterday, 14 of her birdie and par putts came from 5 feet and in, while two of her other birdies came from 27 feet out, and another from 38. Hokom climbed six spots up the leaderboard into a two-way tie for second place with Bjerkaas at 6-under par 169.
Despite 100-percent Circle 1 putting, Bjerkaas failed to hang onto first place, carding three birdies and three bogeys resulting in an even-par 58. Her 39-percent fairway hit rate on the day meant she was often working to find her way back after some tough tree kicks.
Other Players on the Move
Rebecca Cox backed up her strong performance in round two with another one yesterday. The highlight of her day was a 76-foot throw in on hole 2 for birdie. She ended up with a 3-under par 55 that was good enough to move her onto the lead card in solo fourth place at 4-under par 171.
Catrina Allen's three-putt on the final hole dropped her into solo fifth place at 3-under par 172. However, her even-par 58 round still leaves her three strokes ahead of Paige Pierce who sits in solo sixth place at even-par for the tournament.
Madison Walker made the biggest moving day jump, carding a 4-under par 54 that lifted her 10 spots into solo thirteenth place. She found her way there with a 91-percent scramble rate and 94-percent Circle 1 putting.
Exciting Finish Set for the Podium and the Cash
While Weese has given herself a small cushion as the field heads back to Sunset Hills for the final round, only three strokes separate second through fifth place. Pierce will also be lurking on the chase card, hoping to find her way onto the podium.
The Ledgestone offers an impressive payout, with a projected 18 players cashing in the division. First place will take home $2,300, with $1,600 for second and $1,200 for third. This certainly will give players extra-incentive to finish well.
---
The lead card of Weese, Hokom, Bjerkaas, and Cox is scheduled to tee off at 8:54 a.m. local time. You can follow along with the live scoring at UDisc Live, and edited video footage from the round begins at 3:00 p.m. eastern time on the DGPT YouTube channel. Check back in here at Ultiworld Disc Golf for recaps and coverage of the final round.