Back-and-forth battle finally settled in extra frames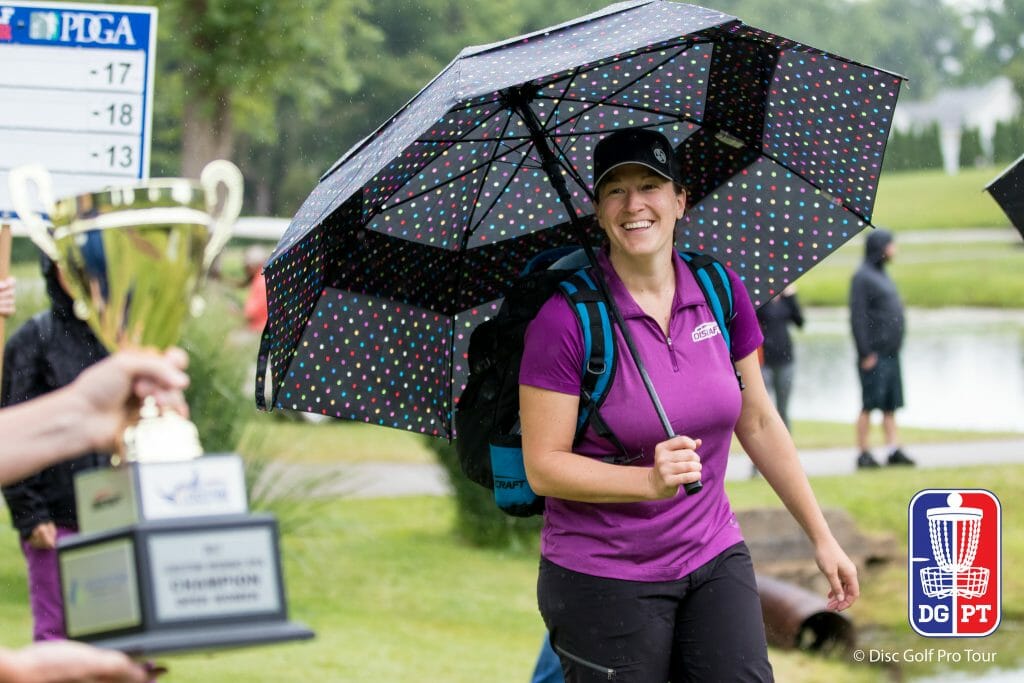 After three rounds of trading places at the top, Valarie Jenkins and Jessica Weese needed extra holes to decide the winner of the Ledgestone Insurance Open.
With the two tied after the fourth round at Sunset Hills yesterday, the stalemate continued for three more holes as the pair lobbed pars at one another. On the fourth hole of the sudden death playoff, though, Weese's drive went long, landing out of bounds and opening the door for Jenkins to play for par and the win.
Jenkins' 4-under par 53 final round erased the one-stroke deficit she had heading into the day, while Weese's 3-under par 54 caused the two to finish with matching 18-under par 212 totals. The close competition during the final round, and throughout the entire event, was something Jenkins relished the opportunity to be a part of.
"It feels amazing," Jenkins said. "It's the best way to win, when you're competing against somebody who is playing just as well and you're both playing your best and you can win on that note."
The intensity of the scoring and constant pressure left Jenkins satisfied that she and Weese — and the other women in the field — had put on a show.
"I feel like there's a lot of tournaments where there's that person in first place and they get their stride and they run away with it and it doesn't create that great of a spectator sport," Jenkins said. "It was amazing battling it out with Jessica, and literally just handing [the lead] back and forth each round was really fun. It's incredible competition. I feel like all the ladies were playing really, really well on the lead card all week long."
Ragna Bygde Lewis finished five strokes back in third place after her final round 2-under par 55 helped her card a 13-under par 217 total. Paige Pierce jumped into fourth place after her final round 5-under par 52 brought her total to 7-under par 223. Sarah Hokom was just one stroke behind Pierce to round out the top 5 after a final round 3-under par 54.
While there was considerable competition throughout the field — seven competitors finished at even-par or better — it was just Jenkins and Weese who had a chance at the win throughout the final day. The pair traded the lead throughout the final round, and it was fitting that Jenkins got the win on the same Sunset Hills course where she took the lead after the event's second round.
"I guess Sunset Hills did give me the edge over her — it was just the matter of a couple of strokes," Jenkins said. "We were playing the same game. Some holes were better for a forehand, you know? I had to keep up with her. She's got backhand and forehand, so I think it's a course that works well for women, and players like that that have all the different skills to reach basically every basket for birdie."
With both competitors declining to give an inch, they each played the first three holes of the sudden death playoff nearly identically.
"There was a lot of pressure on all those holes, even though we pushed it to the fourth hole," Jenkins said. "I think it was that point where we were both playing so well that you were just waiting for someone to mess up."
Arriving at the fourth hole — a tricky downhill, left-turning fairway with a pond short and out-of-bounds bunkers and a golf green to the right of the pin — proved to be an extra challenge for Weese. Earlier during the round, her drive there came up short, landing out of reach in the water. Weese then teed off first in the playoff and, without her preferred disc, overshot and landed on the OB golf green. Jenkins, meanwhile, landed safely just short of the same hazard, and Weese's long bid to save par missed left. An easy lay-up left Jenkins with the win.
"Thankfully I landed safe — there's a ton of OB on that hole," Jenkins said. "To win on a par after all that golf, that was a nice way to win. I had to lay it up under the basket, and even though that is a pretty routine thing, it's still pretty nerve-racking when it's for the win."
The victory was Jenkins' first at a high-profile event this season after coming up short at the PDGA Professional Disc Golf World Championships and the European Open.
"I feel like a lot of the tournaments I've placed second at this year I haven't played my best, besides Worlds," Jenkins said. "I definitely put all I had out on the table for Worlds, but the other tournaments I played well — I got second place, that's really good, but you come to these tournaments and you want to win. I traveled across the world to play in Finland and come in second place — that's not what I plan to do. It's really great to come out and finally get a win under my belt."
After her notable departure from Innova Champion Discs this past offseason, Jenkins was quick to note the added meaning for her to win at one of the flagship events supported by her new sponsor, Discraft.
"The main reason [husband] Nate [Doss] and I came to this tournament was because Discraft supported us and wanted us to be here," Jenkins said. "This is our third time coming to this tournament. With our tour schedule it was a little hectic for us to make the trip out here and Discraft wanted to make sure that we were able to get here, so they helped out. It's great to make a win happen in one of their premier events."
Jenkins plans to return to the touring scene at the end of August for the Vibram Open in preparation for the swing through New England that includes the Nantucket Open and Green Mountain Championship. She'll need those events to climb in the Disc Golf Pro Tour points standings, where she currently sits in 11th place.