New discs translate to a learning curve, or do they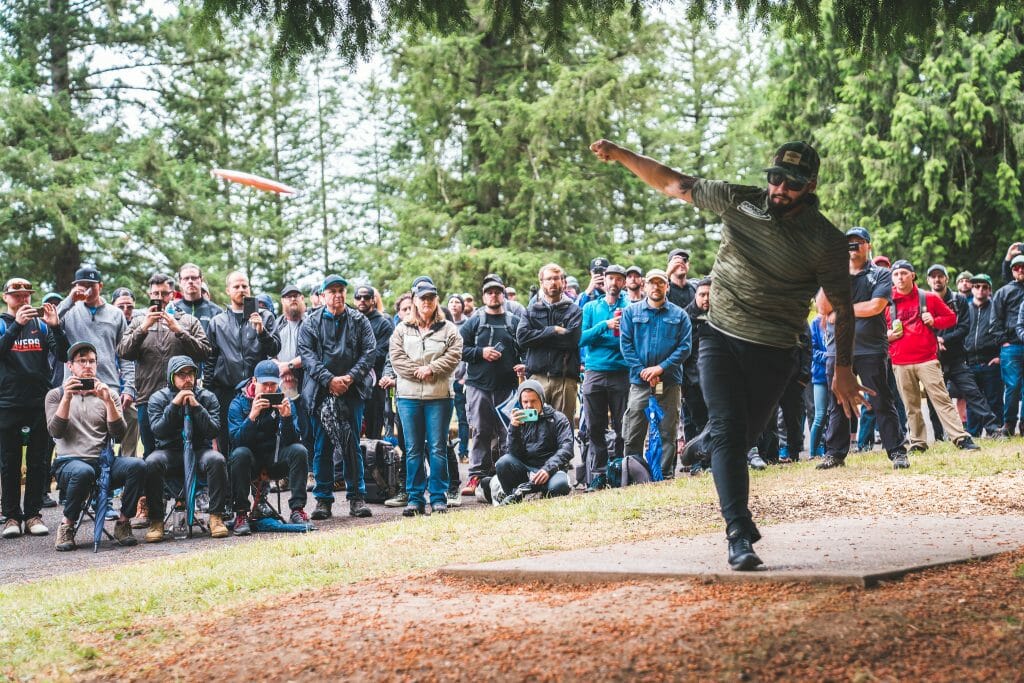 As much as we want to give credit to the archer and not the arrow, to be an expert marksman you have to understand your equipment. Not being familiar with your discs can be debilitating for professional golfers as much as it can be for any amateur. Imagine switching your entire bag out for brand new discs you've probably never thrown or have limited experience with and having to tour with it two months later?
But how much does changing manufacturer sponsors really affect pros? We looked at this year's highest-profile sponsor changes and judged their performance against roughly the same time period — January to mid-July — of 2017 to see if the new bags helped or hindered them.1
---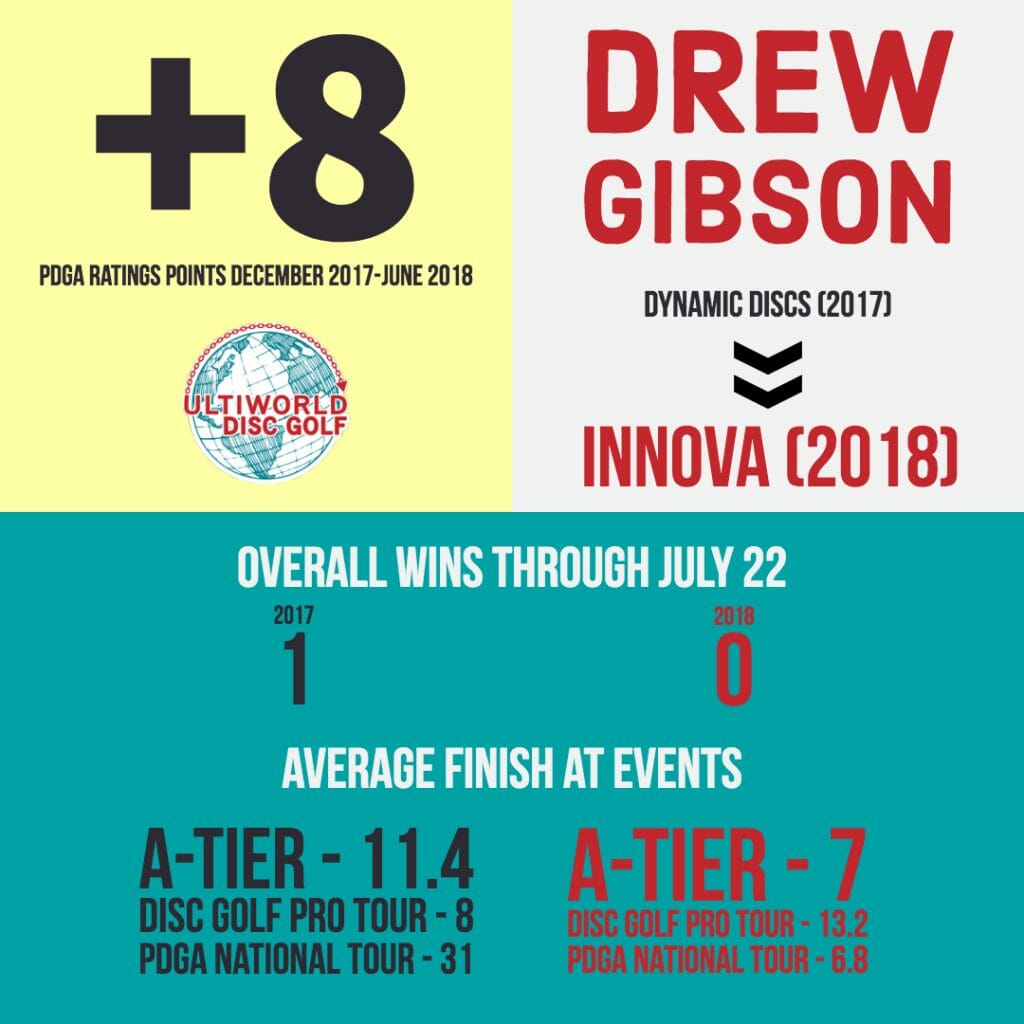 Because of his performances early this year, Drew Gibson was probably the most ballyhooed sponsor change during the offseason, but he also has a big asterisk near his name. After two years at Dynamic Discs, Gibson returned to Innova for 2018. His familiarity with molds, and even some old favorites returning to the rotation, means Gibson hasn't missed a step. His A-Tier finishes are higher from 2017, and his PDGA National Tour finishes skyrocketed from 31 to 6.8, the biggest gain for any player we looked at here.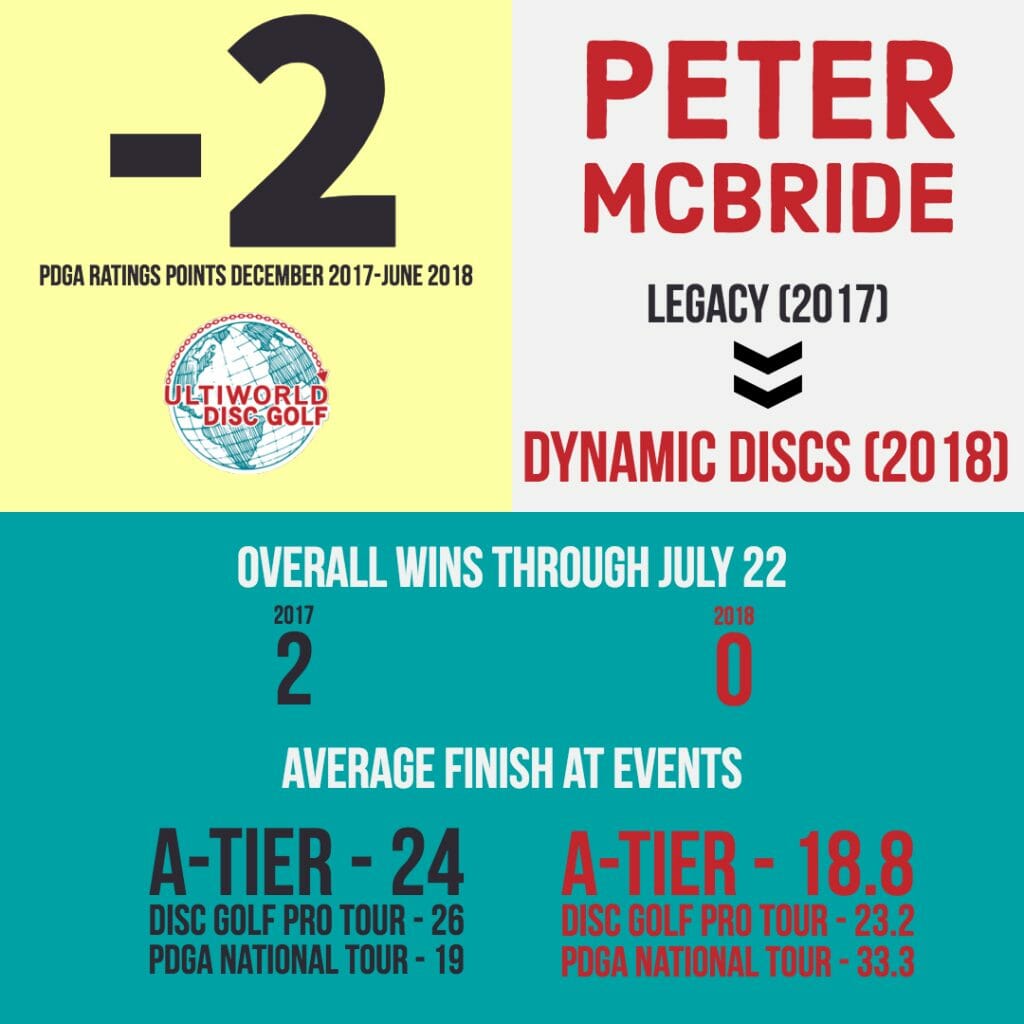 Peter McBride's move to Dynamic Discs from Legacy Discs is one of the few cases where immediate results have not been seen. To this point last year, McBride and picked up a couple lower tier tournament wins and performed better at NTs.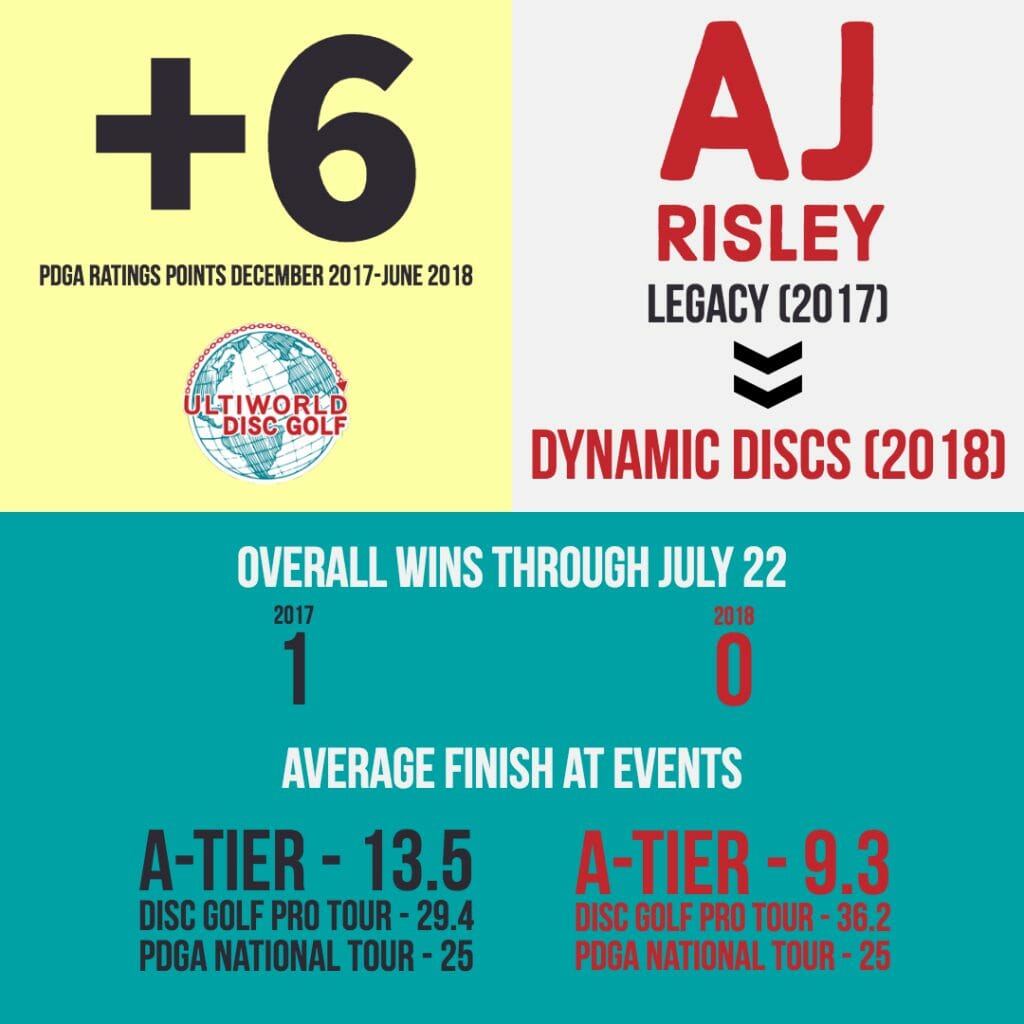 Not all his finishes have vastly improved, but AJ Risley looks more confident every week after also moving from Legacy to Dynamic. His average A-Tier finish, of which he also has played more than twice as many in 2018, has risen by more than four places to 9.3. Risley's rating has also increased six points.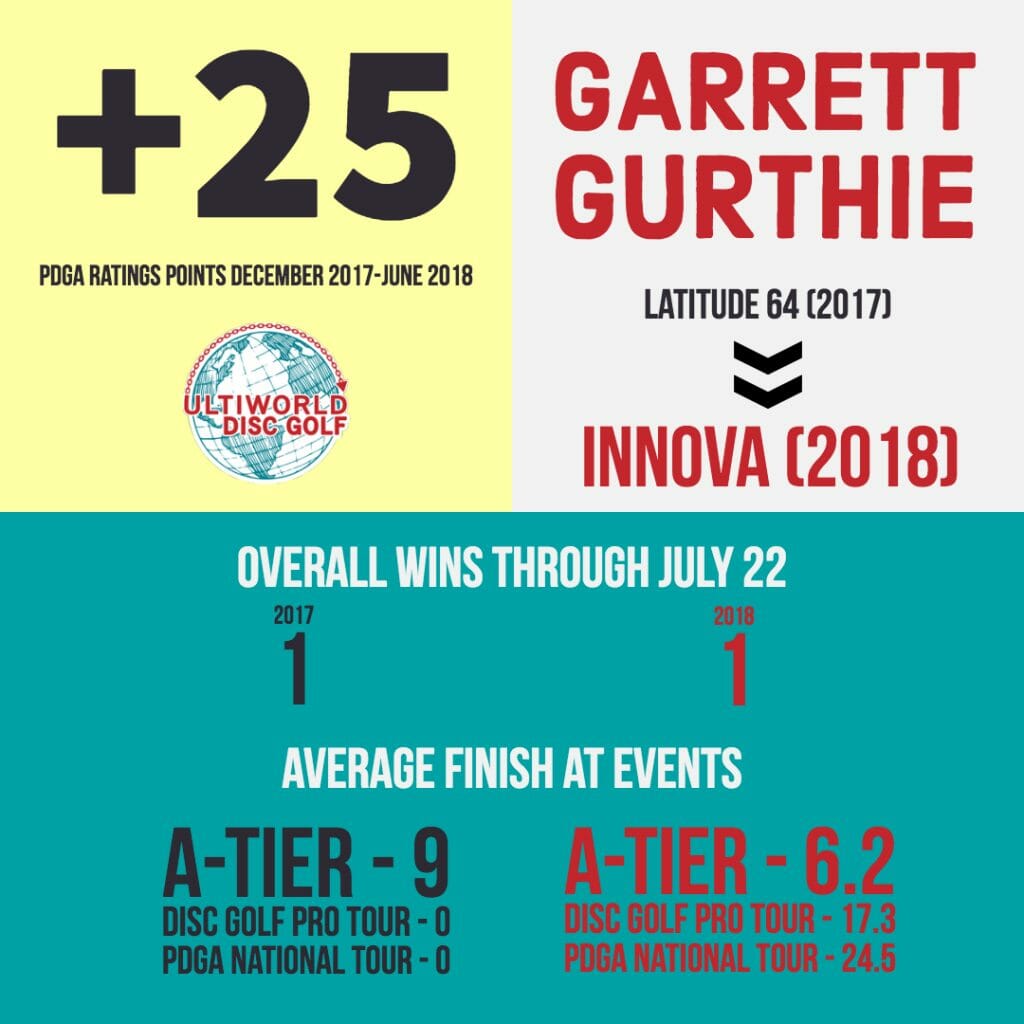 A strange case here as Garrett Gurthie has been out of the touring life for several years, and in that time period changed sponsors to Latitude 64, but then switched back to Innova for 2018 when he went back into full-time touring. Since, he has risen 25 ratings points, bringing him within 12 points of his all-time high from November 2012. There is no data to compare the jump year-over-year, but he has won his first A-Tier or better tournament in four years. It's safe to say he's back on everyone's radar in a big way already.

Matt Dollar is a mostly regional pro in the southeast, but he became one of MVP Disc Sports' most recognizable faces after moving over from Latitude 64. He did not perform well at the two DGPT events he has attended so far in 2018. His results at A-Tiers have risen and he's already won six lower-tier tournaments, matching his total from last year.

It was a bit of a late announcement and also a bit of a surprise to hear Elaine King would be sponsored by MVP after leaving longtime home Discraft late last season. By her standards, and admission, she has struggled a bit and is not quite comfortable with her bag. For anyone else, nine wins would be an amazing start to a year.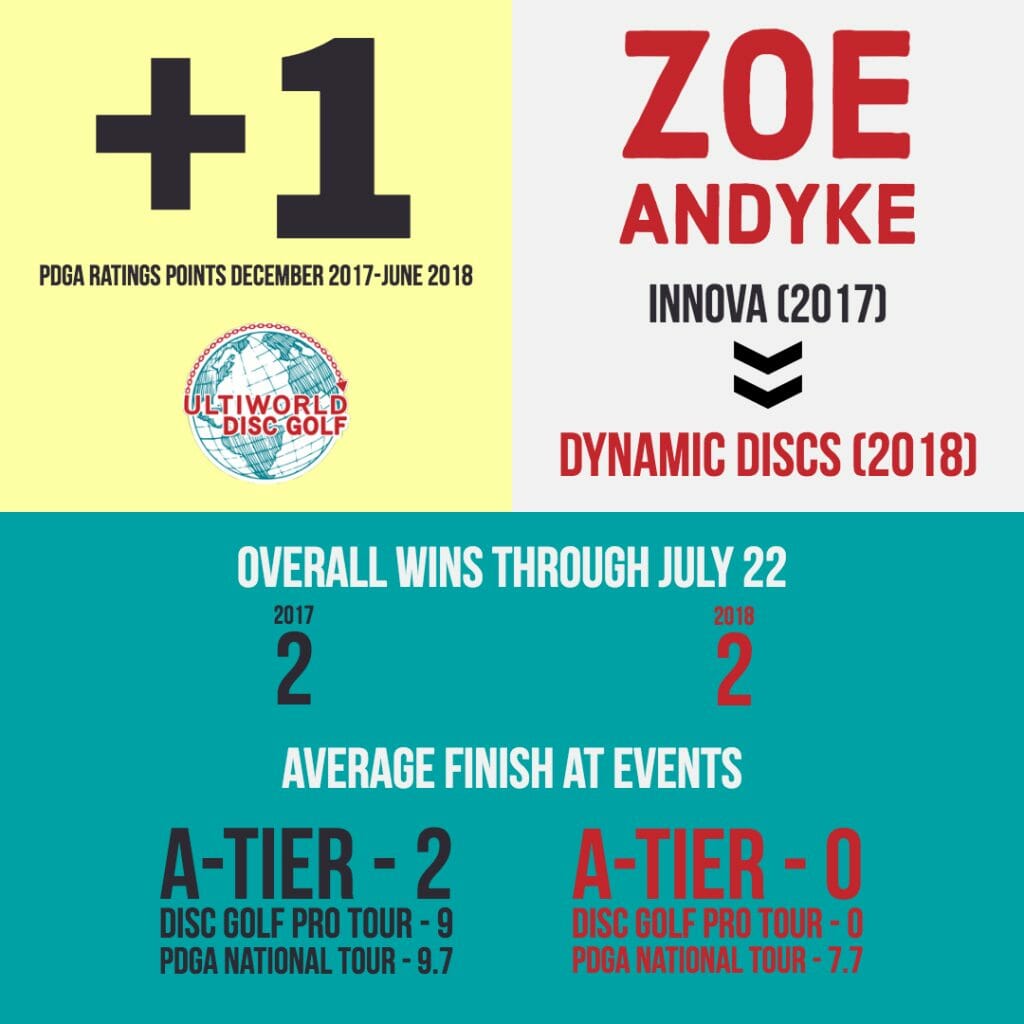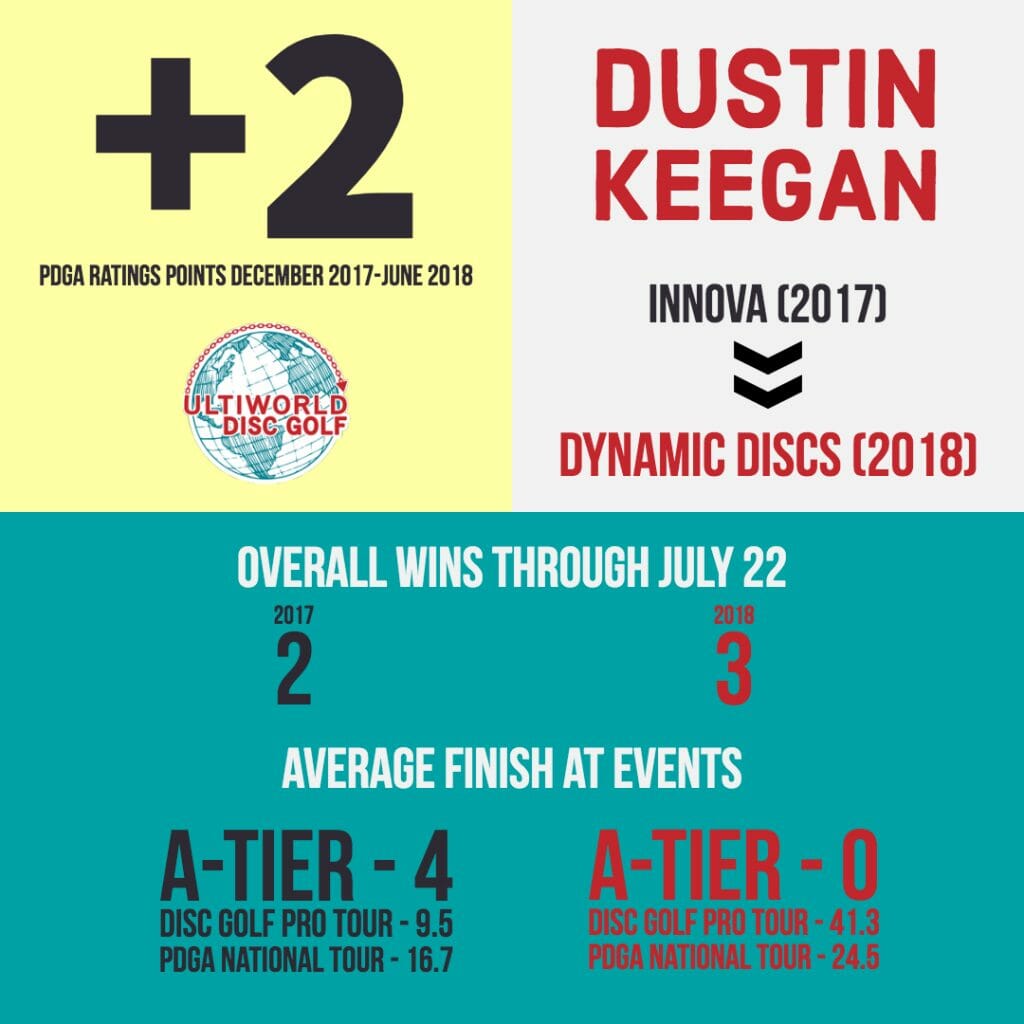 Both Zoe Andyke and Dustin Keegan moved from Innova to Dynamic Discs and haven't played as many events as others on this list, with much of their focus going toward UPlay, their educational disc golf initiative. Andyke's performance is pretty flat year over year, but Keegan's DGPT finishes have plummeted. He is also coming back from a shoulder injury he played through during the later portions of 2017 and still seen his rating increase two points.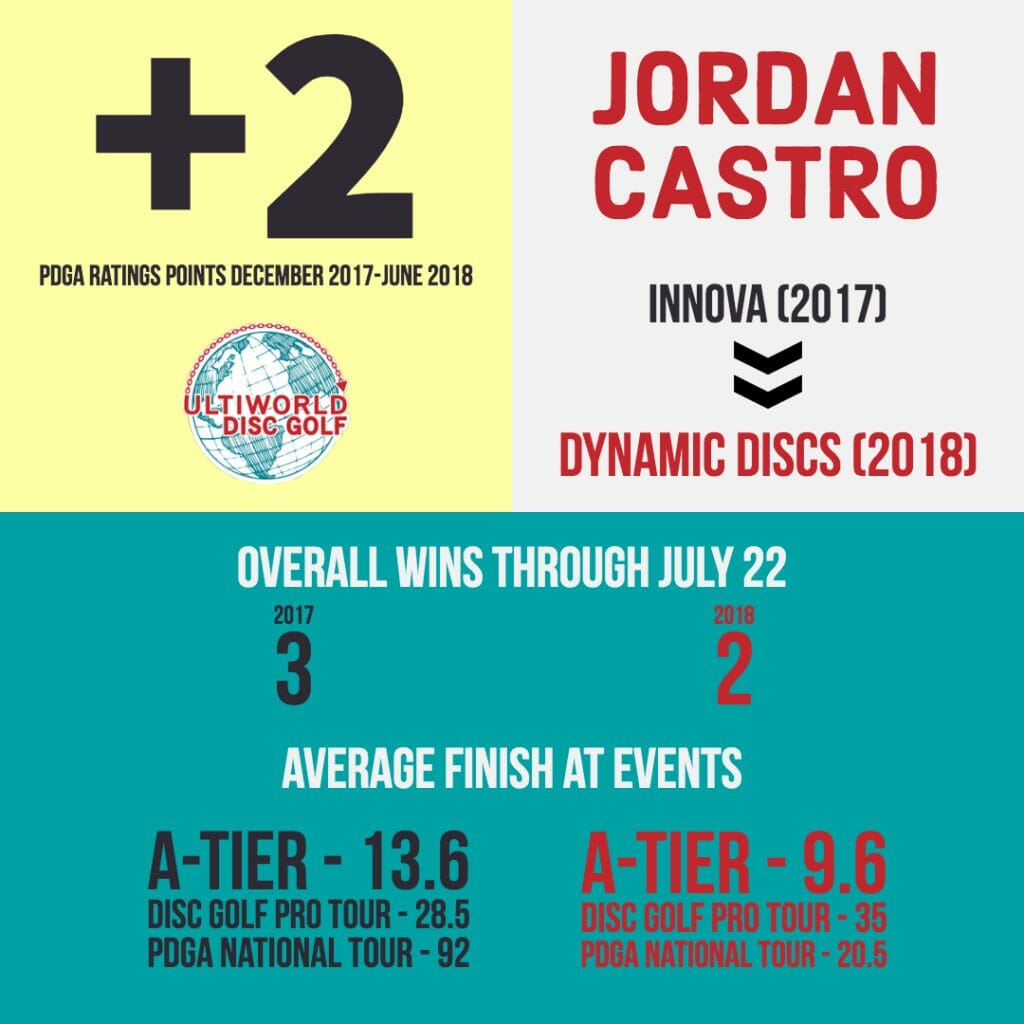 Another Innova to Dynamic Discs transfer, Jordan Castro is also probably benefitting from an increase in touring. His finishes have greatly increased at NTs and he's got two lower-tier wins to go with it.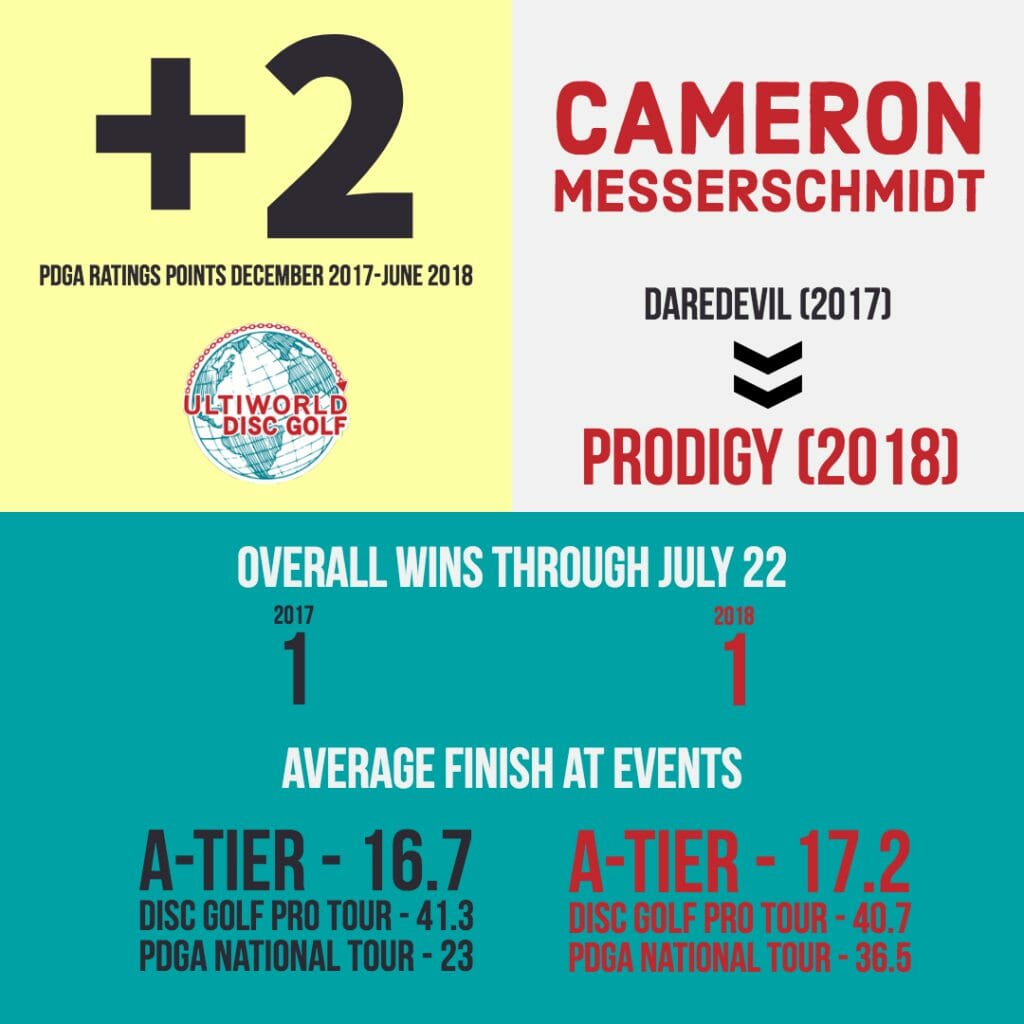 Cameron Messerschmidt spent the last two seasons with Daredevil Discs. His swap for Prodigy Discs have seen his results remain flat and his rating increase two points. He's found success this season at regional tournaments but has had uneven finishes at higher-profile events.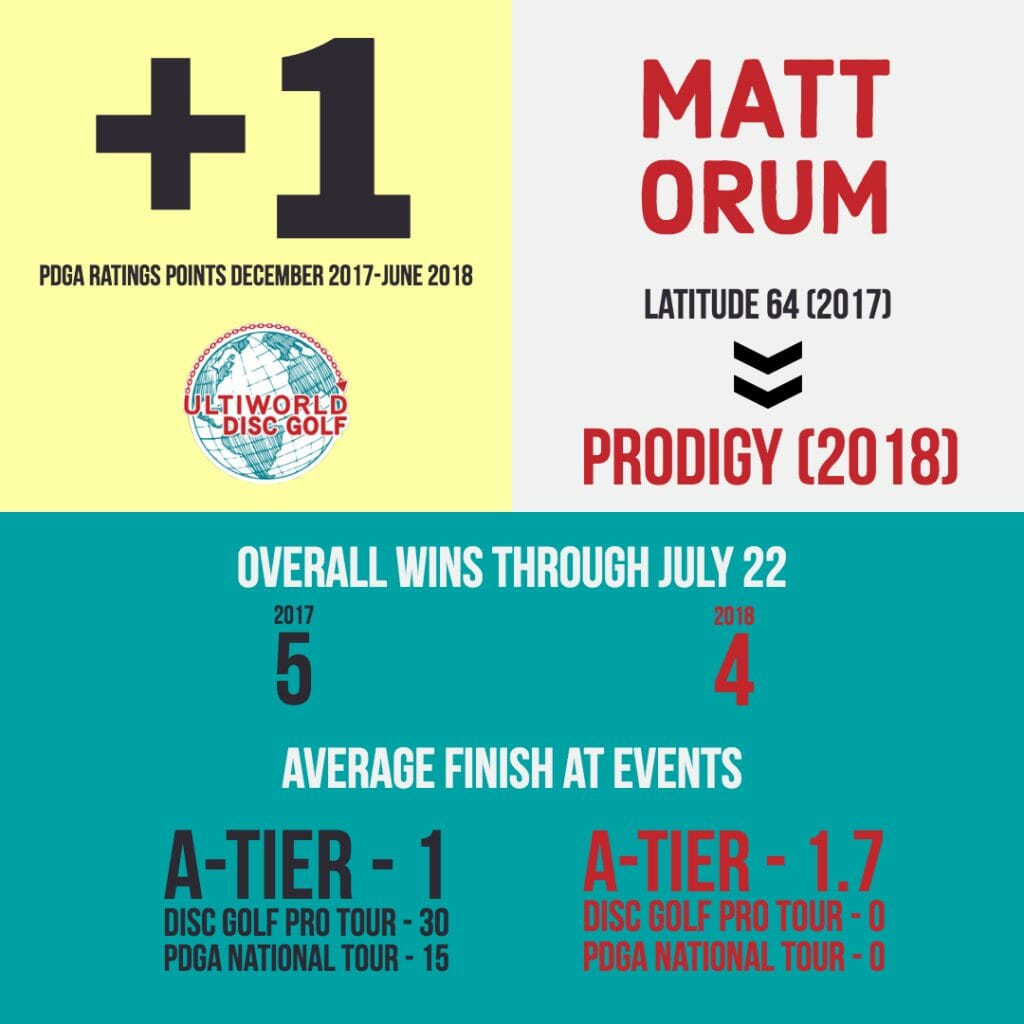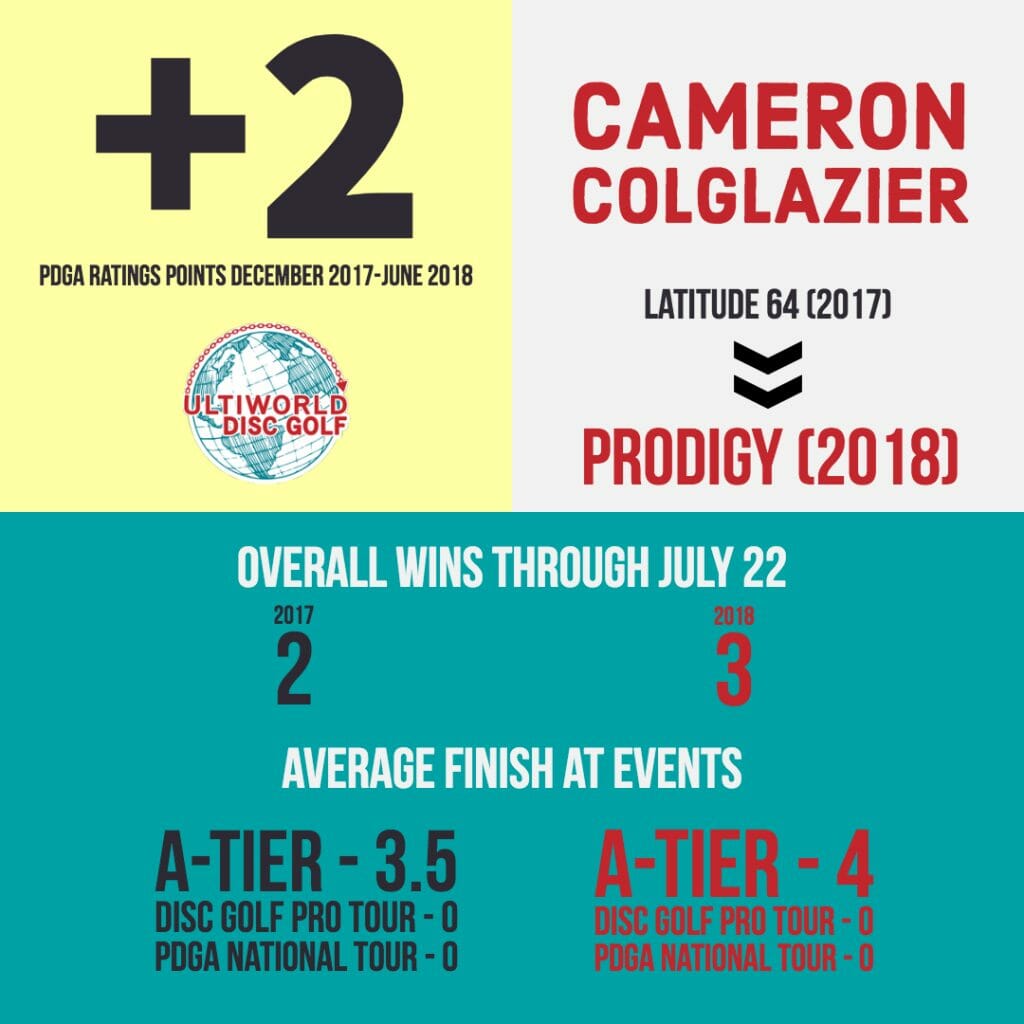 Alabama duo Cameron Colglazier and Matt Orum are constant challengers throughout the south and both jumped to Prodigy from Latitude 64. Both have also seen consistent results year-over-year. Colglazier previously threw Prodigy in 2013 and 2014. Neither have made it out to and NT or DGPT events yet, but they're both signed up for a couple in the lead up to the PDGA Professional World Championship in September. We'll get a better sense of how these moves shook out later this season.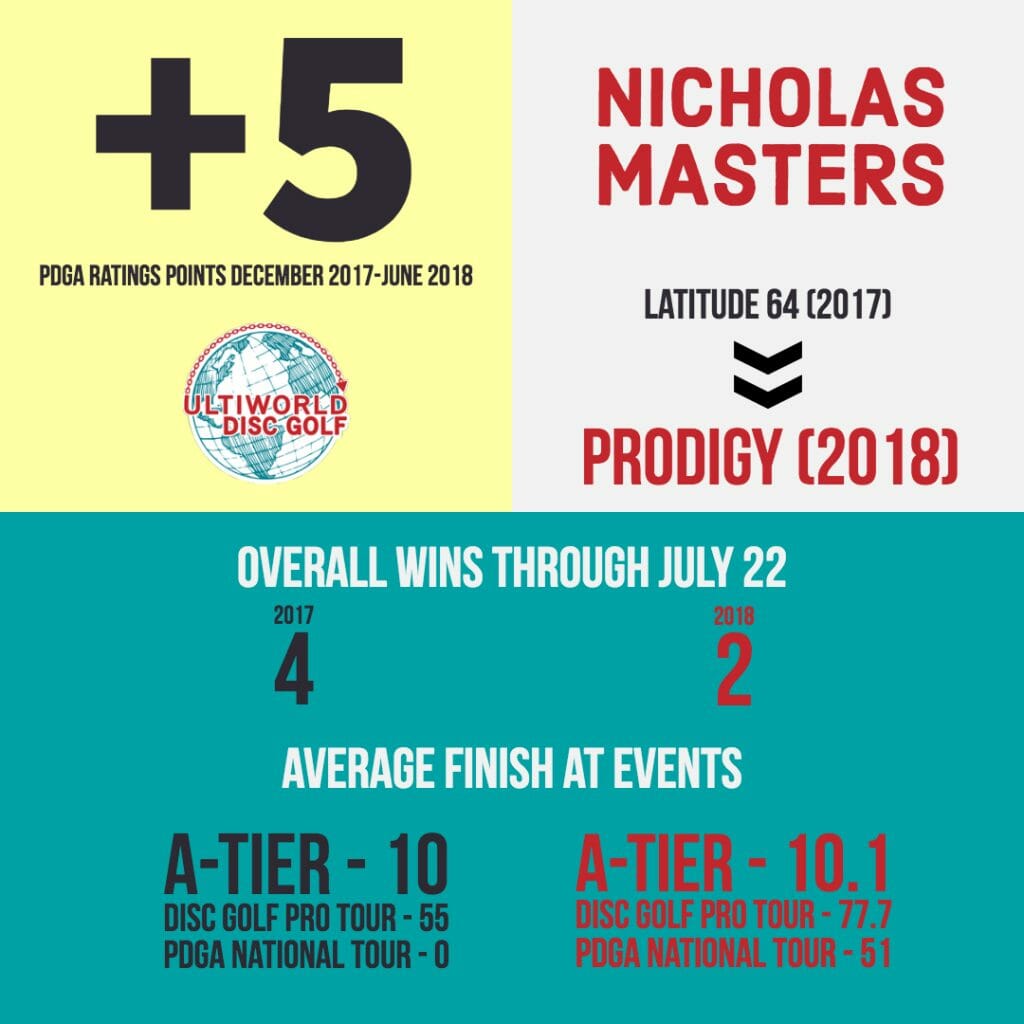 The last major offseason signing for Prodigy, Nicholas Masters made the switch from a Sockibomb/Latitude 64 deal. You might remember him from his impressive Vibram Open performance last year, and for reaching the finals in our Air Shot of the Year bracket. He's gotten on the road more and has a good string of A-Tier finishes.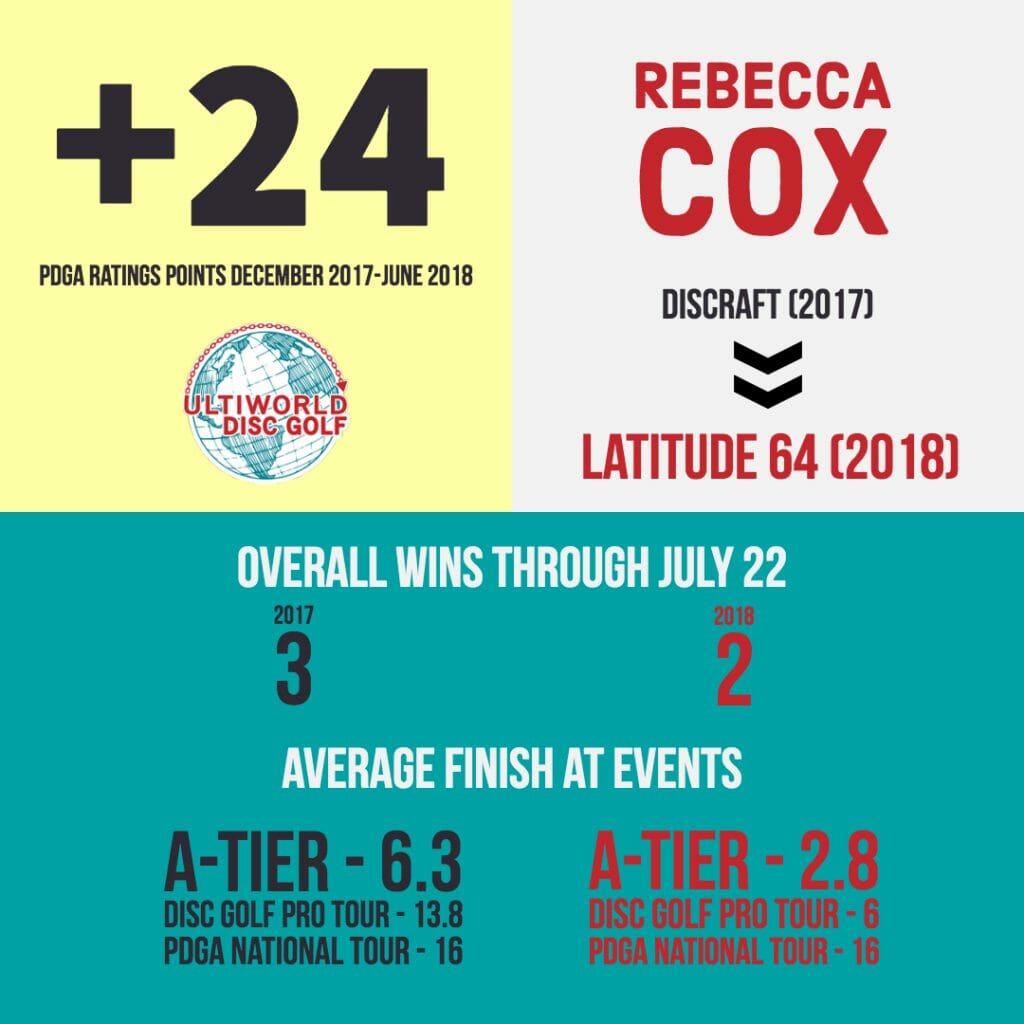 Another young gun hitting the road more after having a Sockibomb cosign, Rebecca Cox was with Discraft the last couple seasons but is now under the Latitude 64 umbrella. She's bagged two A-Tier wins this season and jumped 24 rating points. And just put together a strong finish of third place at the Idlewild Open last weekend.
---
So, what's the verdict? How well do pros fare after making a switch? The results are certainly varied. It make take some time getting comfortable with new molds, and discs go in-and-out of bags all the time regardless of whether or not a pro has made a switch or not. In the end, these are all top pros and it would appear that their skills will most often prevail over any issues adjusting to their equipment.
---
Results from the 2017 PDGA Professional World Championship, 2017's first Major tournament, and the 2018 Konopiště Open, this season's first PDGA Major, were not used in the comparison as no player on this list traveled to Europe for Konopiště, and last year's Pro Worlds was anomalously early. Also not included in this rundown were what we considered lateral moves (ex. Chris Clemons, Latitude 64 to Dynamic Discs), or re-signings such as Bradley Williams and Josh Anthon, players that were not sponsored in 2017 and returned to their last manufacturer sponsor. ↩