Six players share third place after day one at Maple Hill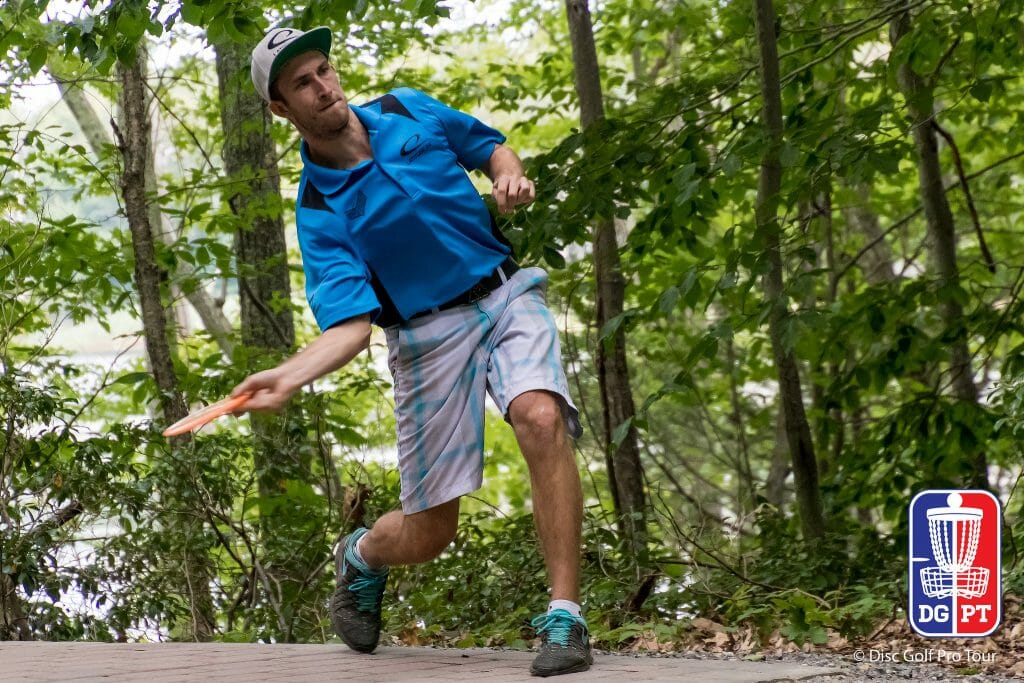 Ultiworld Disc Golf's coverage of the 2017 Vibram Open is presented by the Disc Golf Pro Tour; all opinions are those of the authors. Catch up on everything DGPT here.
Ricky Wysocki is already at the top of the Vibram Open leaderboard after a strong round one showing yesterday in Massachusetts. Depending on your perspective, that might not be a good thing for the current PDGA World Champion.
The event has never yielded a repeat winner in its nine years of existence, and Wysocki took home the Vibram title in 2015. Put it together, and it may not sound like a recipe for success. Luckily for the 24-year-old, ignorance is bliss.
"I actually didn't know that stat — that's a pretty cool stat," Wysocki said. "It just tells you that it could be anyone's ball game and it's never over till it's over, because this course can have teeth. Some days you can go to the course and go smoothly, and the next day you can feel like you threw the same shots and score about six strokes worse.
"You've just gotta be really patient," Wysocki continued. "You can't try to attack unless you really need to."
That strategy paid early dividends for Wysocki, as he piled up six birdies during a bogey-free back nine to notch a 7-under par 53 at Maple Hill yesterday. The performance has him tied for first place with young Florida pro Nicholas Masters, while six players — Gregg Barsby, Nikko Locastro, James Conrad, Nate Sexton, Michael Johansen, and Cale Leiviska — are tied for third place with 6-under par 54s.
Wysocki showed resiliency as he overcame a couple early round bogeys. With winds in excess of 20 mph, he sailed his second shot out of bounds on the 835-foot hole 1, as he eschewed his own advice and decided to run for some extra strokes to begin the round.
"I attacked it, but I got a skip over the green," Wysocki said. "My play was to attack it, and if I went long I'd have an easy 4. I was in good position off the drive, so I tried to take advantage of it. A 4 with that wind wasn't too bad."
Even his other bogey didn't qualify as egregious. It came on the 420-foot 9th, which used to play as a par 4 and, after being converted to a par 3 this year, ranked as the round's most difficult hole. The uphill slope found Wysocki misfiring with a forehand, and his approach to the green went out of bounds for his second penalty of the day.
"It's gonna be about stepping up and feeling confident on the teepads," Wysocki said. "I didn't get off the tee really well [on 9], so that's one hole I definitely want to clean up and throw a better tee shot."
The second half of his round went according to plan. Wysocki landed on the green in regulation on the way to birdies on holes 10 through 12, and he connected on a circle's edge putt for deuce after clearing the water carry on 14. He didn't have to make anything from beyond 15 feet to close out the round and topped off the performance with a parked approach on 18.
Even with the strong finish, Wysocki was doing his best to keep a level head.
"I just felt like I didn't do anything crazy and didn't do anything too over the top," Wysocki said. "That's usually how I like to play."
Masters' day followed a similar plot. The 20-year-old is coming off a victory at last weekend's Volunteer Classic in Knoxville, Tennessee, and he kept that momentum rolling with his own clean sheet on the course's second half. His perfect putting inside circle 1 was key to his 1061-rated performance — that's 66 points over his current player rating —  and he managed to stay within the lines throughout the round. Though he's only played the Vibram Open once in his career, he put that experience at Maple Hill to good use.
"Honestly, it was just understanding the course better," Masters said. "I played the front nine a lot safer this year and really tried to attack the back nine. I was really happy with that."
Putting was also crucial for Sexton, who is looking to bounce back from a 24th place tie at last weekend's Pittsburgh Flying Disc Open. Now back on the road after the birth of his first child, Sexton hit from 30 and 40 feet to save pars on holes 7 and 16, respectively. He also experienced the lows that come with strong winds — a tailwind pushed his Firebird drive on hole 5 straight down into the drink, he said — and the highs that come with woods play, sneaking through a tight window on the 375-foot 6th to land on the green.
"I was on the edge of the circle on a shot that didn't hit the fairway for a second," Sexton said. "It just went through the woods forever, and I don't even know how. I can't rely on that happening ever again because it was so lucky."
With that in mind, Sexton planned to take the rare step of heading back to the course for some extra practice on hole 6 prior to round two.
"Of course you can double bogey any hole, but that hole I can see a double bogey so easily," Sexton said. "It's one tree hit, and you've double bogeyed it. It's kind of scary that way, so I want make sure that I'm confident about that tee shot."
Among a bevy of strong performances yesterday, Jeremy Koling's 5-under par 55 was one of the most unique. Though he's tied for ninth place with Eagle McMahon and Chris Clemons, Koling was the only competitor in the field of 144 to finish without a bogey. The other 143 players who tackled Maple Hill, however, combined to card a whopping 846 bogeys or worse. Koling's 100 percent scramble rate was also a key component to keeping him in the top 10.
In other notable action, Leiviska rung up a skip ace on the 250-foot hole 4, while Philo Brathwaite drained a 420-footer off the tee on hole 14. Paul McBeth canned a 75-foot throw-in for birdie the 780-foot 11th during his 2-under par day, a showing that has him tied for 21st place with Simon Lizotte, Matt Orum, Bobby Musick, and Seppo Paju.
Heading into the second round, Wysocki was looking to log another sub-54 score, as that's the figure he thinks it will take each day to win the event. Still, he'll first need to overcome the cerebral struggles that have found him slipping from his torrid early-season pace.
"Ever since Worlds ended I haven't found my mental comfort zone," Wysocki admitted. "I think once I do, I'll have a lot more consistent high finishes and be in contention for the win more.
"My physical ability's always gonna be there," Wysocki continued. "I've trained myself to where I know what I need to do to win. The mental game is so challenging. Of course, you always want to have a good mindset going in, but it's just hard to sometimes. Things happen, and you get caught up in the negative vibes and it's hard to snap out of it."
Wysocki also offered some advice for Masters as the young pro adjusts to the added eyeballs that will accompany the lead card.
"The most important thing is play your own game," Wysocki said. "It sounds simple, but if you see someone throw an amazing shot, yeah, it's a great shot. But if you can't do that, don't do it."
To his credit, Masters did not sound like the moment would be too big to handle. Though he's only been playing disc golf for five years, he said he's learned to "take a couple lumps" as he's hit the road, which he'll do as long as he can get time off from his day jobs at both the New World Disc Golf Complex and Publix in Jacksonville, Florida. Car insurance isn't cheap.
"We're gonna see," Masters said. "Honestly, I'm just telling myself, 'Three more days until another tournament,' just trying to have my best finish for a four-day tournament. It's just four days — gotta play consistent and finish as well as I can."
The lead card tees off today at 3:30 p.m. Eastern and will be streamed live on the Disc Golf Pro Tour's YouTube channel. Real-time scoring and statistics will be available on UDisc Live.