How the segment was pitched, written and produced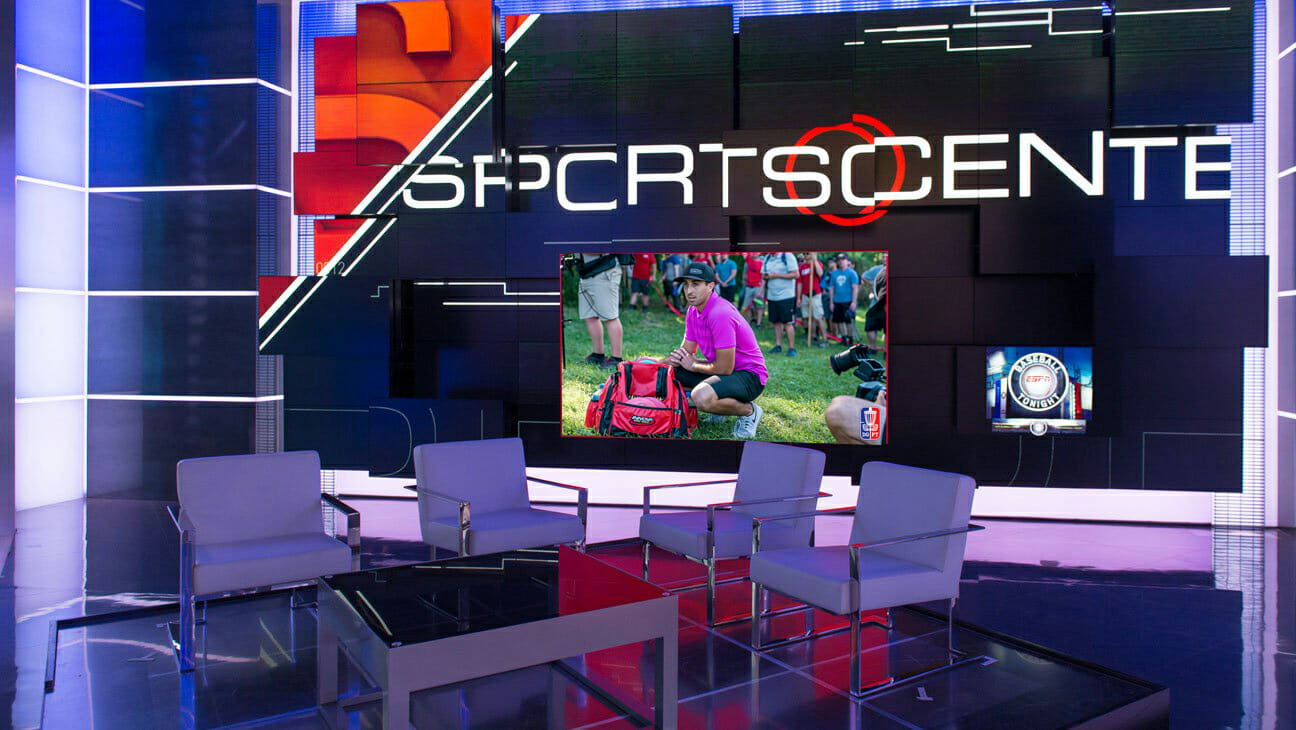 When Paul McBeth's final putt from nearly 50 feet out hit dead center, falling into the basket completing his historic 18-under par 45 round at the Great Lakes Open, the disc golf world was abuzz with excitement. It was immediately the story of the event, which was only two-thirds through its 54 holes, and dominated conversation in the sport for the coming days. The fact that he comfortably waltzed to a nine-stroke victory at a high-profile tournament was noticeably secondary.
Rather unexpectedly, late Monday night the conversation once again picked up. That's when McBeth's 18-under par round was featured, exclusively, in a segment called "Haven't seen it…Should" on ESPN's SportsCenter program. It's an unprecedented minute and forty-five seconds for the sport. It features a cut-up of Jomez Productions footage from the round, complete with full commentary from ESPN's John Buccigross that discusses the round, and by extension, the sport itself, on its own terms. It's the first time the sport has been featured on a major sports media platform for more than a one-off highlight throw. While the clip itself is a short one, in many ways, it's a watershed moment.
How the segment came to be is all thanks to Michael Berggren. He's a disc golf enthusiast in his spare time, and coordinating "Preditor" within production operations at ESPN's Bristol, Connecticut headquarters. That title is short for a combination producer/editor, and in his responsibilities he acts as a producer and associate producer, finding stories and pitching them before editing them together himself. He was slated to work on the evening SportsCenter shows on the Monday after the historic round, and the rest is history. Berggren was kind enough to take some time to talk with us about how disc golf made it on the air in its own dedicated segment and a little bit about his journey as a disc golfer.
How It Was Pitched
"Well, first off, there has to be something of relevance, of substance," Berggren explained. "Once it happened on Saturday and Jomez Productions posted their cut down of the round on Sunday, I watched that and you know, that's kind of where the idea started turning — and I went from there to the idea of 'this is something that's special.'"
Scheduled to work on the next day's SportsCenter shows, Berggren was confident in the high-quality highlights available from Jomez Productions. He began framing the idea to present to the show's producer and coordinating producer knowing this was his first time presenting a dedicated disc golf segment.
"We've shown various disc golf related highlights, primarily aces, holes-in-one," he said. "I felt like this…provided enough reason to pitch a larger scope idea."
With eleven years of experience in his role at ESPN, Berggren knows how to identify meaningful stories from the sports world and present them, and McBeth's momentous achievement made for an exceptional convergence between his job and his passion for disc golf.
"I think this was my first big sell [of a disc golf segment]," Berggren said. "I try not to pitch ideas that aren't on the same level as other ideas for the show. I felt like this one, in particular, had the gravity to carry."
Berggren hasn't always been in the television business, identifying and reporting on sports, or a disc golfer. He spent his early professional life in the Navy working as an electronics technician on a submarine based in Pearl Harbor, Hawai'i. Like many, he was introduced to the sport through his extended family about four years ago, and he's been hooked ever since — his home courses are Page Park and Rockwell Park right in Bristol, where he says the local community of players has always been welcoming and encouraging. With years of having played sports in his background, he quickly dove into the competitive aspect of the game, which includes following the pro-touring scene.
The Writing and Production Process
"SportsCenter is responsible for visual reporting," Berggren explained. "We air things that we watch and that people are interested in. I love [disc golf]. I'm an avid player. I'm in a position where if I see something in any sport it's almost my responsibility to report it, it just happened [in this case] to be in alignment with what I care about and relevant and that just worked together."
Given the go-ahead from the producers, Berggren started the mechanics involved in getting the piece to air. He had roughly a minute and thirty seconds to fill to provide a scope of the situation, the context of McBeth's performance, and sport that was probably unfamiliar to the average viewer.
"The producer was interested enough to say, 'we just can't show this in a small sample.' It has to be a broader display of everything that happened throughout the round," Berggren said.
For the 90-some seconds the segment would run, Berggren would need to supply a shot sheet, which is the nuts and bolts of what the anchor would be reading while the highlight is running on the show, as well as build the actual highlight using ESPN's editing software, and write the script. Support paperwork also helps with cues for the control room so there will be no surprises as the highlight is airing.
"What I had written for [the anchor] was the setup, the action, and then the results. That's our framework of how we write for highlights," Berggren explained. "It was structured and fit into 'Haven't seen it…Should.'"
The Commentary and Place On-Air
Two things about the highlight immediately stand out: the proper disc golf terminology and lines from Shakespeare's play Macbeth.
Berggren was focused, head down, constructing the highlight until about seven minutes before the segment aired that Monday, so part of that was also new to him.
"Full credit to John Buccigross, I actually didn't know [what he had planned]," Berggren said. "That was the natural alignment that 'Bucci' created with McBeth and Shakespeare, and I thought — I don't know if it could have been read better, like, it was as good of a sell as I could have hoped for."
The play-by-play rundown included Berggren's own knowledge of the sport, as well as details gleaned from the round commentary and McBeth's post-round interview with Jomez Productions, such as the slip on hole 10 not resulting in the proper turn needed to get uphill to the basket, and that he smartly laid up his approach. The result read so well and naturally, it had many questioning if Buccigross himself was familiar enough with disc golf to fully craft the commentary.
"[The on-air talent] are amazing at what they do, to be able to read and digest and interpret based off of what they're seeing," Berggren said. "There's actually a few things that [Buccigross] omitted — like on the 16th hole I wrote that [McBeth] did a hyzer flip with his Roc to get his nice tunnel shot — but I'm sure [Buccigross] didn't understand what a hyzer flip was so he just naturally stayed away from that. And you have to stay within your comfort zone. You can do all that work and it's really the sell from the talent on-air, and once again, John nailed it."
For Berggren, the segment's placement within the evening's SportsCenter may have been the best part. With blocks of the show being defined by commercials, segments are aired by levels of priority, with outsider highlights such as 'Haven't seen it…Should' either beginning or ending one of the blocks — leading out to, or coming back from a commercial break.
"The highlight was given really, really quality real estate within the show — the producer chose to put it in the A-block, which is fantastic," Berggren said. "I was busy doing what I needed to do, so when I actually heard the read, it was just as surprising to me as it was to everyone else."
Feedback and Future Impacts
Since first airing last week, the ESPN segment has been viewed more than 300,000 times combined on disc golf social media pages and that doesn't account for any traditional over-the-air viewers from the original broadcasts or the highlight on ESPN.com. Berggren doesn't discuss future programming plans but did say that feedback from producers was all positive.
"The positive reaction in viewership clicks, those are all great things," Berggren said. "I did receive good feedback from the producer and the coordinating producer for the work done — for the idea pitched and then the execution. And then once again, you can do all that work and it's really the sell from the talent on-air, and once again, John nailed it."
As for more disc golf clips making his pitches going forward, he knows the quality content and production levels will be there when the right story presents itself.
"I think with the way Jomez Productions and Central Coast Disc Golf and TheDiscGolfGuy — they're all doing such great work that hopefully in the future with the quality that they're putting out there's opportunities, and I know that there are. So shout out to all those people and a big thank you, because without those production companies and those guys out there running around sweating it wouldn't have given me the opportunity to do what I did," Berggren reflected. "Just in general, the people out there grinding, Johnathan Gomez and his team, Ian Anderson with Central Coast, those guys are really doing great things. When I first started [playing disc golf] which wasn't too long ago, I watched videos…old Vibram [Open] videos, and it was a flavor of what it was, and to see how far videos have grown within the last three or four years with the evolution of the commentary — great commentary by Nate Sexton and Jeremy Koling, and to see where it's going, it's really promising. The PDGA numbers are really accelerating."
But there was one more person Berggren was quick to acknowledge before the interview wrapped up, he also took the moment to have a bit of a laugh at himself for missing one important detail to include in the segment about McBeth's round: it was the four-time world champion's birthday.
"Basically, I just want to say thank you to the player for doing it. Paul, what a great time, and I didn't know that it was his birthday, otherwise I would've written it into the shot-sheet, so I apologize for that," Berggren concluded with a lighthearted laugh.