McBeth coasts to victory, makes history, on Michigan's famed Toboggan course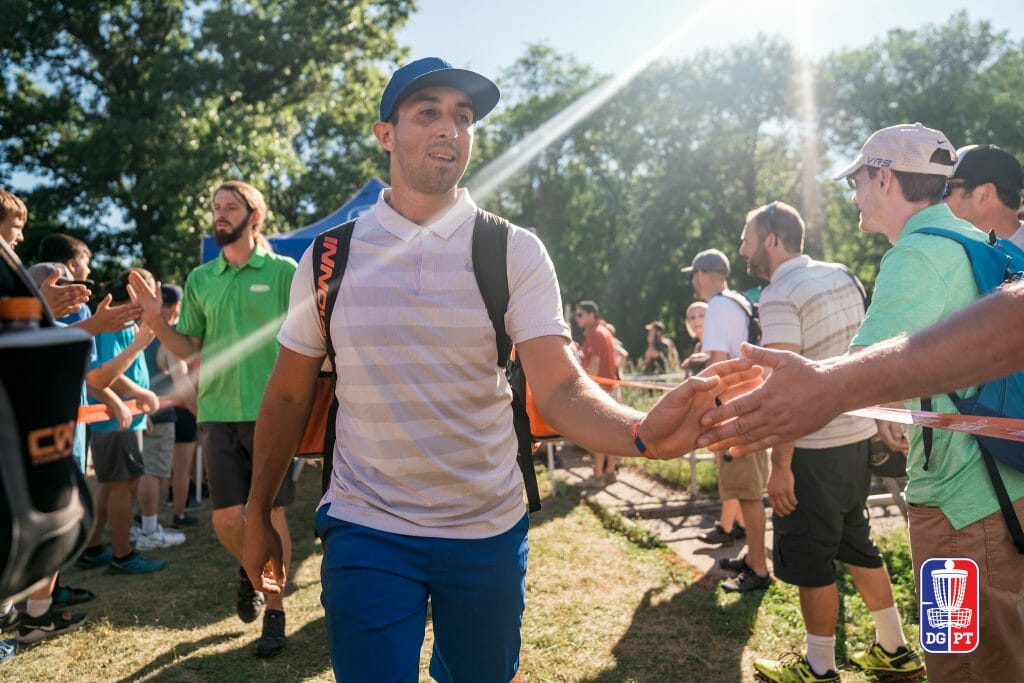 View from the Top is a new column from Ultiworld Disc Golf examining the shots that make and break contenders at PDGA Major, National Tour, and Disc Golf Pro Tour tournaments. Here you'll find in-depth analysis of the most recent coverage combined with historical perspective, statistics, and POV interviews with professionals and media. This week I examine Paul McBeth's record-setting weekend at the Great Lakes Open. I'll highlight throws from each round that helped him separate from the field.
---
Paul McBeth last played the Toboggan course in 2013 when the Great Lakes Open was an NT. He shot three consecutive rounds of 55 and finished in fifth place, eleven strokes behind Ricky Wysocki. When I spoke to him on Tuesday evening before the 2018 GLO, he had only just checked into his hotel and his memory for specific holes was a bit fuzzy. "I remember a lot of long downhill holes, and then, I don't know if it's two or three, but up the big hill. [The course] was tricky because everything was long and would finish to the right."
After an inconsistent performance at the Utah Open, McBeth used the gap in his schedule to practice putting and build up his stamina. When I asked him if he'd done anything different to prepare for the tournament, he replied, "I'm in Virginia now, so I did a lot of yard work, which was really just adapting to the heat and humidity that I knew I would be experiencing here in Michigan." As it turned out, the tournament weather was mild, but the scoring was hot. McBeth torched the course on Saturday, shooting a nearly perfect 18-under par 45 that was featured on ESPN's SportsCenter. For the weekend, he logged a blistering 40-under par 149, nine strokes clear of the field and sixteen strokes better than his previous showing.
Ironically, scoring separation is typically hard to come by on the Toboggan course, but past winners found ways to distance themselves from the field. To illustrate this point: when Wysocki won in 2013, he bested Garrett Gurthie by nine, but only six strokes separated the remainder of the top 10. GLO tournament director John Minicuci described the challenge for me. "The margin for error is really thin," he said. "There just aren't that many shots out there to gain. You can lose shots, but you're not going to gain shots." Paul Ulibarri echoed Minicuci, saying, "it's really hard to pull away [from the field] at Toboggan. It seems like 52-57 is what everybody shoots. You're always kind of in [contention]."
McBeth's game plan reflected their perspective. He spoke to me again after his second practice day and homed in on where strokes could be lost and gained.
"The par 4s are fairly simple," he explained, perhaps foreshadowing his historic second round. "I don't think there are any par 4s I should be playing for par. Every par 4 is pretty attackable. So I think that all of the scoring [will come on the par 4s] sprinkled in with a few birdies on the par 3s. The par 3s are the challenging holes. I think getting birdies on those will be pretty key to [shooting a] hot round."
His scorecard from the final round best reflects this assessment: he birdied six of seven par 4s, eagled the par 5, and birdied three of the 10 par 3s. For the weekend, McBeth played the par 4s at 18-under par with a birdie a success rate of 86% (18/21) and the par 5 five-under par. His 60% birdie success rate on par 3s is what really separated him from the field.
The twelfth hole played hardest on the weekend. Measuring in at 534-feet and playing 69-feet downhill, it features a dastardly late dogleg right through a wooded tunnel into the green. The hole yielded a meager sixteen birdies total against 115 strokes over par for the tournament (85 bogeys, 13 double bogeys or worse). McBeth went birdie-birdie-par and was the only player to deuce it twice, literally gaining a stroke on the field and two strokes or more on most. In his post-round interview with PDGA Media Manager Steve Hill, he said, "twelve is the biggest birdie out of all of 'em. You have to throw nearly a perfect [drive] and still have [enough] speed to get the skip."
McBeth threw his best drive in the first round. After striding casually toward the end of the tee pad, he launched a seemingly effortless forehand down the hill with his yellow Destroyer. It barreled through the tunnel, took a tremendous negative skip off of the downslope in the last patch of shade, and settled on the sunlit green within 20-feet of the pin.
Hole 9 surrendered seventeen birdies against 70 strokes over par (55 bogeys, 7 double bogeys or worse). Another right-finishing hole, the ninth measures 452-feet and plays slightly uphill and across a valley. Most big-arm pros opted to cut the corner, aiming for the window beneath the limbs of the leftmost guardian tree and the cluster of trees in the right rough. Video footage excerpted from the second round live-feed shows the best view of the fairway.
When throwing the backhand flex shot, the first challenge is to keep the disc nose down, which allows the shot to penetrate the gap and avoid fading out early; the second is to maintain a slow left-to-right turn for as long as possible to minimize late skips left and long into the rough. McBeth's drive carved a subtle anhyzer line for nearly its entire flight, tickled the low hanging leaves as it began to fade, and landed gently about 40 feet from the pin. Only Lewis Bitney matched McBeth's 2-under par total, marking this hole as another clear point of separation between the champion and the field.
The second hole played easiest relative to par. Birdies were commonplace (there were 88 on Sunday, alone), but eagles were few and far between. Speaking with Ulibarri before the tournament, he described what makes the hold difficult.
"It's a tight fairway and you really want the three," Ulibarri explained. "It kind of baits you into being a little more aggressive than you should [be] because you can honestly get a very easy four if you just play smart." McBeth agreed, stating, "I think it plays more like a par four than a five, just a really hard four. It's a super easy five."
Viewed in this light, hole 2 represents another opportunity to gain strokes on the field when you play for three. To card the eagle, you have to go big off the tee, which brings the rough into play. A well-placed drive lands on the hillside, and the ensuing approach shot requires an awkward, uphill run-up. The DGPT installed one of their trademark elevated baskets on this hole, so you want your second shot to at least crest the hill, which will likely result in a Circle 1 putt.
Twelve players carded eagles over the weekend, with McBeth, Drew Gibson, and Kevin Jones doubling down. Of the three, only McBeth and Gibson played under par all three rounds whereas Jones scored a disappointing par on Saturday. Here, like on holes 9 and 12, McBeth gained two strokes on most of the field. His approach during the third round was a thing of beauty. He generated just enough forward momentum from his horizontal run-up on the slope to power his disc up the toboggan run. Notice how the grade of the hill prevented a full follow through and pushed him backward down the hill.
Discussing the crucial moments from his record-setting second round, McBeth first recalled his Circle 2 putt for birdie on the fifth hole, "that was a big one, that's not an easy one to get." Hole 5 measures in at 300 feet exactly and is somewhat unassuming compared to the longer par 3s, but it played just over par and ranked in the top six hardest. Opting to crush a sky anny over the top rather than navigate the narrow, tree-lined fairway, his drive crashed through the foliage farther from the pin than on Friday, but he was still left with a wide open look from 60 feet for the birdie two. McBeth's trademark jump putt — a thrusting, short hop toward the pin — slammed center chains with gusto.
McBeth remembered his putt on hole 5 when he stepped up to his lie on the eighteenth two hours later. He claimed not to have felt any added pressure to make this putt, in part because of his earlier success on the green. Again, to Hill, "I knew it was for 18-under, everyone knew it was for 18-under. I made my three other outside the circle putts before that, so I knew there was a really good chance it was going in. But I really just focused on, this is a putt you have to make in the World Championships. Put yourself in that mindset." McBeth's putt struck the chains low and right, but his speed control and disc angle were perfect: birdie.
McBeth hole 18 final round putt
The night before the tournament, McBeth predicted that he would go low on the par 4s and par 5, but it was his play on the par 3s that secured the 'W'. Had he scored three consecutive rounds of 11-under par 52 and averaged three birdies per round on the par 3s, he still would have won the tournament by two strokes over Willie Prince. To further illustrate just how incredible his performance was, he more than doubled the number of deuces necessary to win. 18 was McBeth's magic number in Michigan: he played the par 4s 18-under par, he recorded 18 birdies on the par 3s, and, of course, he carded a magnificent 18-under par 45 on Saturday.