Moving day also the difference for second place Bjerkaas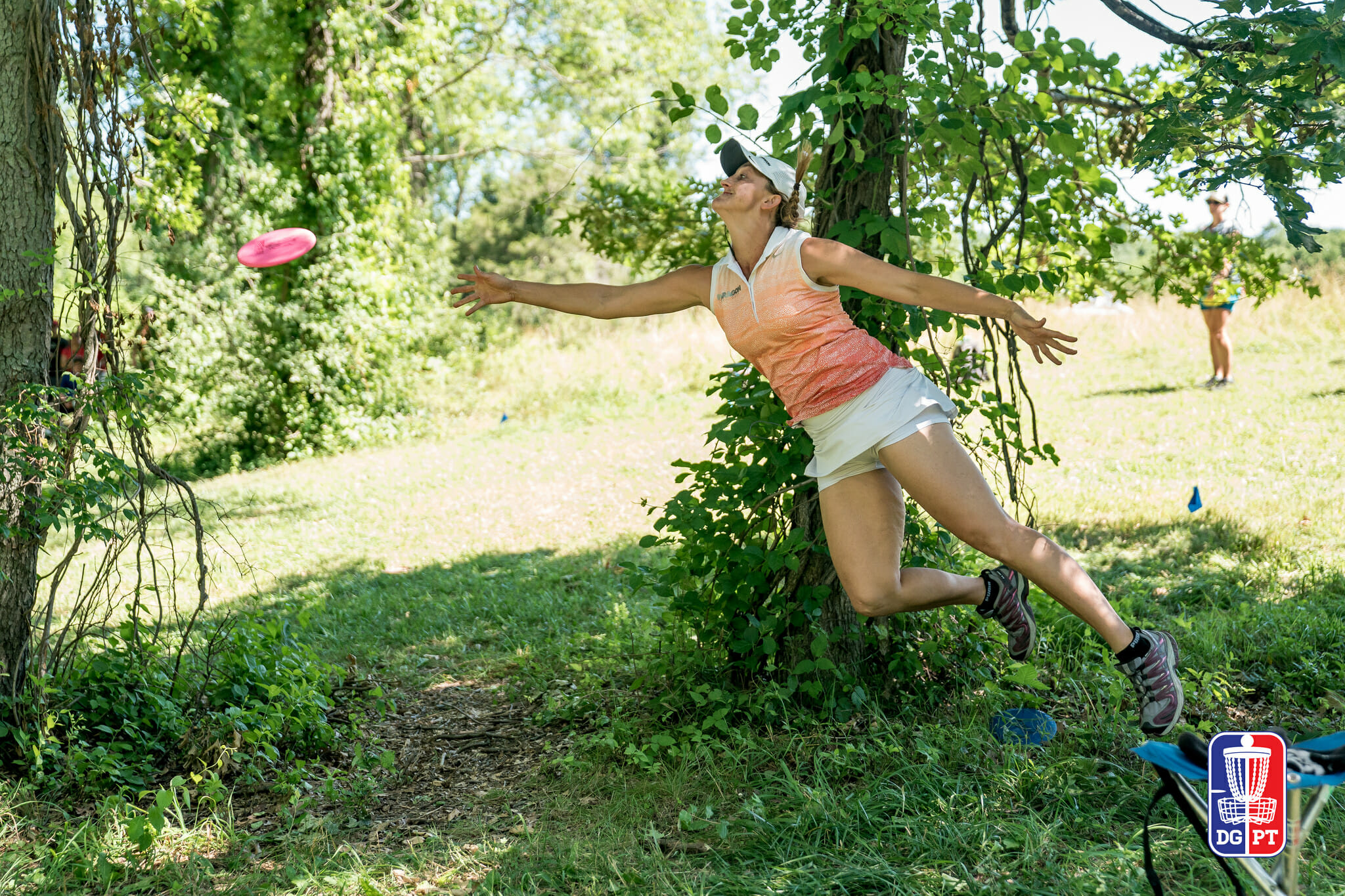 The Toboggan disc golf course at the Kensington Metropark in Milford, Michigan is a treat to watch players throw. It's long and scenic with lots of elevation change. It rewards good shots. There isn't artificial out of bounds to balloon a score.
For the Open Women, the Great Lakes Open was a taxing tournament where scoring separation was hard to come by. Only one woman was really able to take advantage and she notched a second Disc Golf Pro Tour win of the year as a result.
Coming into the weekend, there was maybe no hotter player in the world, or at least currently competing in the Western hemisphere (acknowledging Catrina Allen's strong recent play over in Europe), than Sarah Hokom. After getting over the proverbial hump in San Francisco, ending Paige Pierce's stranglehold on the top spot in the division, she's added four more wins and a fourth-place PDGA National Tour finish over the past month and a half before the GLO started. After round one, an even-par day, it was up for debate whether or not Hokom would have the power to record the negative scores to get and keep her ahead of the competition.
Hokom responded with a monster moving day and another tie for the hot round on Sunday with a 2-under par 59, including another eagle on the short par 5 2nd, to bring her winning total to an 8-under par 175.
Round Three 2018 Discraft's Great Lakes Open – Sarah Hokom hole 2
Paige Bjerkaas maintained her round two jump up to leaderboard, also shooting 2-under par 59 to finish solo second at 2-under par 181. Round one leader Jessica Weese moved back onto the podium with a 1-under par 60 final round, leaving GLO at even-par 183 with third place.
For Hokom the difference was made by simply connecting on putts. She put herself into position during round one but wasn't converting at a high-level percentage. By righting that ship, going perfect from Circle 1 on Saturday and Sunday, she led the field at 94-percent from inside 10 meters, according to UDisc Live. This is Hokom's first time leading a tournament in putting.
The putting wasn't the only story for Hokom. Her scramble rate also topped the division as she repeatedly pulled off technical approaches and upshots to card pars and birdies on the long track.
Round Three 2018 Discraft's Great Lakes Open – Sarah Hokom hole 4
Hokom's leading scramble rate added to her tournament-leading 11-percent parked shots make a tough combo to defeat.
Riding the birdie train on the way to second was Bjerkaas, whose 20-percent under par rate was top of Open Women field. How'd she get the birdies? She smashes.
Round Three 2018 Discraft's Great Lakes Open – Paige Bjerkaas hole 11
It was five scores in blue for Bjerkaas on the UDisc Live scorecard. She also had a look for eagle on hole 2 but wasn't able to find the chains.
Maybe most importantly for Bjerkaas, however, was her putting and approaches on holes 16 and 17. With Weese not far behind, Bjerkaas needed to cash in on the 525-foot par 4 17th to solidify the second spot, with Hokom too far in the lead. Before she could even get there, however, Bjerkaas instead decided to go ahead and stick her drive inside Circle 2 and snag one of only four birdies on the 354-foot 16th.
Round Three 2018 Discraft's Great Lakes Open – Paige Bjerkaas hole 16
A nice recovery from a drive off the fairway on hole 17 made for a routine birdie and all-around solid showing at the GLO for Bjerkaas, who averaged 19 points about her current player rating for the weekend.
Weese was not able to pick up any momentum on the last day, finishing 1-under par 60 with two birdies and a bogey. Two-putts doomed a comeback bid, as her placement off the tee was great, 7 percentage points better than any other competitor. She also tied Hokom for Circle 1 in Regulation and demolished the field in Circle 2 in Regulation. Unfortunately, she only hit two Circle 2 putts during the tournament, including a banger from downtown on hole 14's elevated basket during the final round.
Round Three 2018 Discraft's Great Lakes Open – Jessica Weese hole 14
Ellen Widboom and Madison Walker rounded out the top five in fourth and fifth place respectively. The Disc Golf Pro Tour rolls on through the Midwest, with the next stop on tour being the Idlewild Open just south of Cincinnati, Ohio beginning on July 20.