Weese drops off, Bjerkaas and Widboom shoot under par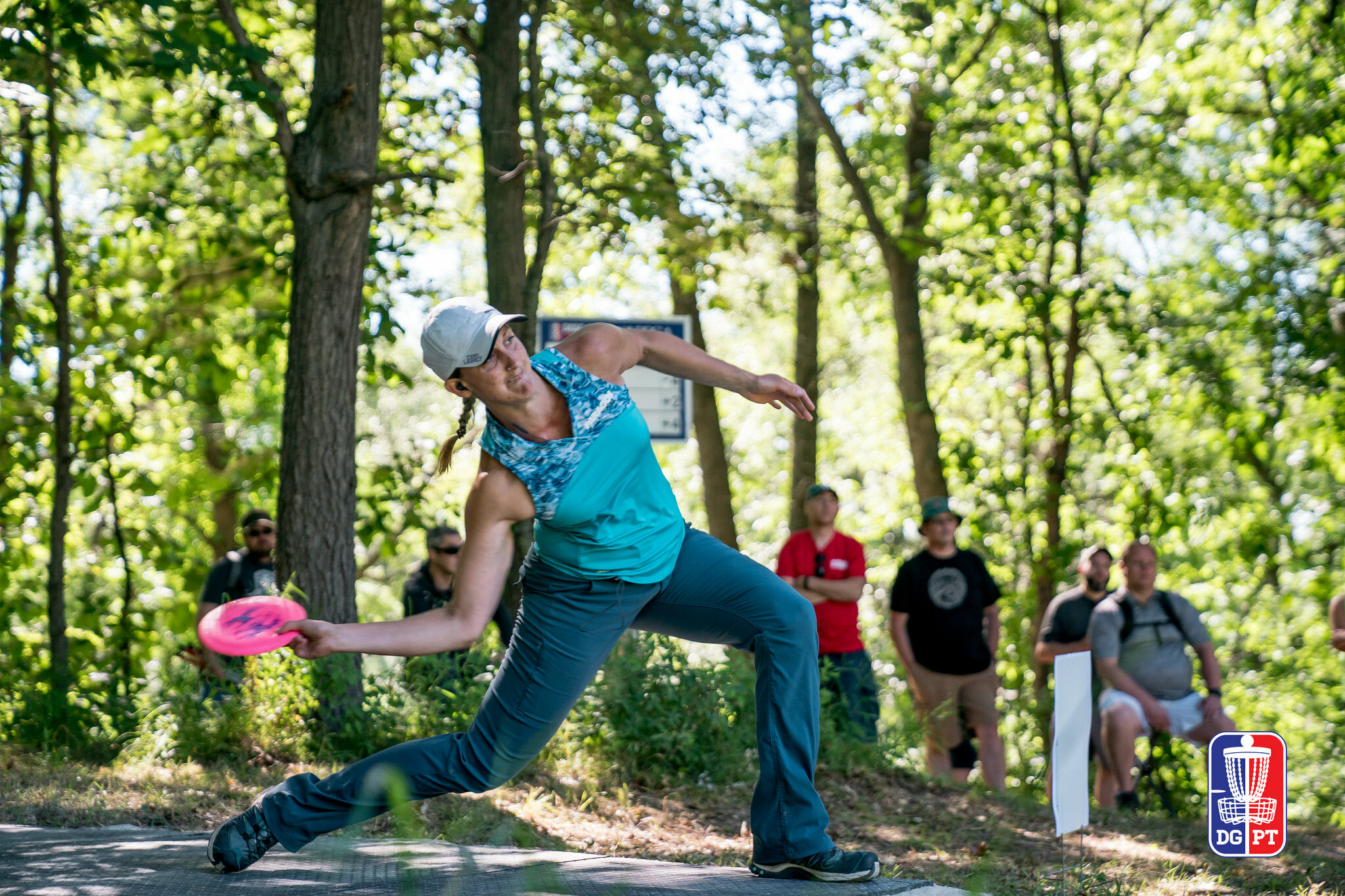 Round one of the Great Lakes Open made it look like any player scoring under par could win the Open Women's division. Round two made that point completely obvious as a frontrunner separated themselves from the pack.
How Is This Not 1000-Rated?
Sarah Hokom followed up an even-par 61 first day with a 6-under par 55 to move into the lead at 6-under par 116 total. The 993-rated round erased the single bogey Hokom picked up Friday and added an eagle on the soft par 5 2nd.
Her scramble percentage remained top in the field, and Hokom is no lower than fifth in UDisc Live's eight highlighted statistics, adding first place in parked shots, Circle 1 in Regulation and birdies.
Round Two 2018 Discraft's Great Lakes Open – Sarah Hokom hole 14
It's hard to guess if Hokom is more pleased with the 100-percent Circle 1 putting on Saturday, or the two outside 10-meter putts she canned for a birdie on hole 4 and the par save on hole 8.
Round Two 2018 Discraft's Great Lakes Open – Sarah Hokom hole 4
Two More Under Par
As a whole, round two played two strokes lower for the division, and two other players joined Hokom in carding negative scores.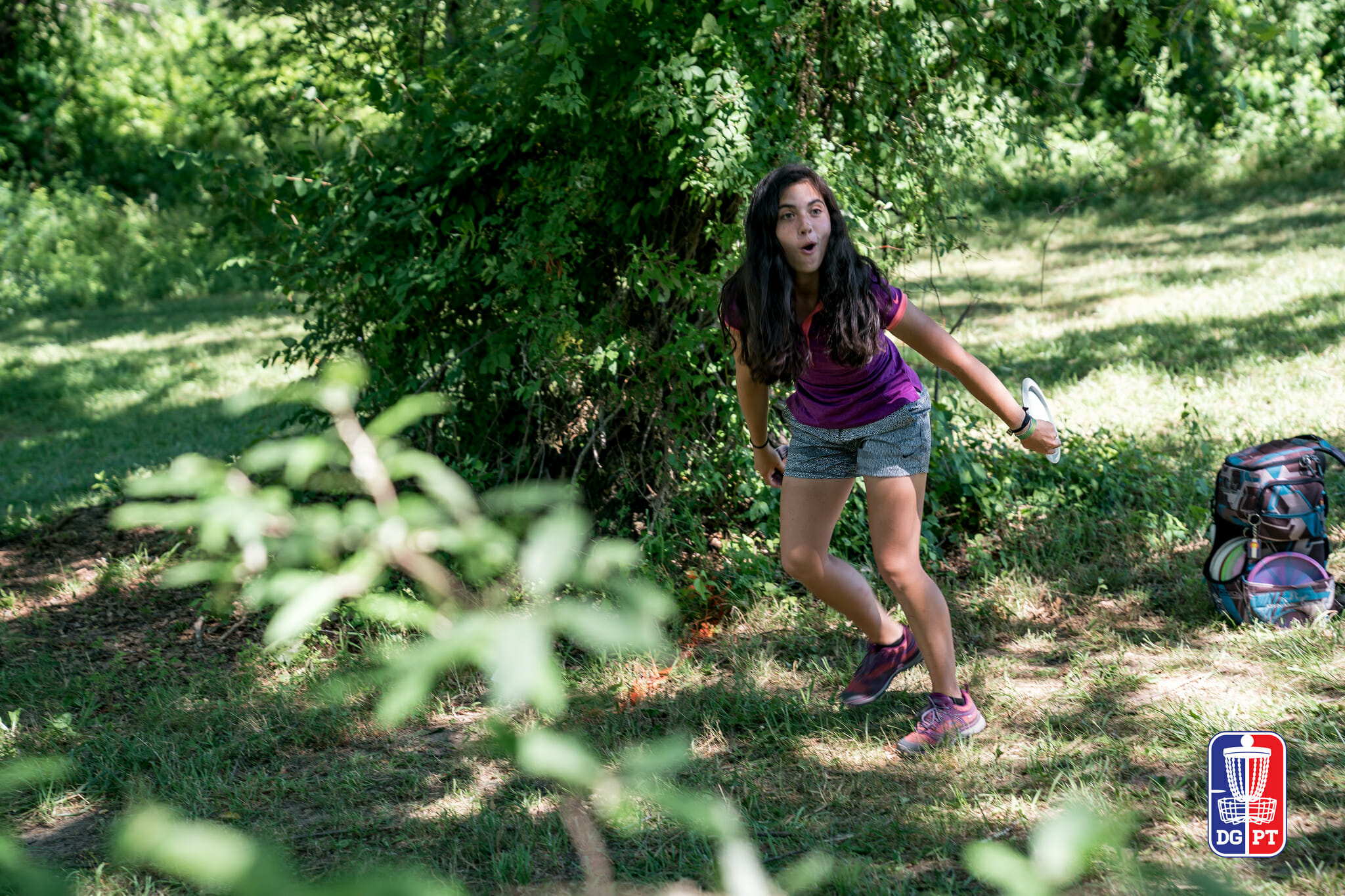 Paige Bjerkaas and Ellen Widboom are tied in second at even-par 122 total after shooting 3-under par 58 and 1-under par 60, respectively. Bjerkaas, Widboom, and Hokom were the only women to not record bogeys from holes 2 through 14 on the challenging Toboggan course. Bjerkaas' lone bogey came very early on the 477-foot par 3 1st, the third most difficult hole of the tournament. Widboom's bogey showed up late on hole 15, a hole which was not birdied even once on the day.
The Rest Of Lead Card
Only Jessica Weese will rejoin Hokom as a member of the lead card during both moving day and the final round. Her 3-over par 64 moved her into fourth at 1-over par 123. Weese was undone by an early triple bogey on the par 4 3rd, one of the easiest holes to par on the day.
Holly Finley went 7-over par 68 to push her down to eighth place at 8-over par 130 total. She did hit two long putts from 48 and 60 feet to add a couple highlights.
Round Two 2018 Discraft's Great Lakes Open – Holly Finley hole 8
Rebecca Cox went 3-over par 64 Saturday for a 4-over par 126 total and fifth place standing. She also added a highlight 60-footer for birdie.
Round Two 2018 Discraft's Great Lakes Open – Rebecca Cox hole 11
---
The lead card of Hokom, Bjerkaas, Widboom, and Weese tees off at 8:30 a.m. local time. You can follow along with the live scoring at UDisc Live, and edited video footage from the final round begins at 2:00 p.m. eastern time on the DGPT YouTube channel. Check back in here at Ultiworld Disc Golf for recaps and coverage of the final round.