The big four set to battle at the National Tour's fourth stop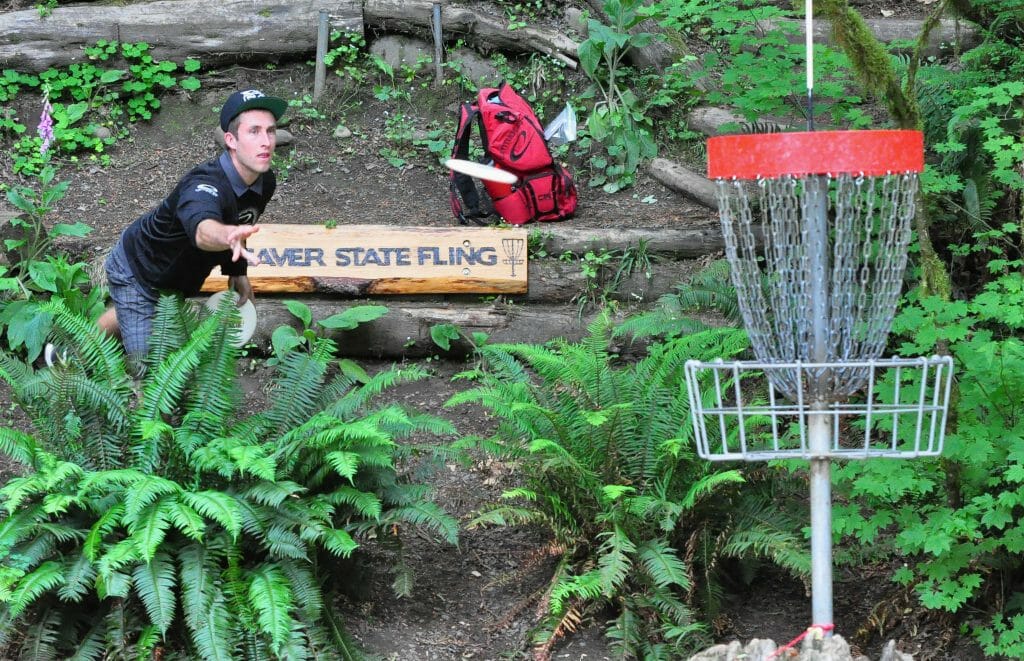 One of the tour's most anticipated stops returns to the lush green landscapes at Milo McIver State Park in Estacada, Oregon for the 2018 Beaver State Fling, the fourth PDGA National Tour stop of the season.
The BSF has consistently provided the disc golf world with some of its most exciting moments and memorable finishes in recent memory. Three years ago, Paul McBeth won after going McBeastmode on the chase card during the final round to push Will Schusterick to a playoff. In 2016, there was the Philobatross and another playoff battle, this time between Paige Pierce and Catrina Allen. Last year McBeth and Ricky Wysocki went to extra frames (again) with Wysocki taking the win. At this rate, we can expect fireworks and drama all weekend in the Pacific Northwest. And maybe even a playoff in at least one division.
One could make an argument that this is the first truly "wooded" major tournament of the season, with the Fling being played almost entirely in the shade and through the branches. DeLaveaga Disc Golf Course could certainly be described as wooded, but the final round on the golf course opens up the Masters Cup to a different feel.
Storylines
Milo McIver: Cradle of Champions?
Having won the last two BSFs, Wysocki is hoping to join Barry Schultz as the only player to win the event three times in a row.
Wysocki has also won the last two PDGA Pro World Championships. McBeth last won BSF in 2015, the same year he also last won Worlds. This is not to suggest that the winner this weekend at Milo McIver will go on to win worlds, but…
The Big Four
Over the past several seasons, there have been two fields on the Open side: McBeth and Wysocki, and everyone else. This year, however, Eagle McMahon and Simon Lizotte have made strong cases to be elevated from "everyone else" to their own level. Those four have won all but one NT and Disc Golf Pro Tour events so far this season, and over the last three top-tier tournaments, the top three finishers have all been named McMahon, McBeth, and Wysocki.
Of that bunch, McBeth is probably riding the highest right now. He won the Nick Hyde Memorial, finished third at the Masters Cup, and won the San Francisco Open. Over those three tournaments, McBeth is averaging 1045-rated rounds and has convincingly put to bed any premature reports of McBeast's demise.
Pierce vs. The Field
Speaking of premature, talk of Paige Pierce running the table this season were ended in California when Sarah Hokom notched a convincing win at the San Francisco Open. Pierce is most likely the favorite in any tournament she is playing, but the Fling has proven a relatively tough nut to crack for Pierce. Her win in 2017 was her first at the BSF, but she has finished in the top three every time she has played the event going back to 2010. Pierce did eviscerate the field last year, winning by 18 strokes and shooting three 1000+ rated rounds.
So far this season Hokom has been able to keep the pressure on Pierce, letting her more technical and precise style of play make up for the distance-off-the-tee gap Pierce has been able to exploit throughout her career. She's currently on a two-weekend win streak.
Catrina Allen has put together a quietly solid season with six first-place finishes in A and B-Tier events. Allen easily won the three-player Open Women's side at the Battle of Seattle last weekend and tied for second at the SFO. She won the BSF in 2016 and 2012, and is no stranger to the podium in Oregon. Plus, Allen's only world championship came in Portland in 2014.
Venue and Courses
Riverbend Disc Golf Course – West, par 61 – 8,511 feet; East, par 61 – 8,696 feet: Riverbend Disc Golf Course features three layouts, only one of which will be used this weekend: the East and West courses. Both are meant to challenge and test big throwers and technicians alike. The BSF layout is only in the ground a few times each year since the BSF moved to Milo McIver Park full time in 2006.
Open and Open Women will be playing the same layouts but on different schedules. Rounds one and two are played on Friday with shotgun starts at 9:30 a.m. and 2:30 p.m. local time. The Open field will start on the West course and the Open Women on the East. The fields will swap courses in the afternoon. Round three on Saturday will be played the same as round one. The final round Sunday finishes with Open on East and Open Women playing West.
Last year, no Open player shot a 1050 or higher rated round on the East course.
Naming one signature hole at courses like this would be an excellent way to start a war in the comment section, so feast your eyes on this image from the tournament website.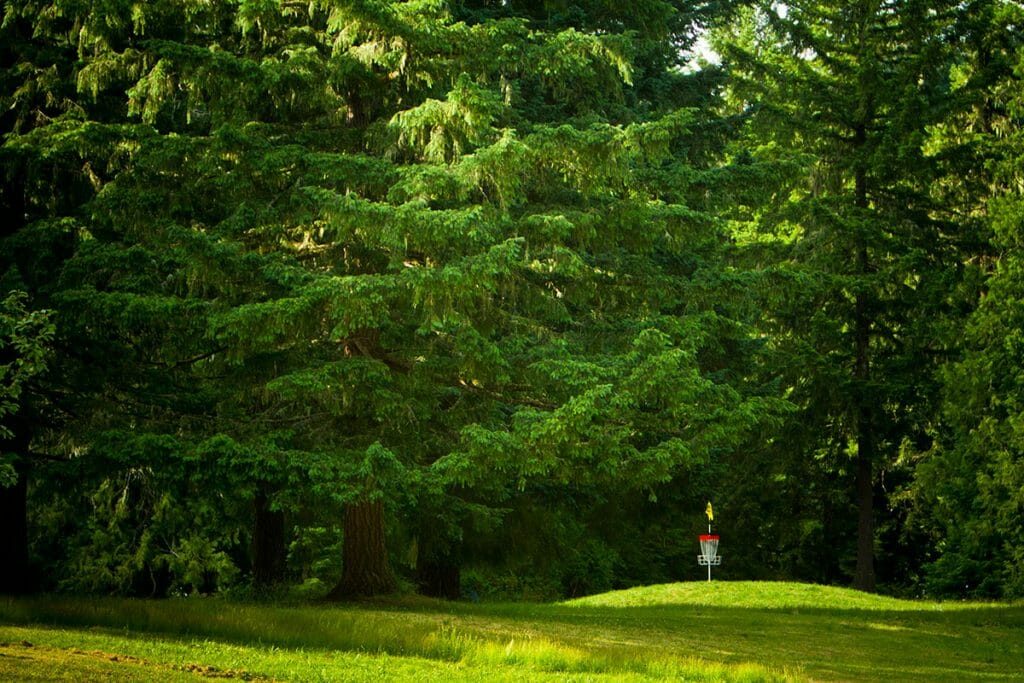 You can find the course map here and take a look at the caddy book.
Past Winners
| | PDGA Tier | Open | Open Women |
| --- | --- | --- | --- |
| 2018 | NT | Eagle McMahon | Catrina Allen |
| 2017 | NT | Ricky Wysocki | Paige Pierce |
| 2016 | NT | Ricky Wysocki | Catrina Allen |
| 2015 | NT | Paul McBeth | Jessica Weese |
| 2014 | B | Nate Sexton | Valarie Jenkins |
| 2013 | NT | Will Schusterick | Paige Pierce |
| 2012 | NT | Cale Leiviska | Catrina Allen |
| 2011 | B | Paul McBeth | Valarie Jenkins |
| 2010 | NT | Christian Dietrich | Liz Carr |
| 2009 | NT | Ken Climo | Des Reading |
| 2008 | A | Steve Rico | Kathy Manley |
| 2007 | NT | Nate Doss | Valarie Jenkins |
| 2006 | NT | Barry Schultz | Des Reading |
| 2005 | NT | Barry Schultz | Des Reading |
| 2004 | NT | Barry Schultz | Ruth Steele |
| 2003 | B | Aaron Kirschling | N/A |
| 2002 | C | Erik Smith | N/A |
How to Follow
UDisc Live is on tap providing live scoring. Post-production next-day video from the event is set to be released on the Jomez Pro and Central Coast Disc Golf YouTube channels. The PDGA will be providing updates via their Instagram, with event photos from Alyssa van Lanen. Check in here at Ultiworld Disc Golf for recaps of each round from the Open and Women's Open field.
Extended Forecast
The weather will be less than ideal for disc golf, which could lead to some interesting scores. Rain chances exist each day of the tournament with wind coming into play, mainly on Friday.
Friday:
9 AM: 58° with relatively calm winds. Scattered showers possible.
2 PM: 65° with southwest winds gusting to 15 mph. Rain likely.
Saturday:
11 AM: 53° southwest winds around 5 mph. Scattered showers increase in coverage in the afternoon.
Sunday:
11 AM: 53° with southwest winds around 5 mph. Isolated showers possible throughout the day.
With the southwest wind in place during Friday afternoon, Open players may face a headwind on the 1,196 foot par 5 hole 14 on the East course. This makes a birdie that much more difficult. The Open Women field may encounter a tailwind on the 485 foot par 3 hole 8 on West, making the upshot to the tight, island green a bit more difficult.