Schusterick and Dickerson collect east coast wins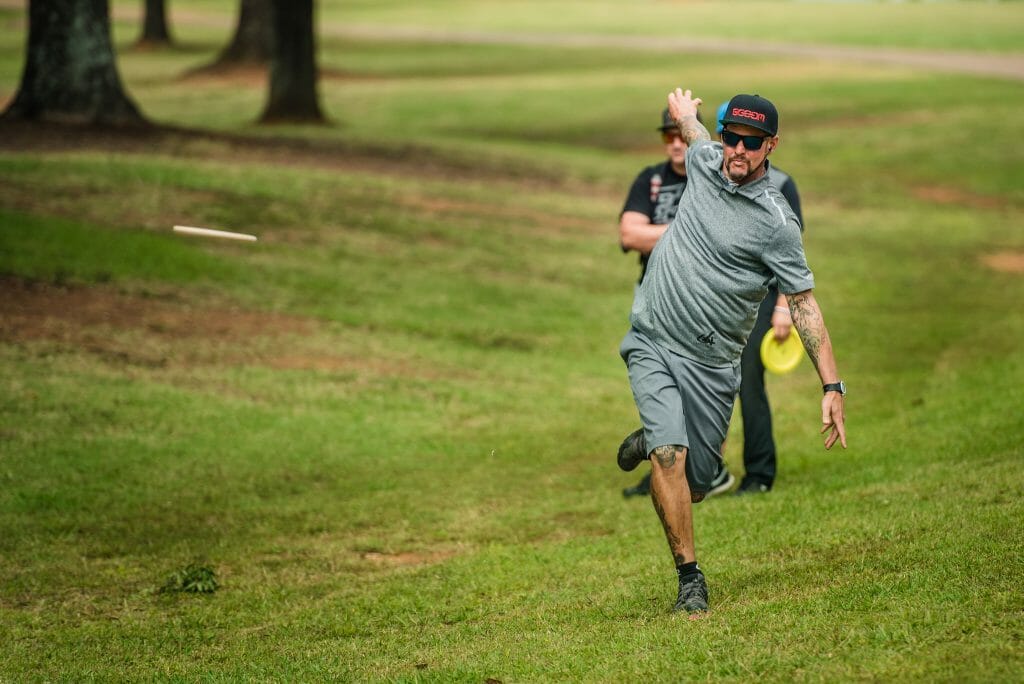 While the Open and Open Women's fields were competing for the PDGA National Tour win at the Masters Cup, the professional Masters divisions were right beside them at DeLaveaga Disc Golf Course battling for A-Tier titles of their own.
Patrick Brown navigated the familiar northern California terrain to a three-stroke Pro Masters 40+ division title over Robert Bainbridge in second place and Jere Eshelman who was four strokes back in fourth. Brown sealed the win with a 1036-rated 7-under par 65 final round at the DeLaveaga Disc Golf Course. He was a 5-time Masters Cup Masters division champion when the division was still included in the NT event.
In Central, South Carolina, Huk Central hosted many of the east coast's top pros who haven't yet made the trek to the west coast portion of the tour. Chris Dickerson piled up another win at the A-Tier over Michael Johansen, David Feldberg, Barry Schultz and Matt Dollar. It took a 1064-rated final round to earn his 14th win of the year. Local South Carolinian Sarah Cunningham got the Open Women's division win, finishing the four-round event at 5-over par 245.
Will Schusterick took part in two one-day events in Tennessee, taking home a win in Sunday's Cookeville Clash C-Tier. Schusterick dropped below 1000-rated for the first time in almost ten years after the April PDGA player ratings update. He will be joining the tour for this week's San Francisco Open and will stay out west through July's King of the Hill in Anchorage, Alaska. Expect his rating to climb back up after some rated rounds with higher competition. Schusterick averaged 1024-rated golf at the Jonesboro Open in a 13th place finish roughly one month ago.
Kentucky's Madisonville Open also had a handful of quality golfers battling over three rounds. Sam Lee shot well above his 982 rating on his way to his first Open A-Tier win. He beat out Jacob Henson who helped the Mississippi State Bulldogs win the National Collegiate Disc Golf Championship team title last month. Paul Oman and Dutch Napier finished third and fourth respectively. Christine Jennings won in the Open Women's division. It was her second professional division win this season but she has yet to accept cash. Jennings also won the Advanced Women's division at the Glass Blown Open and has a full docket of amateur events the rest of the season, including the PDGA Amateur World Championship.