Mississippi State and Liberty get their first team collegiate titles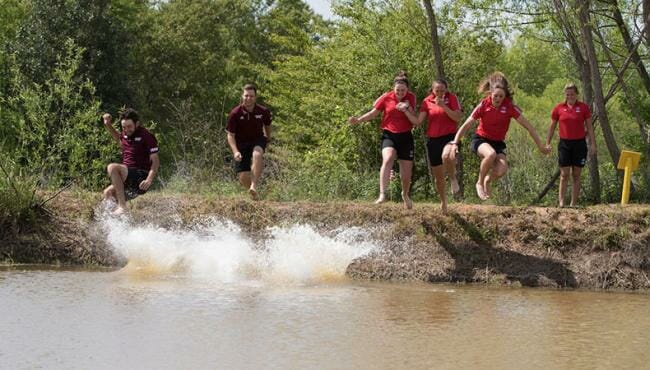 There are new champions at the top of the college disc golf world. The National Collegiate Disc Golf Championship wrapped up on Saturday with some new names on top of the podium. Mississippi State and Liberty University put together dominating performances to claim the title of team champions while Clemson University's Alex Lambert and the University of Texas' Andrew Lowrie won their respective individual championships.
The first championship flight winners to be crowned were the individual national champions. Lambert shot the hot score during round one with a 1-over par 61 at the Hogback course to go into the finals with a two-stroke lead over Liberty University's Heather Wyatt. Lambert was able to hold off Wyatt, shooting a 39 in the final nine, matching Wyatt's score, to be crowned the women's individual national champion.
On the men's side, Longhorn, Andrew Lowrie was the one doing the chasing. On the fourth card for the final nine, Lowrie was focused on playing his best golf and wasn't scoreboard watching.
"The best golf is played one shot at a time, so that's all I was thinking about, just hitting my lines one at a time and playing smart around the treacherous Dunipace [course] greens," Lowrie said. "I honestly didn't think that I had a chance to win at any point during the final nine. It wasn't until I tallied up the scores on my card that I realized I might have a shot."
When all the scores were tallied it was, in fact, Lowrie with his 5-under par 23, 1091 rated performance final nine performance that would get him to the top of the podium. His 7-under par 132 total was good enough for a two-stroke margin over Texas A&M's Mitchell Gothard and East Carolina University's Austin Quick. Lowrie's well-deserved celebration after his historic round?
"Mostly just relaxed and tried to let it sink in. It was a crazy round."
Crazy indeed.
While Lowrie provided a flair for the dramatic, the Bulldogs from Mississippi State did everything they could to make the men's team championship as conclusive as possible. After sitting at 45-under par. with a 23 stroke lead going into the final round, Mississippi State's victory may have been virtually sealed but the team never lost focus.
"We didn't allow ourselves to relax," Mississippi State's Jacob Henson said. "We were not satisfied going into the final round and set another goal for ourselves… our goal was to reach -60."
Finally, on the next to the last hole of the tournament, the emotions started to sink in.
"After I threw my shot to only about eight feet away from the pin, I turned around to my team and it suddenly hit us," Henson said. "It was an overwhelming feeling of joy and happiness."
While Mississippi State just missed their goal, finishing 59-under for the tournament, the Bulldogs were elated with their championship performance that included a 33 stroke margin of victory over second place, Texas A&M. Last year's champion, Ferris State finished in third.
"The feeling of winning a national championship is indescribable," Henson said. "The amount of joy each and every one of us had was unreal. We couldn't stop smiling when it finally sank in. It's something that we'll always have."
The team joining the Bulldogs in the celebratory pond jump may be the only team that put together a more impressive performance: the women from Liberty University. Liberty finished a massive 40 strokes ahead of their nearest competition, Southern Arkansas University, en route to their championship.
For the team, it was a culmination of hard work paying off. With a practice routine that included indoor and outdoor fieldwork, rounds, and an extra 500 putts and two hours of fieldwork or rounds of disc golf per week in preparation for the championship flight, the squad put in the time over the season in this championship quest.
And during the tournament, the team played and worked off each other's strengths.
"Individually, we made sure to play with our strengths in singles. We played it safe to keep our scores low rather than trying for risky shots," Liberty's Wyatt said. "Team-wise, communication. We had to know where to land the disc to set-up our partners for the next shot. In regards to team chemistry, each person on our women's champion flight has a different strength so there wasn't a shot that we could not make."
While the team was thrilled with the victory, there were still some mixed emotions with four of the team's eight members set to graduate and move on from the program.
"The emotions are incomprehensible at this point in time — excitement and relief, but also sadness and determination," Wyatt said. "While we are ecstatic that we won the national championship and relieved that all of our long hours of practice have paid off, we are saddened that this fun-filled season has come to an end."
Mississippi State also looks to be losing a number of their players and Henson calls the team's future a "mystery."
Still, for both Liberty and Mississippi State, the legacy of these championship teams will live on.
"The Liberty University program is determined to fulfill its mission in growing the sport of disc golf on the collegiate stage, especially through the promotion of the women's side," Wyatt said.
Henson plans to stay involved in Mississippi State's program, in perhaps a coaching role and believes that his teammates will play their part as well.
"We all bleed maroon and white and will always help any way we possibly can," Henson explained.
And while teammates for both teams will soon part, heading their separate ways, these champions now share a bond that will never be broken.
"Those teammates of mine are brothers now, and these moments will be remembered for a lifetime," Henson said.
Or as Wyatt put it, "the team has become a family."