Win comes despite final round mishaps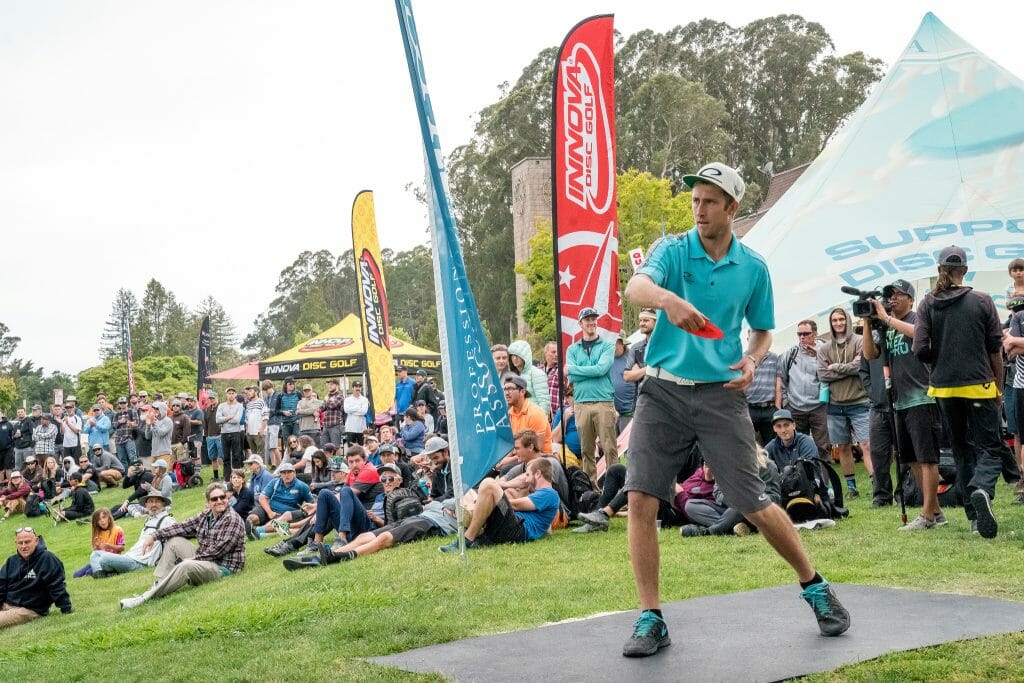 After willing his way to the lead in round one at the tricky and challenging DeLaveaga Disc Golf Course, all Ricky Wysocki had to do was keep himself near the top to have a chance. That 1071 rated opening score was the highest rated round all weekend, and it was enough to allow the defending world champion to hang on for the Masters Cup win.
It is Wysocki's first PDGA National Tour victory of the season, and second career win at the famed Santa Cruz tour staple. The win was also Wysocki's second high-profile win of the season — after winning the Jonesboro Open — one that has been characterized by an increased level of parity in the Open division.
Wysocki averaged 1044-rated golf, finishing at 20-under par 184 through three rounds. That was good enough to best Northern California veteran Josh Anthon by two strokes. Paul McBeth pushed his way through the field to finish in third place at 17-under par 187 while Philo Brathwaite wrapped his weekend in fourth at 16-under 188.
After his opening hot round, Wysocki kept himself within striking distance after Anthon's hot second round. And in Sunday's final round at the DeLaveaga Golf Course, six birdies through the first seven holes was enough to push him over the top for the win, despite an up-and-down back nine.
Wysocki's roller coaster back nine wasn't without some controversy though. For the second time this season he was the subject of foot fault discussion at a high-profile tournament. Paige Pierce helped out with some PDGA media at the NT event, providing updates from a "kinda tense" lead card. Here's the video.
On hole 15, according to Pierce's description, Brathwaite called Wysocki on a foot fault during his tee shot, and Meintsma seconded the call. Pierce also said it was his third noted foot fault of the final round. Wysocki's drive landed in a sand trap hazard and with the penalty call, he was putting for bogey after the two penalty strokes. He made the putt but lost his two-stroke lead when Anthon hit his long birdie bid. And then the pair were tied with three holes left to play. They both birdied the 755-foot par 4 16th, but Anthon added a penalty stroke on each of the final two holes, leaving Wysocki on top.
Rather surprisingly, Wysocki's circle 1 putting rate in the second and third rounds was sub-90-percent, according to UDisc Live's statistics. Throughout the event, Wysocki's distinguishing stat was that he ranked first in reaching circle 1 in regulation, at a rate of 45-percent. In large part, this was due to his field-leading pace at parking holes (26-percent). Given his strong greens in regulation numbers, when he was parked for birdie, he was putting for pars, not bogeys. This made the difference, ultimately, on a weekend where his putting stroke from circle 1 appeared to be "slightly off."
McBeth Makes Final Round Charge
Going into the final round, McBeth was sitting at a very un-McBeastly 19th place. But he went off at the DeLaveaga Golf Course, climbing all the way up to third on the back of a 1070-rated 10-under par 50. McBeth's weekend was a tale of two rounds: his not-so-great 1009-rated first round where he finished at 1-under par 71, scrambling successfully just 45-percent of the time on DeLa's challenging fairways, and his final round where he collected 12 birdies, hit 94-percent of the fairways, 94-percent of the greens in regulation, and made 94-percent of his putts from inside circle 1.
Even after that late push, he finished three strokes out of the lead and after watching the Jomez Pro coverage of round one, it is tempting to imagine that if maybe one or two of those putts had connected for McBeth, we would have been treated to a 2016-esque playoff on the final day. Maybe next year.
Noah Meintsma Hangs with the 'Big Guns'
If you were paying close attention you may recognize Meintsma from his sixth-place finish at The Memorial back in February, if not you could be forgiven. Meintsma is a 994-rated player of Minneapolis, Minnesota who, aside from his showing at The Memorial, and his fifth-place finish this weekend, had only cracked the top 30 once in the previous tournaments he has played this year. He won the two-round Earth Day at Bethel University in early May. Were it not for two OB strokes on the final two holes of the weekend, he would have tied McBeth for second place. Keep in mind that Meintsma was playing in the Junior Boys division as recently as 2015, which means we could expect big things for the youngster in the future.