Lizotte, McMahon move up; Sexton, Conrad match hot round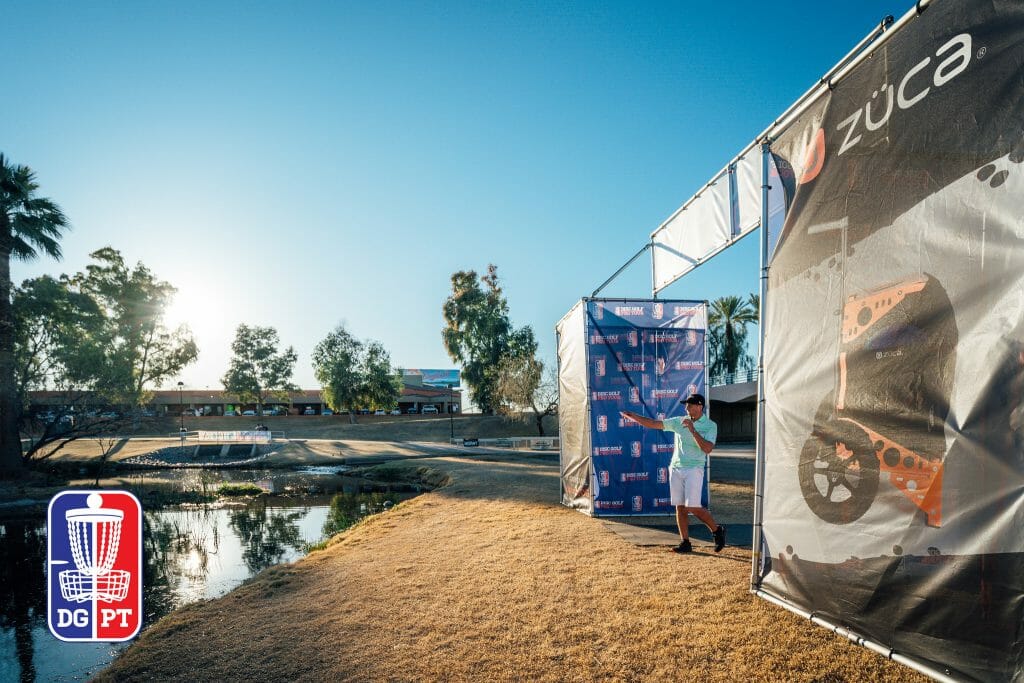 Starting on the back nine of round one, through the end of round two, Paul McBeth carded birdies on 21 of those 27 holes and bogeyed just once. That streak allowed him to jump eight spots on the leaderboard and into first place at the Memorial Championship's halfway point.
But what should worry his competitors most is that it appears McBeth's putter has come alive. After a sub-par week on the putting green in Las Vegas, where he hit just over 85-percent of his circle 1 putts, McBeth hit 94-percent of his circle 1 opportunities in round two at Vista del Camino Park, and added two more from 60 and 50 feet, both for birdies.
His renewed putt, combined with reaching circle 2 in regulation at an 89-percent clip, propelled him to a 1081-rated 13-under par 47, bringing McBeth's leading total to 21-under par 95. But he's not alone at the top, as the scoring separation has stayed minimal. Simon Lizotte and Eagle McMahon both rode strong 11-under par 49s four spots up the leaderboard and into a tie for second at 20-under par 96. Nikko Locastro and Ricky Wysocki, who both featured on the round two lead card, each turned in 10-under par 50s to finish the round tied in second with Lizotte and McMahon.
A bit further down the leaderboard, Nate Sexton and James Conrad each tied McBeth's 13-under par hot round to vault up the standings. Conrad, who is more known for his proficiency on wooded courses, carded a bogey-free round thanks in large part to his putting accuracy. Conrad hit four birdie putts from 40 feet and made all but one of his putts from inside circle 1 for a 93-percent success rate from that distance. In total, his average throw in distance, according to UDisc Live's statistics, was an impressive 22 feet. That was good enough to move him up 21 places and into a tie with K.J. Nybo for sixth place at 19-under par 97.
Sexton took a similar approach to his 13-under par round, just without the distance putting, instead relying on reaching circle 1 in regulation (83-percent) and cashing in from there. Sexton reached circle 1 or scrambled to it successfully on all 18 holes of his bogey-free round yesterday. He did not have to attempt a putt from longer than 27 feet and made 90-percent of his putts from circle 1. That consistency allowed him to move up 51 places on the leaderboard and into a tie for 14th place with four other players at 16-under par 100.
While the day was smooth sailing for Conrad and Sexton, the lead card ran into a bump on 759-foot par 4 11th. On Wysocki's second throw from the fairway, Locastro called for a foot fault almost immediately and quickly appealed to card mates JohnE McCray and Nybo. Locastro became incredulous upon learning that McCray and Nybo would not offer a second on the call, something that is required for calls that result in a stroke penalty.
During the group discussion, McCray could be heard saying, "I'd call a rule on anybody, but like I said, I didn't see anything." From McCray's statement, it wasn't clear if he meant that he did not see a foot fault, or he did not see Wysocki throw and therefore could not make a call. Locastro, as he walked back down the fairway, said to the camera on the live feed, "you'll see it on the video."
After the round, in an interview with Terry Miller, Locastro said that there are no hard feelings about the incident and that there was no question it was a foot fault.
"There was no maybe about it — it happened, it's on camera," Locastro said. "I'm not mad at Rick, he's one of my best friends. I love Ricky Wysocki, and if we see it it should be the same rules for everybody, and it's just that."
Further down the leaderboard a number of players will have to make a move during the third round to make the cut, with the top 50-percent of the field advancing to the final round on Saturday. Currently, eight players sit just above the line at 2-under par 114, including Matt Dollar, Mike Conlee, and Joe Cruz. A number of notable names are on the outside looking in, including Nate Perkins, Joel Freeman, Nicholas Masters, Chris Keseloff and Kevin Sheehan Jr.
The lead card of McBeth, Lizotte, McMahon, and Locastro tee off at 2:20 p.m. local time. The Live broadcast of the lead card begins at 4:00 p.m. eastern time on the Disc Golf Pro Tour YouTube channel.