Panis and Hokom move up to the lead card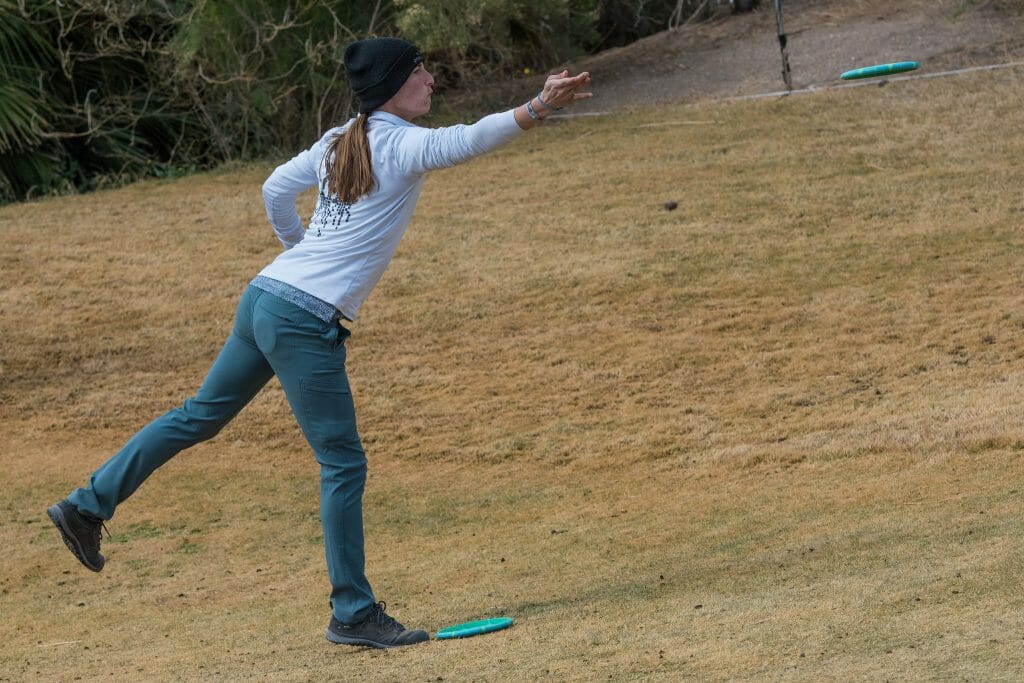 Catrina Allen stayed steady through the second round of the Las Vegas Challenge as the winds picked up on the back 9 as the morning wore on. Her 2-over par 63 round on the Innova Course at Wildhorse Golf Club moved her two-round total to even-par 119, and allowed her to maintain the two-stroke advantage she started the day with.
Now, though, it's Paige Pierce on her heels in second after her scorching 1021-rated, 4-under par 57 hot round — she was the only player in the field to come in under par — moved her up 13 places on the leaderboard. Pierce's two day total is now 2-over par 121. Kona Panis and Sarah Hokom also made significant moves up the leaderboard after matching 1-over par 62 performances moved their total to 4-over par 123. Sai Ananda is tied with Panis and Hokom after her 6-over par 65 second round dropped her out of a tie for the lead.
Allen began her day strong in the calmer conditions, collecting four birdies through the first six holes. She started that run hitting a long putt from 50 feet on the opening hole:
But her momentum stalled as the winds picked up, gusting to between 15 and 20 mph through the late morning hours. Allen recorded two double-bogeys on holes 10 and 12, before finishing out the day with back-to-back bogeys on final two holes.
Accuracy in all facets of her game vaulted Pierce up the leaderboard. A significant change that led to her second-round success was her ability to stay inbounds: she recorded just one OB stroke, whereas in round one she racked up seven. According to UDisc Live stats, she cashed in on her field-leading circle 1 in regulation percentage (33%) by collecting all six of her birdies on holes where she reached the green in regulation. Additionally, she hit over 50-percent of the fairways, 82-percent of her scramble opportunities were successful, and she hit 95-percent of her circle 1 putts and had to putt from beyond 16 feet only once.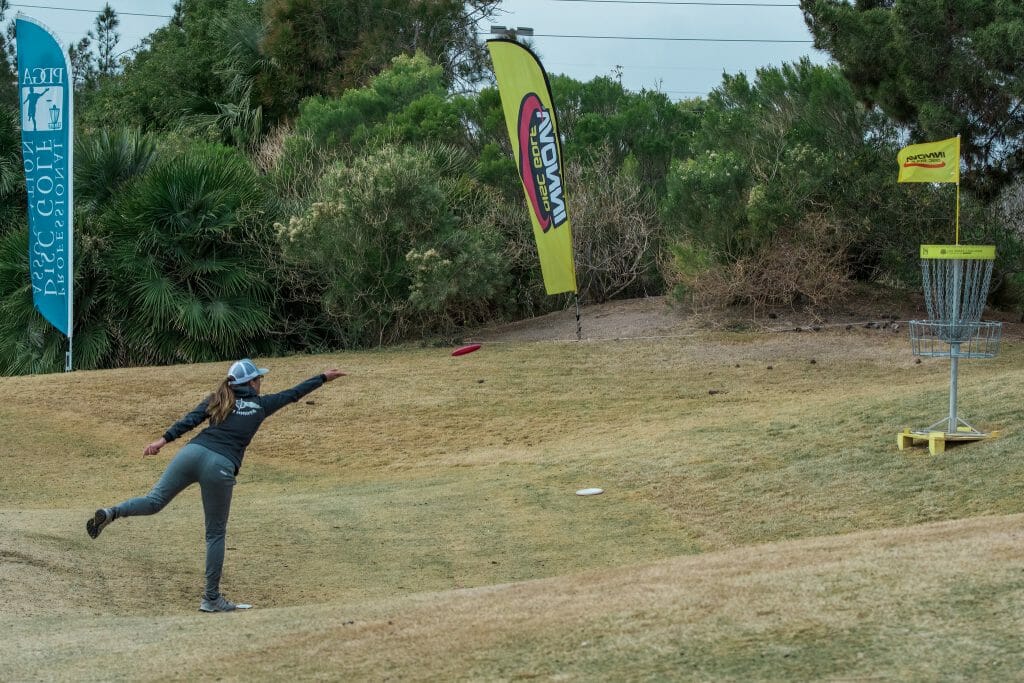 Panis, who moved up five places in round two, is perhaps carrying over some early season momentum from her third-place finish at last weekend's Wintertime Open. Panis is in just her second year as a professional and has put together two rounds of nearly mistake-free golf thanks to a cumulative fairway hit percentage and scramble rate each over 50-percent. That accuracy from the tee and fairway has her ranked in the top five in reaching both circle 1 and 2 in regulation. From there she's made the most of her par and birdie looks, putting at an 85-percent clip inside circle 1, which ranks eighth in the 24 player field.
Like Panis, Hokom jumped up five positions, thanks to three early birdies. While the veteran was on tap to card an under-par round with just five holes left, her round took a turn. Bogeys on the holes 14 and 15 were followed by a double bogey on the 507-foot par 3 17th to drop her just below par.
Further down the leaderboard Melody Waibel made her own push, moving up nine slots on the leaderboard into 9th place, just above the cut line. Her 3-over par 64 score moved her total score to 10-over par 129. Just below Waibel, Rebecca Cox and Madison Walker are tied in 10th place, right on the cut line, at 11-over par 130. After tomorrow's third round the top 40-percent of the field moves on to the final round.
The lead card of Allen, Pierce, Panis, and Hokom tee off at 7:58 a.m. on the Adidas Terrex course. Watch for shot-by-shot video coverage of each Open Women's lead card on Jomez Productions and check in with the PDGA on social media for video clips, interviews and more from on the ground in Las Vegas.