Dickerson notches fifth win in five events this year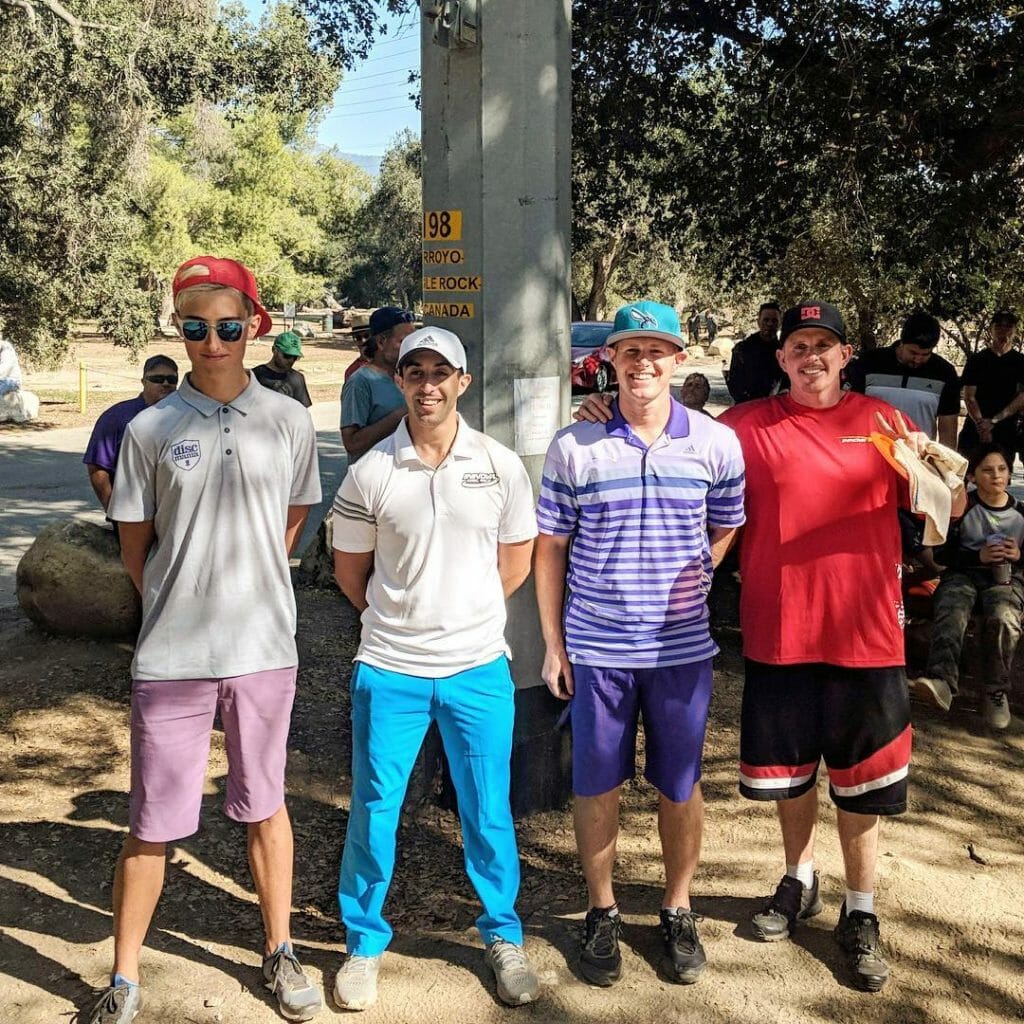 In past years, the Gentlemen's Club Challenge in Las Vegas, Nevada, served as the pre-touring season A-Tier warm-up for many traveling professionals. With the GCC getting a rename and bump up to PDGA National Tour status, it seems that the annual Wintertime Open in Altadena, California, is taking over that role. The 40th Wintertime Open at Oak Grove, the oldest disc golf course with baskets in the world, played host to 12 Open players rated over 1000 and four regularly touring Women's Open players this past weekend.
Lance Brown came out on top in the Open division, besting the likes of Paul McBeth, Eagle McMahon, and Josh Anthon with a 27-under par 159 performance after three rounds on the 7,200-foot, par 62 course. McBeth finished the weekend in second with a 26-under par 160 total, while McMahon finished third at 25-under par 161. Josh Anthon and Autin Hannum rounded out the top four tied at 22-under par 164.
Brown entered the final round two strokes behind McMahon after the pair tied for the hot score with matching 1065-rated 12-under par 50s in Saturday's second round. The North Carolina pro had the only clean scorecard on the front nine, passing McMahon for the lead on hole 4 and didn't record a blemish until a bogey on hole 14. Birdie 3s on holes 14 and 15 kept Brown just far enough ahead of McBeth and McMahon so that his bogey on 18 didn't matter. Here's his winning putt, courtesy of Central Coast Disc Golf:
McBeth, who began Sunday's final round six strokes behind McMahon, started out hot in the final round, grabbing three birdies on the opening four holes. After a bogey on the hole 9, he battled back on the subsequent three holes, collecting two birdies and an eagle on the 505-foot par 4 12th.
A double bogey and par followed, but McBeth again fought back, closing out the round with four straight birdies to end on a high note. Ultimately, McBeth was unable to catch Brown, ending his Wintertime Open winning streak at seven consecutive years.
Jessica Weese took the win in the Open Women's division in a playoff over Lisa Fajkus. Both Innova sponsored athletes needed extra holes to decide the victor after tossing matching 9-over par 195s through three rounds. Fajkus led after her opening round 965-rated even-par 62, but Weese took the lead after her own even-par score in Saturday's second round. Fajkus trailed Weese by three strokes entering the final round and her 2-over par 64 final round was enough even things up. After matching scores on the first playoff hole, Weese took the birdie and the win on Oak Grove's 264-foot hole 2.
Kona Panis averaged 913-rated golf, 23 points above her current player rating, to finish third with an 18-over par 204 total. That was good enough to beat experienced veterans Melody Waibel and Lesli Todd by one stroke as the pair tied at 19-over par 205.
Cale Leiviska hit a career benchmark, notching the 100th win of his career at the Fade Station Open in Albuquerque, New Mexico. The Minnesota native left the cooler confines of the north in his bid to knock off any early season rust and did so in resounding fashion with a 34-under par, 164 total, which was 21 strokes ahead of second place Tyler Wadsworth. Leiviska started hot at the University of New Mexico's 19 hole, par-66 course, tossing a 1052-rated 53, which was eight strokes better than the next closest competitor. He cooled off a bit in the second round, but he coasted to the win after another 53 in the third and final round. Remarkably, all 100 of Leiviska's career wins have come in the Open division since turning pro in 2004.
Back on the east coast, Chris Dickerson kept winning in the Carolinas, this time at the Hilton Head Invitational on Hilton Head Island in South Carolina. While his prior wins in 2018 have come by a wide margin, this time Dickerson needed every stroke to edge out Barry Schultz. He finished with a 33-under par 156 total, while Schultz came up just one stroke short. Dickerson is riding a five-tournament winning streak having emerged victorious in all five events he's played this year. In his first event since announcing a sponsorship agreement with MVP Disc Sports, Matt Dollar finished third at 25-under par 164. Josh Childs took fourth place with a 23-under par 166 total.
Elaine King recorded the 247th win of her career in the Open Women's division. King ran away with a ten stroke win in the three-round event, finishing at 8-under par 181, bolstered by 957-rated second round. Deann Donaldson finished second at 2-over par 191, followed by Haley Childs at 3-over par 192.