The Texas pro made her mark on the putting green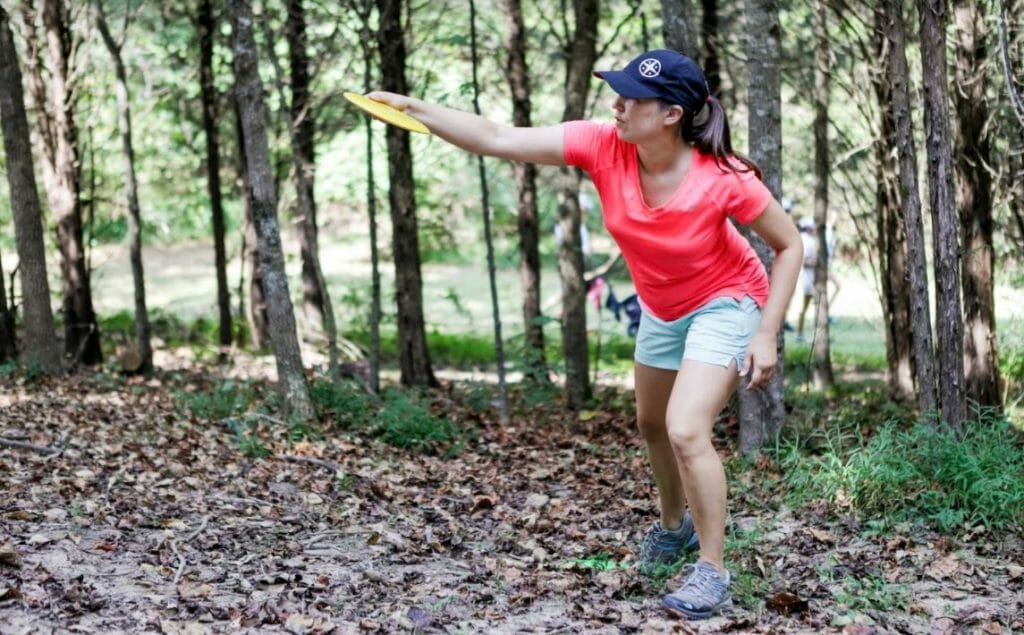 To stand out in a sport that only crowns one winner every weekend is no small achievement. Breaking into the collective consciousness of fans is all the more impressive when one considers that women's disc golf has been dominated for the last seven years by only a select few.
But finishing inside the top 4 at some of the sport's most prestigious events — including a third place showing at the PDGA Professional World Championship, fourth at the United States Women's Disc Golf Championship, and tied for second at the Disc Golf Pro Tour Championship — will help any player do just that.
For those impressive finishes at the highest level tournaments of the season, and her consistency throughout 2017, Lisa Fajkus is our Women's Breakout Player of the Year.
Fajkus' 2017 season could read as the playbook for how to make a name for yourself in any sport and, in the case of professional disc golf, how to hit the road and step up on the game's biggest stages. The Round Rock, Texas, pro's average finish across all 29 Open Women's events she has played so far this season is 3.3, while three of her six wins have come at A-Tier events. She also collected $13,402 in winnings, which accounted for nearly half of the $32,079 in career earnings she's accumulated in her nine years as a professional.
Fajkus' season was highlighted by her third place finish at Pro Worlds in June, where she overtook Catrina Allen for the podium spot during the tournament's back nine in just her third career appearance at the sport's prestige event.
https://gfycat.com/DemandingUnacceptableEasternglasslizard
In just her second year of touring, Fajkus continued posting consistent finishes at National Tour and Disc Golf Pro Tour events, adding back-to-back third places at the Idlewild Open and Pittsburgh Flying Disc Open. Though those performances thrust her into the national spotlight, she was never a secret to fellow Texan and reigning PDGA World Champion Paige Pierce.
"I've been playing with her since I was 13 or so," Pierce said after the DGPT Championship. "Texas golfers are awesome, but our courses and our shots are kinda redundant, so you get really good at certain shots. But then when you start traveling you're having to throw all these shots you never were exposed to. I think the best thing she could have done as a player is gone on the road. It's showed, leaps and bounds. Her confidence, her skills, her decisions — everything's great…Her level of concentration and focus and determination is like no one else's."
Besides quality finishes, making a mark on the pro scene often requires a player to possess a unique skill or attribute — say Sarah Hokom's forehand, Michael Johansen's penchant for wooded play, or Ricky Wysocki's putting, for example. For Fajkus, much like Wysocki, it's her adept putting that stands out. She tied Valarie Jenkins for the best combined circle 1 and circle 2 putting percentage of any Open Women's player on the Pro Tour this season.
https://gfycat.com/SophisticatedGregariousIsopod
"It's the talk amongst everyone," Pierce said of Fajkus' ability on the green. "Every guy that sees it, it's making them come watch us, which is cool. It's giving the women's field more excitement. I'm super proud of her and I'm really glad she's on the road. She's pushing all of us to another level, for sure."
But Pierce and her contemporaries were not the only one to take notice: Fajkus was recently promoted to Innova Discs' Star Team, an honor that brings with it the company's top level of touring support. For her part Fajkus is "all in" on full time touring in 2018 in hopes of building upon this season's success. With a whole offseason to dedicate to putting and continuing to develop to the rest of her game, the division now has another name to keep an eye on.