Fajkus closes breakout year with a tie for second place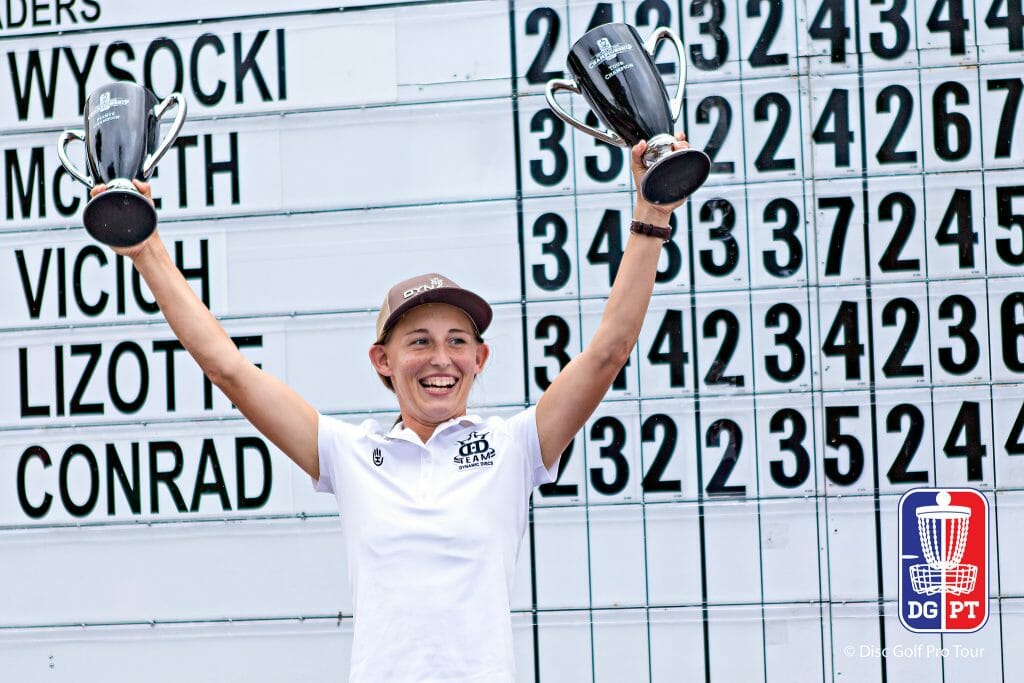 Ultiworld Disc Golf's coverage of the 2017 Disc Golf Pro Tour Championship is presented by DUDE Clothing; all opinions are those of the authors. Learn more about the Australian brand's offerings and player ambassadors here.
JACKSONVILLE, Fla. — No laying up.
It's a common refrain among disc golf's stick-wielding sister sport and an ethos to which Paige Pierce is a devoted follower. But through 16 holes of yesterday's final round of the Disc Golf Pro Tour Championship, Pierce had been inconsistent, at best, with her putter. She mixed in a 32-footer on hole 6 and highlight-reel layout shot on 7, but after that spent much of her round picking up her first attempt and tapping in a second from five feet. She often ghost-putted at the pole, or a palm tree, trying in vain to regain her stroke as her fellow competitors walked to the next tee.
Even amidst the struggles, though, her spirit was never spoiled. So when she approached a 90-foot birdie look on hole 17, the victory already in hand, she didn't back down.
"The type of player I am, I just love hitting long putts or tricky putts," Pierce said. "So I'm never gonna lay any putts up. I don't even care if I three-putt, really. I'm just not gonna lay up."
True to her word, Pierce instead put the exclamation point on her tremendous season, lofting a long jumper into the chains for an insurance birdie to secure her Disc Golf Pro Tour Championship. It made up for all of the early misses — "about six of them," she joked at the time — and found her taking one more victory lap during a year overflowing with them.
"As soon as it left my hand I knew it was hitting through chains — I was just praying it would stick," Pierce said. "It was awesome to kinda end my season with that putt. It was really fun."
Pierce's 6-under par 59 on New World Disc Golf's USA Links course secured her status as the DGPT's most dominant women's player, giving her both the series' tour points title and championship crown. Lisa Fajkus and Catrina Allen battled to a second place tie with their 1-under par 65s, while Sarah Hokom hung tough until a late run of bogeys thwarted her efforts. She ended the tournament with a 2-over par 67.
On a day that saw numerous swings in momentum, it actually took awhile for any of the women on the championship card to seize it. Both Pierce and Fajkus carded two birdies in the first three holes, with Fajkus' 40-footer on the 314-foot 3rd serving as the opening salvo to the Sunday festivities. All four competitors chipped away with precision on USA Links and kept scores tight. It was a development that Pierce predicted.
"We're all close to the same level as players, and there's not a lot of trouble to get into," Pierce said. "Not a whole lot of scoring separation."
Instead, they had to create that separation on their own. Hokom struck first, carding the lone birdie on the day's first par 5, the 884-foot 6th, after parking a long forehand approach. Pierce had her own opportunity for birdie, but she missed low off the cage, giving a small preview of the misgivings to come later in the round.
She recovered from the error beautifully, though, canning a layout putt from 45 feet to take a birdie on the 286-foot 7th. It was a far cry from her miss on the prior hole, and Pierce said that being in an awkward position can sometimes make putting easier for her.
"I think just on some of those 16 to 25-foot putts that I missed, it was like I should make those, so I put pressure on myself," Pierce said. "On those other ones it would be a bonus. It would be a fun putt to hit."
The strike gave Pierce a one-shot gap over Fajkus and Hokom and two on Allen, but she was set on adding to those leads. The 888-foot 9th presented her next chance, as she unleashed back-to-back crushes with a Dynamic Discs Defender to put her at the edge of the circle. On one of her most crucial opportunities of the day, she buried the putting woes that bit her on the same hole the day before, when she missed a birdie bid, saw it roll away to 40 feet, and then missed that comebacker to take a bogey 6. Now, she connected for an eagle and a three-shot shift from the semifinals. Hokom was able to card a birdie and only lose one stroke, but both Fajkus and Allen ceded two with their pars.
"I know stepping up to the par 5s that I should get a stroke, but I still have to execute," Pierce said. "…I know I can maintain and stay even with them and just get pars [on the shorter holes], but on those [longer] type of holes I feel like it's my advantage, so I feel like I wanna capitalize on that.
"That was a huge, huge momentum change," she continued. "It was a 32-foot putt-ish, so I felt good about my putt. But somewhere along the way thoughts creeped back in."
Hole 10 provided more evidence that Pierce was in her own head, as she again missed low — this time off the right side of the chains — in her attempt at the birdie. She then sprayed her drive on the 286-foot 11th into the left-side brush, pitched up to 50 feet, and settled for a bogey. Fajkus, meanwhile, put a Discmania FD to 15 feet and connected for the deuce. Two shots, and seemingly all of the momentum Pierce built with the eagle, swung in Fajkus' favor.
Now just one back of Pierce, Fajkus was in striking distance. But instead of taking advantage, she stumbled. After leaving her upshot short on the 400-foot 12th, she missed a 45-footer that would have saved par. Then, in a rare miscue for a player who has made solid putting her calling card this season, she missed a 15-foot comebacker off the front cage. Pierce took a par, and Fajkus again was three behind.
"That really hurt," Fajkus admitted. "I hate getting bogeys, and double bogeys of course are no fun, either. And, you know, you've gotta play good to keep up with these girls. We all had our mistakes out there, it was just unfortunate to have mistakes because you want to be perfect."
Still Fajkus, who said she is "all in" on full-time touring in 2018 as she looks to build on her success this season, was determined not to let her focus wane.
"I wanted to keep my head up and my chest out and like act like I'm still playing good," she said. "…I was, at times, struggling. Everyone has their struggle moments. I just wanted my body language to look like I was still winning or doing good."
As Pierce and Fajkus were volleying, Hokom was quietly sticking around — literally, as she hardly spoke a word on the card all round. She kept a clean sheet and put her approaches next to the pin, rarely leaving anything more than a tap-in for par. After Pierce bogeyed hole 13 with another miss low, Hokom was tied for the lead and was showing no signs of breaking from her consistent play.
But hole 14, an 855-foot par 5, is where she started to unravel. The wind had died down, but Hokom still turned over her forehand drive and it sailed into the left side brush. She pitched back to the fairway and executed a clean third shot, but she did not put enough on her approach to the green and it floated out-of-bounds. She took a bogey 6, but Pierce again found putting woes and missed a birdie attempt from 20 feet. It was Pierce's fourth two-putt of the day.
Instead of getting flustered, though, Pierce simply took the putter out of the equation. Her drive on to hole 15's island green was the closest of the group, and neither Hokom nor Fajkus could convert on their runs at the deuce. Pierce carried a two-shot lead over Hokom and three-shot gap on Fajkus into hole 17, and that was all she would need.
Second place was still not decided, though, as Hokom and Fajkus duked it out until the final hole. Fajkus tied the affair with a par on 17, then both scuffled through hole 18. Neither were well-placed to make the late-fairway mandatory on the 775-foot par 5, but Hokom found trouble after her roller through the gap curled back into the woods. Fajkus, throwing from the right side of the fairway, tossed a backhand to the middle, then put a clean midrange on the green. And with both competitors two-putting, second place ended up tipping to Fajkus, with Allen sneaking into to share the honors with her after scrambling for par.
"This is amazing," Fajkus said. "Tying for second is amazing, and I'm just thrilled."
Hokom was visibly upset after the round, but did not attribute it to her difficult finish. Instead, she was dismayed at a perceived lack of respect from spectators and online followers, who she said criticize her for being a forehand-dominant player.
"I was…head to head with somebody who throws twice as far as me throwing sidearm only, you know?" she said. "I'm not a crowd favorite and it's their loss, I guess."
Pierce made the victory her 21st of the season. Combined with a world title and two points series crowns, it further cements her place among the pantheon of disc golf greats. But the year exceeded even her own high expectations.
"I knew I was gonna have a good season, but to say I knew I was gonna win that many tournaments — there's no way I could have known that," Pierce said. "I've been putting myself in position and not panicking when I come off on the second or third card and realizing every shot matters, and I think this round was a good example of that for everyone. Every single shot mattered, even that last putt Lisa hit.
"It was cool to end the season like this," she continued, "and remind me don't take any shots for granted and focus and execute on every shot."
Especially when she's not laying up.