Lizotte, Conrad push for the spotlight during electric final round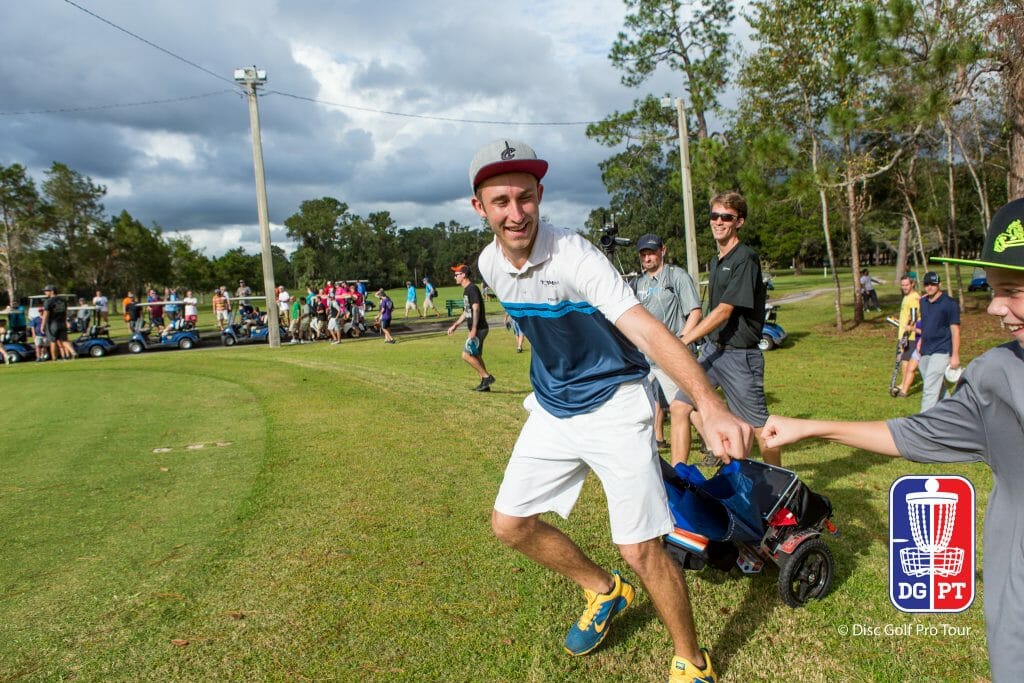 Ultiworld Disc Golf's coverage of the 2017 Disc Golf Pro Tour Championship is presented by DUDE Clothing; all opinions are those of the authors. Learn more about the Australian brand's offerings and player ambassadors here.
JACKSONVILLE, Fla. — The Ricky Wysocki and Paul McBeth Show welcomed a couple of special guests yesterday at the Disc Golf Pro Tour Championship. But in the end, the story was always going to come down to disc golf's bitter rivals.
James Conrad and Simon Lizotte provided an early and late-round push, respectively, but it was the sport's perennial top-two who stole the show by taking a tie into New World Disc Golf's 18th hole. A combined 13 throws later, and Wysocki was hoisting yet another trophy in a season full of them, as the reigning PDGA World Champion added another title to his resume as the 2017 Disc Golf Pro Tour Champion.
Wysocki's 9-under par 56 at New World's USA Links wasn't always clean, but — as he has shown a penchant for in recent memory — he buckled down in the clutch and put the pressure on his opponents. McBeth's 7-under par 58 found a mix of strong putting being undone by haphazard drives, while Lizotte went big to tie him for second place. Conrad stumbled late after an early hot streak and fell to fourth place with a 2-under par 63, while Dana Vicich brought up the rear in the single-card format with a 10-over par 75.
Wysocki couldn't deny the drama involved in yet another in the long list of battles between he and McBeth, a made-for-TV pairing that continues to deliver with new episodes each week.
"It's like it's scripted, huh?" Wysocki said with the signature grin he's been flashing more and more often. "It's insane."
The win represented a bit of redemption for the Ohio native. After winning the DGPT's season-long points title in 2016, he quickly bowed out in the Championship's semifinal round in Vermont. He again took the points title this year, then made good with the late-round victory, even if it at times veered from the storyline he would have crafted if he were the screenwriter.
"I could've won by more," he said with a laugh. "But I don't wanna be too greedy."
In reality, none of his competition would cede the spotlight long enough for him to have that luxury. First it was Conrad who attempted to flip the narrative. The long-haired Virginia pro came out firing, landing his drive inside the circle on the 408-foot 1st — the same hole where he clinched his final round wild card spot in a playoff the day before — for an easy birdie. He strung together three more by hitting the green in regulation on each, his mix of accurate fairway drivers and full-power putter shots serving him well on the course's early wooded section. Even as an eager gallery drove golf carts to the next hole before players had finished holing out — an announcement was finally made after hole 4 in an attempt to tame the herd — Conrad remained steady.
"I was putting myself in position," Conrad said. "I was happy with the start I had. It was just really frustrated not to execute down the home stretch."
Though Conrad made the day's first big moves, McBeth was not far behind. He kicked off his performance with a birdie on the 604-foot 2nd after connecting from circle's edge on the elevated basket then, even though his drive faded well left of his intended line, hit a 40-footer on the 381-foot 5th from some difficult footing. He again battled poor placement on hole 6, a 1,167-foot par 5, when his drive cut the first corner too sharply and he landed among palm fronds and downed branches. He rolled a Roadrunner out of the rough, throwing it across a cart path and out-of-bounds, where it stayed for roughly 80 percent of its journey before curling back in play. It was Houdini-level heroism, an aggressive move from a player who always brings that intensity, and the crowd was awed.
This was all after the gallery already got a sky-high show from Lizotte on the same hole. The German star was battling an illness, his eyes puffy and his voice raspy but — his words here — "sexy." That didn't stop him from towering a sky anhyzer up over the pines, and he landed safely with by far the longest drive of the group. The applause seemed to kickstart his round, as he parlayed the theatrics into a birdie, then followed it up with two more. "It was fun to play in front of a gallery, as always," Lizotte said.
As McBeth, Lizotte, and Wysocki — who canned his second 40-footer in a row — scrawled 4s on their scorecard, Conrad made his first hiccup of the day, leaving his putt too high and hitting off the top band. As he lost a stroke to the group of contenders — Vicich had already two-putted multiple times in the first five holes and went OB twice on the sixth — the miscue may have foreshadowed what was to come, as his normally reliable putter went cold later in the round with similar high misses.
McBeth added another birdie on hole 7, but his scoring derailed on hole 8, a 956-foot par 4 that serves as the gateway to the more wind-exposed section of the course. He threw a neon green Destroyer out wide right over the OB that lined the fairway, but a gust manhandled the shot, pushing it down and killing its momentum back toward fair play. It landed four feet from being safe, a difficult break that snapped the birdie bubble on a hole where McBeth said he was trying to play safe.
"I couldn't believe it," he said. "That's my most overstable disc and it just flipped up flat and didn't skip back in. It was like a 'What just happened?' moment."
McBeth got within 50 feet of the pin with a look to save bogey, but couldn't connect and logged two strokes over par. Lizotte, meanwhile, casually tossed in an 80-footer to take the card's lone birdie, while Conrad and Wysocki chipped away and took pars.
Then, in keeping with the round's cinematic theme, a sudden downpour drenched players as they approached their second shots on the 1,108-foot 9th. Conrad took shelter under his umbrella and puffed on a cigarette, while McBeth donned his raincoat and launched that same neon green Destroyer again over the OB. Same shot, same result, as the disc stayed low and faded back too late, bouncing off a border wall for a penalty stroke. As the gallery sought cover and the rain raged on, McBeth finally made it to the green, only to miss from inside the circle on another bogey attempt. That made for two double bogeys in a row and four lost strokes to the card. After sitting at 6-under par just two holes before, McBeth was now at 2-under, while Conrad and Wysocki took birdies to move to 6-under and 5-under, respectively.
"I really played those two for par, and if a get a birdie on the par 5 that's great — I'm not trying," McBeth said. "So coming out with two double bogeys on those holes kind of blew my mind."
With nine to play and the storm moving out as quickly as it came in, though, McBeth was undeterred.
"I was still focused because I knew I wasn't out of it," he said. "…It just sucked to build that whole lead and have that happen."
And on hole 10, Wysocki went about building a lead of his own. Conrad took the box, but flipped his Destroyer — which was also of the neon green variety — too far right and did not get back in bounds. Wysocki took advantage of the error, hitting the green in two shots and converting for an easy 20-footer. Conrad's second shot landed too far left and he couldn't convert from 60 feet. He took a bogey, which led a two-shot swing and a one-shot advantage for Wysocki.
He quickly doubled that margin with a fist-pumping 55-footer on hole 11's elevated pin. It was three straight birdies for Wysocki, and he was on cruise control with two shots over Conrad, three over McBeth, and four on Lizotte.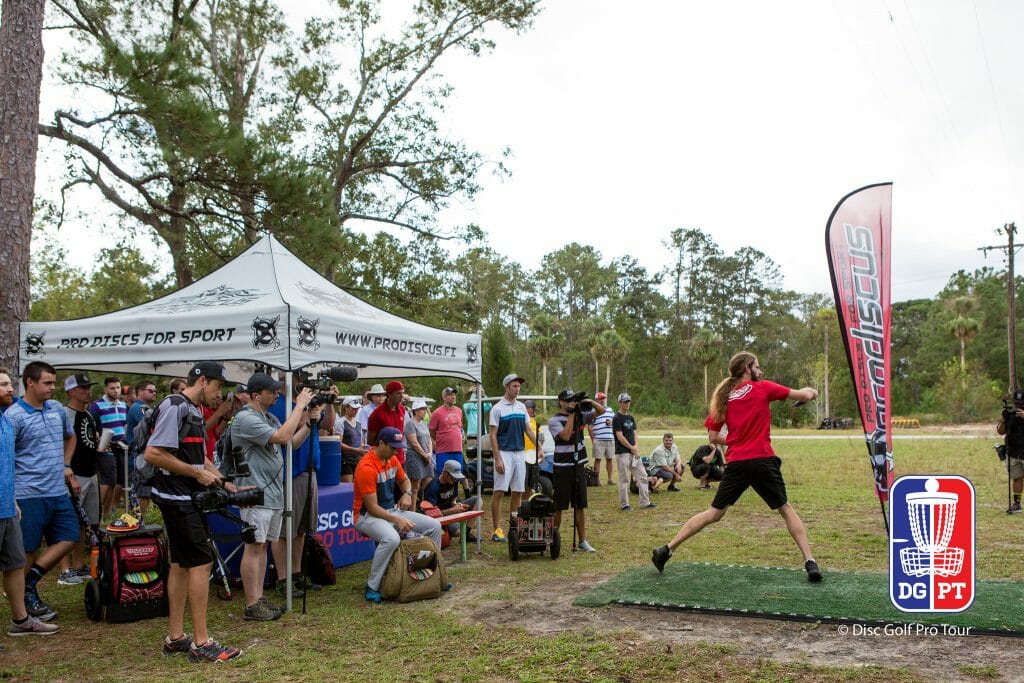 Just when it looked like he was ready to pull away, though, Wysocki instead threw it in reverse. With a scraggly oak necessitating a low liner on the 400-foot 12th, Wysocki yanked his forehand out over the left-side OB and it never came back. He then put his Harp approach too high and clipped some foliage, leaving it just outside the circle. He connected on the bogey save, but McBeth and Conrad took one shot back with their pars and Lizotte, who was parked after a low s-curve kissed the right side of the fairway, snagged two.
"I was the only one that threw over there, so I couldn't gauge if it was me or the wind [that made the disc sail], but I think it was a little of both," Wysocki said. "I just knew I needed to keep my cool and not get too high or low."
That mentality was challenged after he missed from outside the circle and took a par on the 382-foot 13th while Conrad and McBeth both took easy birdies. The momentum kept shifting, and Wysocki was now tied with Conrad and had only a single shot over McBeth.
"I started playing a little bit safe," Wysocki admitted. "I critiqued my game plan a little too much. I still needed to be aggressive, and I let two or three strokes slip away in four or five holes."
Conrad was about to do the same during a single frame. The 1,009-foot 14th requires a first drive placement shot that sets up perfectly for a flat release from a right-handed backhand thrower. Conrad's drive appeared to slip out of his hand, though, and it caromed violently off left and into the brush. Pinned in by a forest of palm fronds and thin branches, his only option out was an overhand. He couldn't escape on the first try and only got about 50 feet ahead, and he found the same fate on his second attempt to break free. By the time he got to the fairway he was already on his fourth shot, and he finally tapped-in three throws later with a double-bogey 7. Combined with another high miss on hole 15's island green, and he quickly fell out of contention.
"It comes down to a point where I've got to step up, and I didn't quite do it today," Conrad said. "It was still a fun round."
It was a three-man race as play headed into hole 16, with Wysocki and McBeth knotted up at 7-down and Lizotte trailing at 6-under. The trio kept their drives clean on the tightly-wooded 265-footer, with Wysocki's somehow sneaking through a late gap on the right side of the fairway and landing 40 feet from the pin. With McBeth just inside the circle and Lizotte parked, it was time for Wysocki to come through, and he did. Another fist pump, this time accompanied by what has become his new catchphrase — "Let's go!" — and it was McBeth's turn to answer. He, too, made the connection, and the scores remained heading to 17.
It was hyzer bomb clinic time on the 495-foot downhill poke, and each cleared the trees with high smashes that knifed down into the earth. McBeth was closest, landing at about 25 feet, with Lizotte at 40 and Wysocki out to 55. And just as he had done throughout the stretch during the day — and the whole season — the man known as "Sockibomb" delivered his Dagger to the heart of the chains and sprinted toward the pin. "Let's go," indeed.
"I definitely had a lot going on in my mind because we were all there for birdie," Wysocki said. "Simon was only one back at that point. I knew that was gonna be a really crucial putt. Paul was inside the circle, so I just wanted to put the pressure on him. I did my part to make the putt. It was one of the best putts I had all day. I had a perfect release on it and I knew it was in right away.
"I think I'm starting to thrive in these situations where it's close battles," Wysocki continued. "…Of course I'm still nervous, but I don't let the nerves affect me negatively like I used to."
If McBeth was feeling any jitters of his own, he didn't show it, canning the deuce for his fifth straight birdie. Lizotte airballed his attempt and took a par, dropping two shots off the leaders.
And so, as usual, it was down to Wysocki and McBeth on the final hole. But as quickly as the drama built, it was taken out of the air when McBeth pulled his tee shot with Teebird3 too far right. It hit a tree and, instead of dropping, flew way off left and into the woods. Wysocki, meanwhile, took a roller that ended up in the sand trap down the fairway's right side, but the desert was more an oasis, as it was not playing as OB on the weekend.
That unconventional course design decision left McBeth scratching his head as he assessed his mistake.
"First off, I didn't even know the bunkers and green were safe," McBeth said. "This is the only golf course I've ever played with bunkers and greens safe, so I never thought [to take that route]…[The drive] just got over a little too quick and just kicked that tree perfectly. If it would have hit square I would have been in a lot better position."
Instead, McBeth tried for a backhand roller as he was backed up against a chain-link fence, but it banked hard left and into the brush again. That was all the opportunity Wysocki needed. Even though his second shot hit a tree, he was 250-feet further up the fairway with a wide open look at the green.
"[McBeth] had been paying really good just to catch the three strokes that he did in the back nine. He was playing really well, and I think that was a confidence killer for him and a confidence booster for me seeing the door open like that," Wysocki said. "Where he threw his drive, the best, best case scenario was getting a 5, and I kinda knew deep down that he wasn't really gonna get a 5 where he was from his second shot."
He certainly tried, though, as McBeth laced a forehand through the mandatory that landed 120 feet from the pin. He then lined up a blue McPro Aviar and aimed at the chains, but it sailed left. Wysocki pitched up to the green, fist-bumped a young onlooker, and started the celebration.
The action wasn't over, though. Lizotte turned the final hole into a race for second place with a 500-foot roller off the tee and another massive anhyzer that dropped jaws. He connected on a 15-footer for par, while McBeth ended up two-putting as the pair split the honors for second place.
For McBeth, his third double bogey of the day left a bitter taste in his mouth heading into the offseason. As he sipped on a Diet Coke in the clubhouse before heading to Orlando for vacation, he plotted how he could win two A-Tiers to steal PDGA Player of the Year points honors from Wysocki — "He's done it to me before, I'll do it to him," he said with a sly smile — but mostly lamented what could have been.
"I wish I could play as good as I should be," he said.
Lizotte, meanwhile, was ready to make the long trek back to Europe. As he stood in front of his RV, which was already running, he said he was happy to have gotten a prescription that would make him feel better in a couple of days. And he also prescribed an offseason training regimen in the hopes of taking more of these battles in which he has consistently been the third wheel.
"More beer and sex," he joked. "I think I'm gonna play a lot less tournaments next year, so I think I might be a bit fresher."
Vicich, despite falling out of the running early, was still taking positives from the event. Even during a disastrous sequence on hole 10, where he four-putted on the way to a snowman, he kept smiling and enjoyed interacting with fans.
"I'm not an angel, and some days are worse than others or better than others with emotions," Vicich said. "Today it was ride it out and keep a smile on my face, and hopefully that will inspire the young up-and-coming golfers and amateur golfers on how to take a bad round and do it, hopefully, with some grace. I hope that's at least what I was able to do out there. Even though I didn't play that well, hopefully I still gave them something to look at and maybe say, 'I want to be like Dana.'"
And as Wysocki was ready to ride off into 2017's sunset, the man of a thousand mantras may have coined one more to take into 2018.
"I lost a stroke here and there, but I never really lost my composure," he said.
Then he stopped, thought for a moment, and repeated himself with look on his face that was both humble, but cognizant of his constantly ascending stardom. "I think that's a good quote. 'I lost some strokes, but I never lost my composure.'"