With eight different competitors, it's win or go home!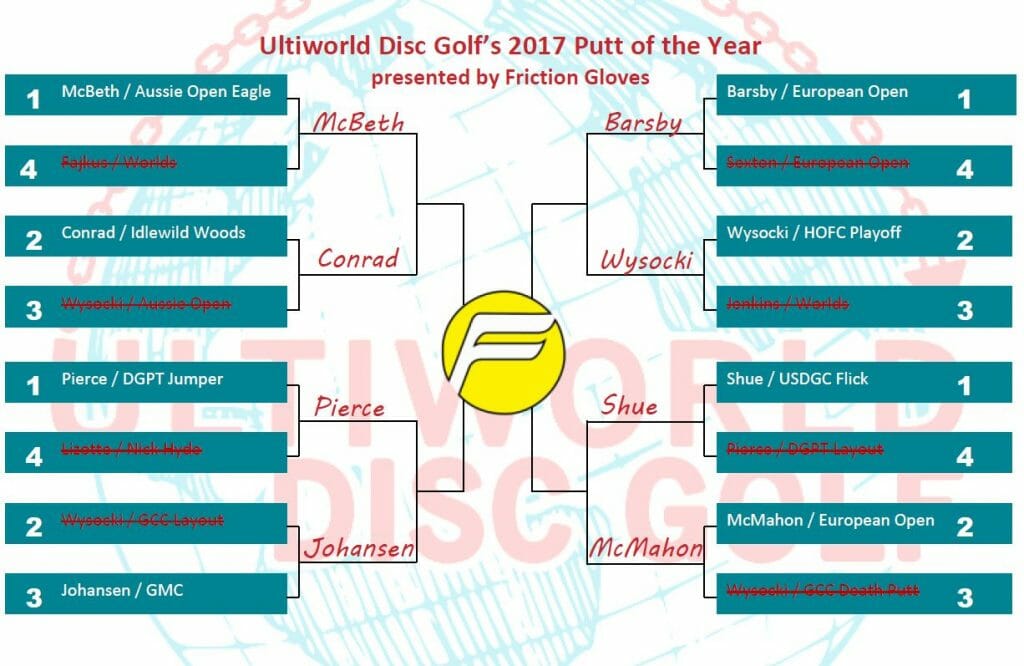 Ultiworld Disc Golf's 2017 Shot of the Year voting is presented by Friction Gloves; all opinions are those of the author. Check out our review of Friction's DG Gloves here.
Take a moment away from your last minute Christmas shopping and have a peek at the quarterfinal round of our Putt of the Year! From big distance to big moments, there's a little bit of everything here in the elite eight of this competition. Plus, there are eight separate players in this one, so it's win or go home for everyone.
We'll post the final four the day after Christmas. Until then, merry voting!
1) McBeth vs. Conrad
Paul McBeth ran away with the most votes in the opening round with this long bomb from the Aussie Open:
But James Conrad is lurking in the woods of Idlewild, waiting for a chance to take this one down:
2) Pierce vs. Johansen
Paige Pierce put the exclamation point on her Disc Golf Pro Tour title with this shot in Jacksonville:
And Michael Johansen rode a hot putter the entire tournament at the Green Mountain Championship. This one split the uprights:
3) Barsby vs. Wysocki
Gregg Barsby went down swinging at the European Open. He might have come up just short on the podium, but he did not come up short with this final putt:
Ricky Wysocki, meanwhile, continued his propensity for delivering in the clutch. A 60-footer to extend the Hall of Fame Classic? It's almost routine.
4) Shue vs. McMahon
The bamboo at Winthrop Gold wasn't enough to stop Grady Shue from hitting the USDGC highlight reel:
Eagle McMahon soared from long distance with this connection at the European Open: