Fajkus snags wild card spot for today's championship round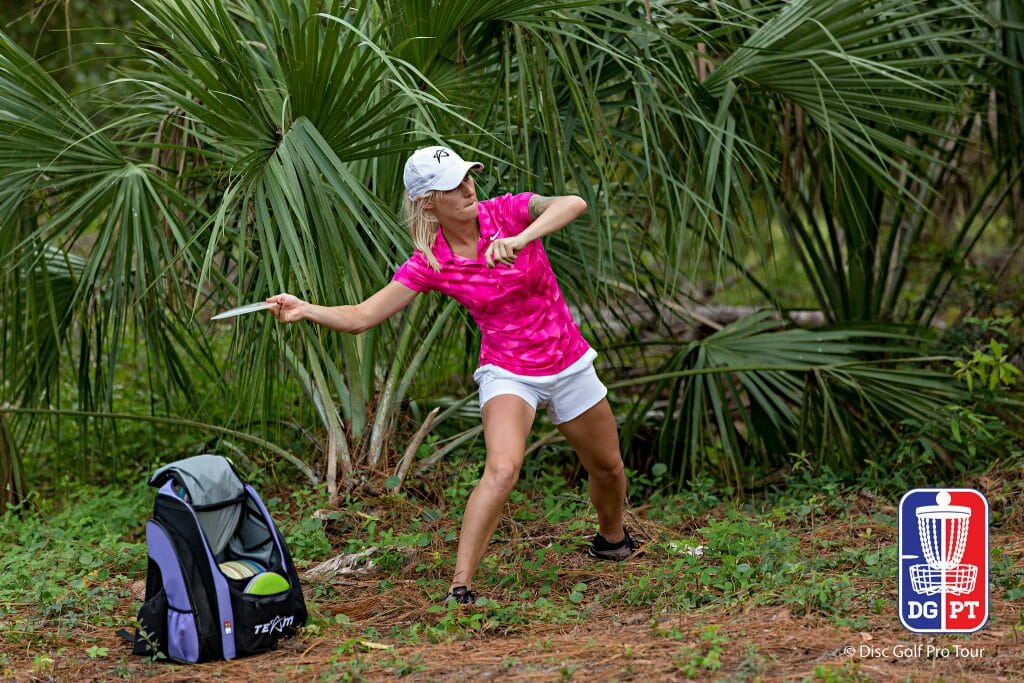 Ultiworld Disc Golf's coverage of the 2017 Disc Golf Pro Tour Championship is presented by DUDE Clothing; all opinions are those of the authors. Learn more about the Australian brand's offerings and player ambassadors here.
Unlike the Open quarterfinals of the Disc Golf Pro Tour Championship that saw only three of the competitors with byes into the round advance, the Open Women's semifinals found that those who earned the early-round rest thrived.
Catrina Allen, Sarah Hokom, and Paige Pierce won their cards yesterday to punch their tickets to today's final round, taking control in their first tournament rounds at New World Disc Golf's USA Links course. Allen finished with the best score of the day, a 4-under par 61 that saw her take the third card by eight strokes over Jessica Weese. Hokom vanquished the second card with a 2-under par 63 for a four-stroke gap over Melody Waibel, while Pierce had smallest margin of victory on the first card, as her 2-under par 63 bested Lisa Fajkus by one. Fajkus advanced to the final as the wild card, as her 1-under par 64 round was the best score in the field that didn't win a card.
Allen, fresh off a dominant win at the Ed Headrick Disc Golf Hall of Fame Classic, got off to a strong start with a birdie on the first hole, then added three more through the front nine. Her lead on the third card was never really in question down the stretch, as Weese struggled through the middle section of the course. Allen went even par through the back nine, carding two birdies and two bogeys to finish out her hot round.
Allen was pleased with her performance after logging just one practice round on the course Friday night. She wasn't looking to change up her approach heading into the final, and instead was hoping to sink a few more putts and navigate the persistent, swirling Florida winds in an attempt to claim a DGPT Championship for a second time in as many years.
"Yesterday I watched a round, and then today watched the guys play the front nine and I noticed it was extremely windy out there," Allen said. "So I got an extra stable disc that still goes pretty far for me, an X1, and I just threw that everywhere, because a lot of those [par] 4s and 5s you can't 3 anyway, so you're not going to birdie.
"I feel confident," Allen continued. "I like the course. I think I'm almost getting back to that mindset where I'm not thinking — where I have a better mindset. My mental game is 1,000 times better, not thinking so many crazy thoughts. Not about the result, more about executing my shots."
Like Allen, Hokom stayed consistently clear of her cardmates, but her round had more ups and downs. Hokom carded a field-leading seven birdies, but could not string many together. She also added five bogeys, three of which were due to out-of-bounds penalties and two from missed putts from inside 10 meters. The errors from close range belied her solid putting from circle 2, from where she connected on five of eight attempts.
While Hokom struggled with consistent scoring throughout, Pierce was able to find it when it mattered late. Pierce and Fajkus traded the lead throughout the front nine, but Pierce moved ahead with a birdie on 10 as Fajkus bogeyed. Pierce, who won the United States Women's Disc Golf Championship after playing the event's final course blind, attributed some of her strong play to her comfort level at USA Links despite little experience there.
"It's pretty straightforward," Pierce said. "There's no hole where you don't know what you're going to do. All the par 3s look identical, so you get in a routine. I think that's good. I think a lot of people try to think too hard about courses like this and they want to use their whole bag, when if you have one disc warmed up, keep it going. So I got more and more consistent as the round went along."
Fajkus held steady on the back nine, as well, as the pair carded identical numbers to stay one stroke apart through hole 15's island green. Fajkus finally caught Pierce with a birdie on the 265-foot 16th to tie, though she forgot all about the birdie when recalling her play after the round. Pierce, though, had her fellow Texan's back, reminding her that she did indeed card the 2 and playfully calling her a "goober."
Pierce finally jumped ahead of Fajkus for good with a birdie from 15 feet on hole 18, and said she knew that the tight battle with Fajkus was an indication that both competitors were sure to be moving on to today's final.
"I think she's the best competitor I've played against in years," Pierce said. "If I'm keeping up with her, I'm in it, and when we finish one stroke apart we'll probably both be in it. It was definitely back and forth the whole time."
Both Pierce and Fajkus said they enjoyed the win-or-go-home style of the event, with Pierce going so far as to say she would like to see a few more tournaments like this during the season. Heading into the final day, Pierce was hoping to get her putter going, or take it out of the equation entirely.
"My putter struggled a lot, but it has the past few weeks," she said. "There's no way I'll get my putter back to where I want it before the round [today], so hopefully I just get my shots a little closer and work on it in the offseason."
Fajkus was ready to put a cap on what has been a successful year of touring, one which included a third place finish at the PDGA Professional Disc Golf World Championships.
"I feel great about my chances [to win today]," Fajkus said. "I have two tournament rounds under my belt and I know I can just keep tweaking and making improvements, get my putt dialed in. And I can put up a good score just like these other girls can, so it's going to be a battle. You really want to put your stamp on it and let people know you've been working hard and you earned it."
Additional reporting by Steve Hill