Hokom comes back to take second, while Waibel secures third on final hole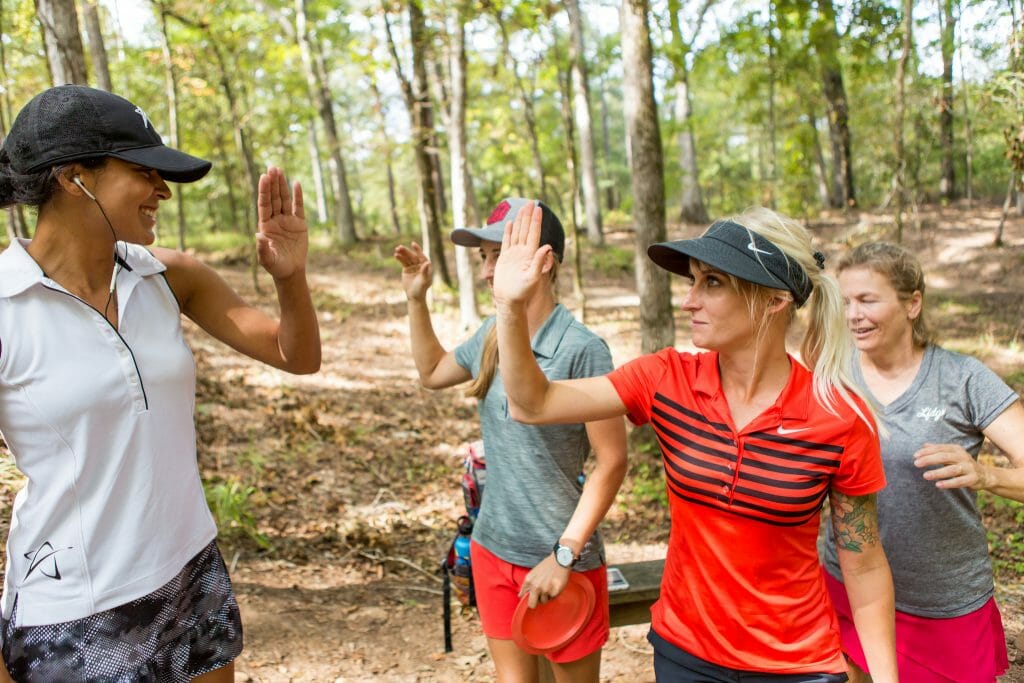 A nine-shot win would have been plenty for Catrina Allen at the Ed Headrick Disc Golf Hall of Fame Classic, but an unlucky number proved to be even better.
Allen piled on four more strokes over the field in yesterday's final at the International Disc Golf Center, taking a dominant 13-shot victory. The triumph was Allen's eighth of the season and second on the PDGA National Tour, and it was one where she felt as if she finally unlocked her potential at the W.R. Jackson Memorial Course.
"I've played here in 2011, '12, '13, '14, '15, '16 and now 2017, and I think I just finally felt comfortable on these courses," Allen said. "I just finally understood them — how to attack them, how to score, how to take a par — and I honestly feel like that's what helped me win. For once I just got it. I felt confident, and I felt like someone is going to have to do something spectacular to beat me on these courses."
Allen finished out the three-round NT finale with a 2-under par 65 final at Jackson, bringing her winning total to 13-under par 185. Sarah Hokom tied Allen for the hot round on the day and moved up to second place with an even-par 198 finish. Melody Waibel's 4-over par 71 was just enough to secure a top three finish with a 2-over par 200 total. Paige Pierce stayed in fourth place after a 4-over par 71 final day had her finish at 3-over par 201, while Elaine King dropped three spots to fifth after a 7-over par 74 round took her total to 5-over par 203.
Allen coasted through the front nine while the rest of the field tried, with little success, to eat into her formidable lead. She grabbed one birdie and two bogeys early on, with her stroke over par coming on the difficult 5th after an off-target tee shot.
Allen's play picked up on the course's second half. She went 2-under par with birdie putts from inside 15 feet on holes 11 and 13, a stretch of where Allen knew she would have to play clean to ensure the win.
"I was very, very happy to go birdie-par-birdie on the Turkey Gulch," Allen said. "…Even though I knew I was leading by a lot, to get through there meant, like — don't get me wrong, the next five holes are hard. Just to get through 11, 12 and 13 is like, okay, it's over.
"I can never count Paige out, and you never know what's going to happen," Allen continued. "And I try my hardest to just focus on my own game, but it was kinda like, to go 2-under through those holes, now I've made it really hard to beat me. Someone's going to have to shoot lights-out to beat me. And I normally don't think about those things, but I knew I put myself in a really good position after the second round."
Indeed, Allen kept the field at bay down the stretch, going birdie-bogey-birdie on the final three holes to take the win. While Allen had a relatively stress-free run to the win, Hokom's round from the chase card played out in a similar fashion, especially compared to a difficult second round that she called "physically and mentally exhausting." She locked down second place by going 1-under par through the final nine frames, passing up Waibel, Pierce, and King in the middle of the back nine.
"I was more mentally prepared and mentally focused and patient [than yesterday], and not really worrying about anything else that was going on around me," Hokom said. "In fact, I actually read a book for part of the round: Fearless Golf."
Pierce looked to have the best chance at the runner-up spot with five holes to play, but quickly took her first double bogey of the day on 14. Trouble struck again after an OB drive on the short, downhill 16th resulted in a bogey. After another errant drive on 17, Pierce ran her putt for par, but she missed and rolled downhill. She then missed the comeback attempt and took another double bogey.
After Pierce again sprayed her tee shot on 18, Waibel was in position to at least tie for third after her drive found center fairway. Pierce had to pitch out to the fairway, then her backhand flex approach from roughly 350 feet out hit an early tree, opening up the door for Waibel to take solo possession of third place.
"I really laced my third shot up to the bucket, had about a 29-footer or so to get the birdie," Waibel said. "It was a pretty high-pressure putt for me. In my head I knew that Paige was about to take a 6, and if I made that putt I'd beat her. I took my time and made the putt, and it felt pretty good to make that one. I hadn't made very many the whole round, so it was a nice way to finish. Any time I beat someone like Paige, especially down the stretch — with her in my group, it always feels like an accomplishment."
The finish was Waibel's best of the season in an A-Tier or higher and her best NT finish since a fourth place showing at last year's Brent Hambrick Memorial Open. It also tied her career best an NT, which came back in 2010 at the Skylands Classic at Blue Mountain.
"I know I started in second and ended in third, but I had to beat a lot of really good players to do it," Waibel said. "I was alongside some world champions when I did it, so I'm happy. It's really hard when you've got three world championships at your side trying to come down the stretch when you've got nothing like that in your repertoire."
While Pierce didn't come away with the win, she did wrap up the win in the National Tour Elite Series Standings with a total of 488 points. The win comes with a $5,000 payout, which is a $4,000 increase over last year's payouts. Allen cashed in on second place in the with a total of 474 points to the tune of $2,500 on top of her $1,500 for winning the HOFC. Hokom made $1,500 finishing third in the series, while Jessica Weese and Waibel finished fourth and fifth, taking $700 and $300 in winnings, respectively.
The touring pros head next to one last high-profile event: this weekend's Disc Golf Pro Tour Championship at New World Disc Golf in Jacksonville, Florida. Allen plans to take the early part of the week off before practicing Wednesday and Thursday and was conscious of how the extended touring season has grinded on the players.
"It's the last tournament of the year — I can tell everyone is tired and worn out," Allen said. "I can tell even the best players in the world are ready to be done. I think a lot of us are worn out. It's been a long season.
"In past years, like even 2012, its been 10 to 15 big tournaments, and now we're talking 30 to 35," Allen continued. "So I can see the aggression and the frustration with all the players from the bottom to, like, Ricky [Wysocki], Paul [McBeth], Paige, and I. Of course I'd love to win and I'd love to play well, but I think just doing as well as you can and enjoying it as well as you can will definitely be a big deal."
Allen already has a plan to take some of the edge off with her fellow travelers in advance of one last event.
"I'm trying to get a bunch of players together Tuesday night to go out dancing in downtown Jacksonville and relax before the week starts," she said.