Title a long time coming for top three contenders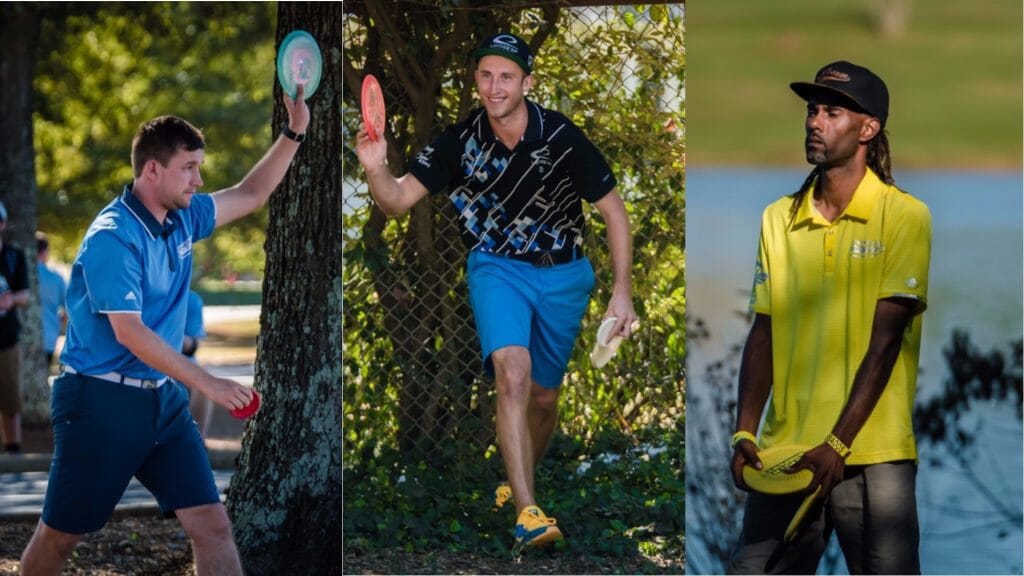 Ultiworld Disc Golf's coverage of the 2017 United States Disc Golf Championship is presented by Savage Apparel Co.; all opinions are those of the authors. Please support the brands that make Ultiworld Disc Golf possible and shop at Savage!
ROCK HILL, S.C. — Barring some freak happenstance or a miracle comeback — or, more likely, a combination of both — a first-time United States Disc Golf Champion will be crowned this evening.
The two most recent winners of the event, Jeremy Koling and Paul McBeth, are seven and 10 strokes behind Nate Sexton's lead, respectively. Philo Brathwaite is six off the pace, not an insurmountable margin. The road warrior is in the midst of his most consistent showing at Winthrop Gold, and a stunning win for his first career Major — especially after the notoriety he has gained from his viral albatross last year — would make for a beautiful, though unlikely, story. For all intents and purposes, then, it's a two-horse race between a couple of disc golf thoroughbreds: Sexton and Ricky Wysocki.
For the former, the title would serve as a long overdue coronation for the highest profile disc golfer yet to seize a Major victory. Through almost 14 seasons of Open play, the Oregon native has developed into a consistent top five finisher. His forehand is one of the most accurate, precise tools in the game, and his rollers are the stuff of legend. But to this point, Sexton has lacked the killer instinct to get to the top in sport's biggest events. Sure, he has won plenty of times throughout his career – his 81 victories have netted him just shy of $130,000 in career earnings – but he has only managed first place at an A-Tier six times. His last win at that level came in 2015, at the Ft. Steilacoom Open in Lakewood, Washington, when he bested 2008 PDGA World Champion Dave Feldberg by one stroke.
That same year found Sexton where he is again today: in the lead heading into the final round of the USDGC. Instead of rolling to glory, he logged an 8-over par 75 and fell to fourth place as torrential rain and wind thwarted his bid at the title.
The 2016 season again saw Sexton come close to signature wins. He took a lead into the final round of the Nick Hyde Memorial, but lost to Simon Lizotte after a three-way playoff. At the Majestic, he entered the last day with a two-shot cushion before missing a 15-foot putt during another playoff, this time with Wysocki.
Those heartbreaks have all led to another battle with Wysocki, who himself is no stranger to heartbreak. While the reigning PDGA World Champion has finally learned to feast in the heat of battle – he's won a combined 10 NTs and Majors since 2015 – a USDGC title is the one accolade he is still missing. And, like Sexton, 2015 was his USDGC undoing. After passing Sexton on the leaderboard, Wysocki was tied with McBeth heading into Winthrop Gold's infamous island hole. Wysocki failed to stick the landing and ended up losing by five strokes. In 2016 he was five strokes out again, when Hurricane Matthew stole any chance at a dramatic comeback.
After two years, Wysocki has to be salivating. Sexton, meanwhile, has the opportunity to apply every lesson learned over 14 long years into one career-defining performance. And for Brathwaite? It would be a story fit for cinema. Regardless of which player emerges from the fray unscathed, one thing is for certain: For a new United States Champion, the honor will have been a long time coming.