Confident play lands him on USDGC lead card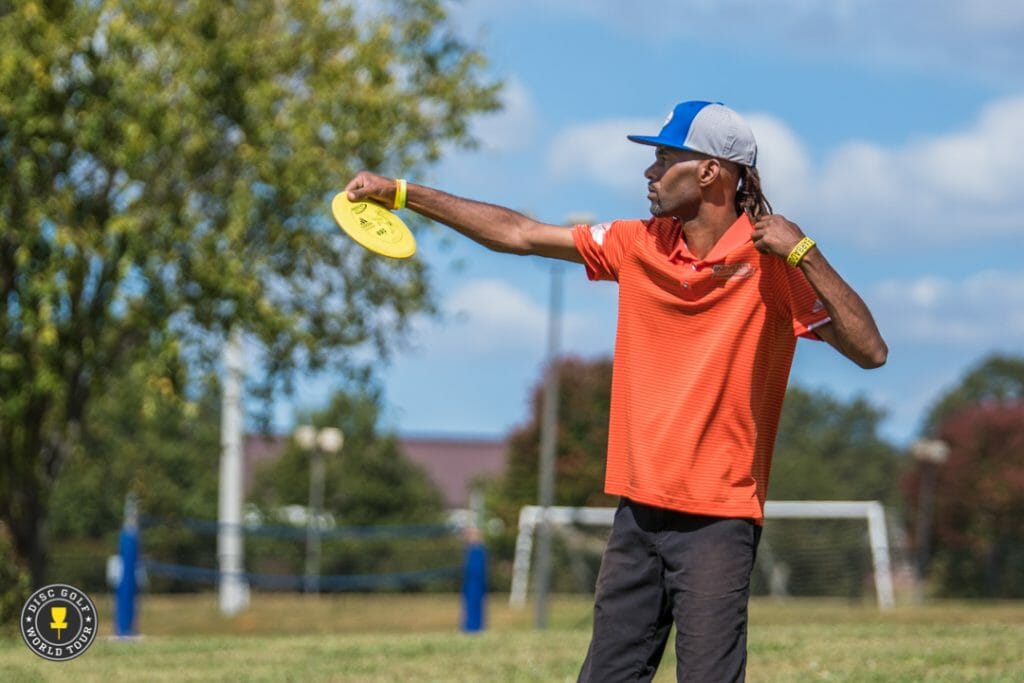 Ultiworld Disc Golf's coverage of the 2017 United States Disc Golf Championship is presented by Savage Apparel Co.; all opinions are those of the authors. Please support the brands that make Ultiworld Disc Golf possible and shop at Savage!
ROCK HILL, S.C. — Philo Brathwaite walked briskly from the 18th green to sign his scorecard for his 8-under par third round at the USDGC Friday afternoon. Despite carding one of the day's best performances, a bogey on 18 — his only of the round — had soured the taste of the forthcoming final round lead card appearance.
Moments later, though, he emerged from the scorer's booth and gracefully greeted fans. One young player came over looking for signatures on two brand new Philo Brathwaite Tour Series Star Destroyers — one for the bag, one for the wall. Another said his Destroyer delivered him two eagles.
It hasn't always been like this. While Brathwaite has long been a popular player, he didn't reach the top level of Innova sponsorship until this year, after his albatross lit the Internet on fire last season. He was promoted to Innova's Star Team for the 2017 season and had his Tour Series disc released this summer.
"It's a special treat, man," he said. "It's taken a long time to get to this point of, you know, recognition, I guess you could say. I've been around for a long time, but I hadn't really done a whole lot all at once, if you will. I didn't win a National Tour or a Major or something like that to create that big buzz, until the albatross happened. And that kind of changed everything. It gave me a bit more exposure as a player and put me out there in front."
RELATED — Philo Brathwaite: "Aware Of The Beauty Of Life"
His play this weekend certainly won't hurt that exposure, and maybe Innova will sell a few more Destroyers after spectators watch him chase the crown on Saturday.
Six shots back of USDGC leader Nate Sexton, Brathwaite is a long shot to win the tournament. But his confident play has already shown through after three clean, consistent rounds — and he says he's still in it.
"Everybody's got a shot," he said. "I'm not gonna worry about it too much. I'm just gonna keep doing what I'm doing. If I get outplayed, I get outplayed."
Regardless of what happens, Brathwaite is excited to be on the course and inspire new players.
"That's a bit part of my role in this game: You have no idea who you're impacting," he said. "You don't always get to meet them and see them, and then sometimes you do. And it's a real treat for all of us players to have that interaction and engagement. It's nice to have people that will take time out of their day to say that you impacted them in a positive way."