California-based manufacturer announces several other team moves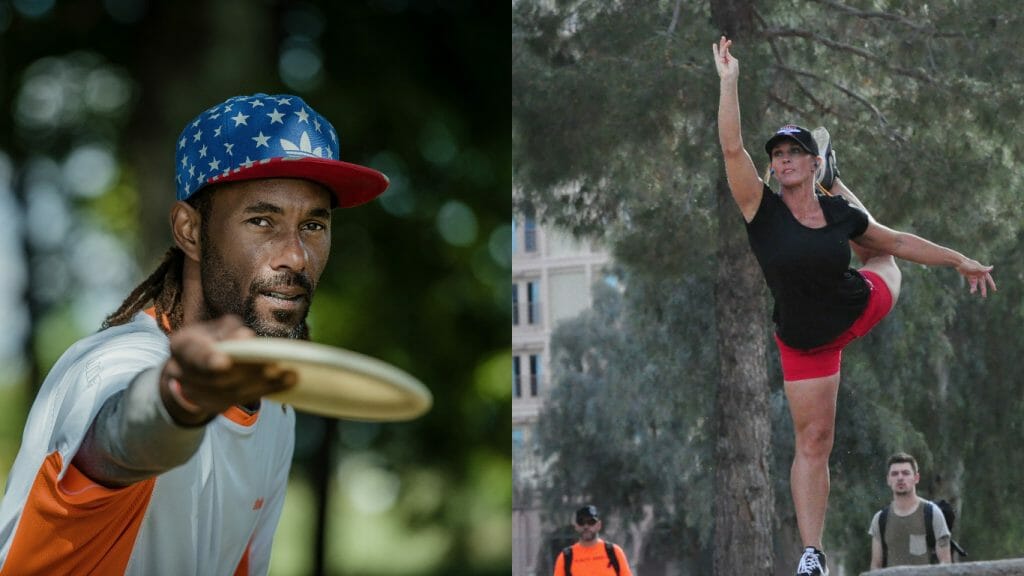 Philo Brathwaite and Jennifer Allen have received promotions.
On the heels of successful 2016 campaigns, the two Innova-sponsored professionals have been elevated to the brand's Star Team, its highest level of competitive sponsorship, Innova Team Manager Jonathan Poole said today.
Brathwaite is entering his 10th season with Innova and was previously on Team Champion, the company's second tier of sponsorship. Poole said Brathwaite's elevation was based on a combination of performance-based factors, including A-Tier victories in 2016; a schedule that finds him playing 25-plus tournaments per season; and his PDGA player rating and world rankings. But, more importantly, Poole noted how Brathwaite handled the publicity that surrounded this year's Albatross – his throw-in at the Beaver State Fling that went massively viral – as evidence of his character and how he represents the spirit of the game.
"His initial response when all that started was that he was just happy for the sport," Poole said. "When you look at his situation across the board – what has happened to him, the years of loyalty, the commitment to travel, all of those things – it just seemed like it was his time."
Brathwaite said he was "super stoked" about the move to Innova's top team and the attention that has come along with his shot going mainstream.
"It feels kinda surreal again man," Brathwaite said. "This last six months or so has been kinda unreal in a lot of different ways…I'm still riding the wave of this whole Albatross thing and all the different media outlets that got a hold of that, and interviews, and all the new fans and excitement that revolves around it. It's like, 'wow.'"
Since climbing from the lowest level of team support in 2006 – some discs and some "swag," he said – Brathwaite has now built up an international profile on the back of the relentless touring Poole mentioned.
"Just over the years I've been chomping at the bit, and pushing and pushing and pushing and believing I can make it to the highest level," Brathwaite said. "I still haven't accomplished all my goals, but this helps to keep the dream alive."
Allen, now in her third year with the team, comes off a 2016 season in which she won four A-Tiers and nine B-Tiers, and set the women's world distance record at the High Desert Distance Challenge. Poole said that record played a major role in promoting her to the company's highest level of support, much as it did when David Wiggins Jr. broke the men's distance record in 2012.
For Allen – a single mother of three children who still played in 20 tournaments this year – the promotion finds her jumping up two sponsorship levels from her 2016 placement to play alongside Valarie Jenkins and Des Reading.
"[I'm] completely honored," Allen said. "I worked really hard last year and accomplished several things I had wanted to achieve. I have looked up to Des and Val for so many years. They have been incredible champions and role models, and I hope I can represent our team as well as they have."
Poole said the benefits for both players include higher disc allotments on the season, as well as more tournament entry fees being covered. Star Team players also receive a Tour Series disc run that Innova will sell in its online factory store, which Poole called a "difference maker" financially.
"We want partnership, we want to work with our athletes, and when we work together successfully, everybody wins," Poole said. "When you move up to the Star Team, you're kind of moving into 'the sky's the limit' here. You've got the opportunity to take that aspect of our sponsorship to an entirely different level because the added promotion that we will provide somebody at the Star Team is just going to boost things."
Paul McBeth, who serves as Innova's team captain, said he was happy to see Brathwaite and Allen's effort and loyalty rewarded.
"Philo's been with Innova for so long, and Jen's thrown Innova for so long that it's probably a goal they've had since they first started playing for Innova or with Innova discs, so those are lifelong accomplishments for them, and it's really cool to see," McBeth said. "I'm proud of those two for doing it and sticking with it for so long."
Innova also promoted other players on its roster: James Conrad, Calvin Heimburg, Madison Walker, and Lisa Fajkus made the leap to Team Champion, while Izak McDonald and Anthony Barela are now part of the Crew level.
Poole also said that, while Innova would not currently sponsor Bradley Williams – who joined the company during the middle of 2016 after his Vibram Open victory but is now serving an 18-month PDGA suspension – it would still assist him during his time away from the game.
"It's obviously going to be awhile, but if he's going to stay committed to trying to stay in good shape and try and stay in good form until that suspension is over, we've got no problem with getting him whatever discs he needs to do that," Poole said. "He's going to have to take some steps off the course, but we're not going to move away from him on a personal level or from an equipment standpoint."
Innova's roster, as it stands, includes four of the top 15 PDGA-ranked men's players in the world and eight of the top 15 women.
This article was updated on December 12, 2016 at 5:09 p.m. PDT with quotes from Brathwaite.