What goes into an acquisition of this nature? Solid relationship building, acknowledgment of the past, and the blessing of the world champion.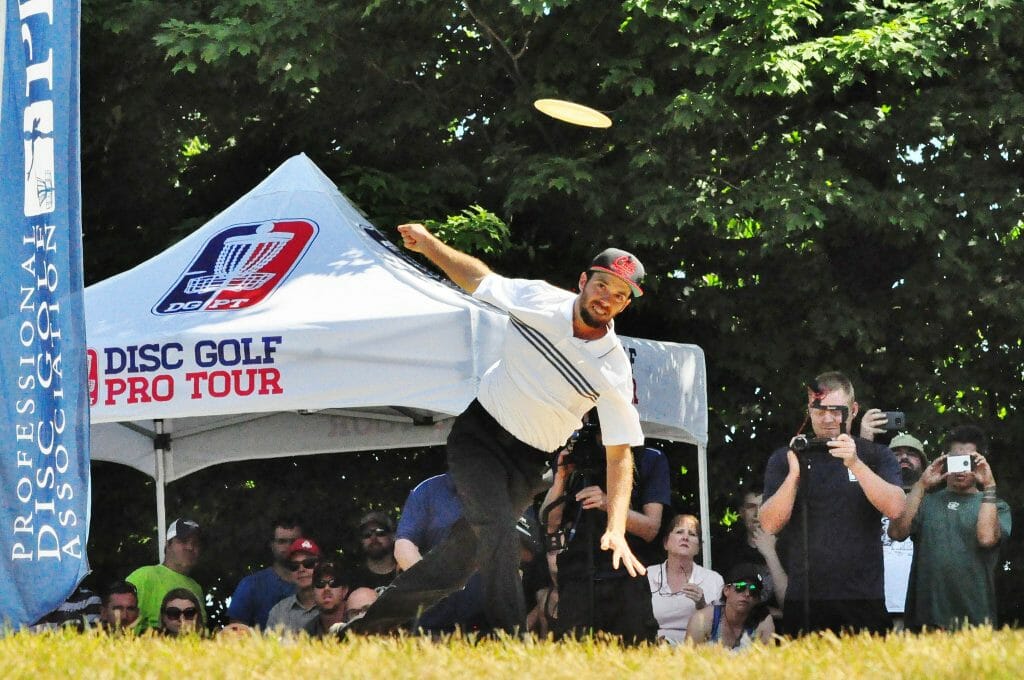 After 13 wins this season – including a high profile victory at the Vibram Open to capture his first National Tour title and a comeback performance over Ricky Wysocki at last weekend's Delaware Disc Golf Challenge – Bradley Williams has joined Innova Discs on a sponsorship deal, the company announced yesterday.
The move comes after Williams had been playing under a sponsorship from Hyzerbomb Discs, a smaller Texas-based brand whose discs are molded by Innova. According to Innova Team Manager Jonathan Poole, though, this was not a case of a player being called up from the minor leagues to the big show. Rather, it was a deal that had been in the works since earlier this season.
"He's been a really strong player in Texas for a number of years, and I think he wants to travel and do more," Poole said. "He's a confident guy, and I guess he feels like now, with the right kind of support, he might take that to an entirely different level. It was really kind of meeting in the middle and him wanting to get more support and having his best year ever."
The deal is unconventional in that it came to fruition midseason, whereas most sponsorships are firmed up in January. The last five months of 2016, then, will prove pivotal for both Williams and the company.
"We're dating," Poole said. "We want to get to know each other better, and we want to make sure that he's going to be the right fit for us."
Williams said the transition to Innova plastic, which he has been throwing since parting with Prodigy Disc after 2015, was easy because he has used the brand's offerings in the past. His current lineup is built on McPro Aviars for putting; Novas for approaches; a midrange lineup consisting of a Glow Mako, Roc3s, and a Metal Flake Gator; and Teebirds, Wraiths, and other bombers off the tee.
Aside from the comfort with the molds, Williams said the sponsorship was another step in his maturation as a professional athlete.
"I think that they were more concerned about my reputation, not my skill level or winning credentials," Williams said. "I'm more than qualified to represent them on their highest team offerings. It's just that I have a reputation to overcome."
That reputation stems from a past PDGA suspension for unsportsmanlike conduct (for which he is on probation until 2017), and a strong personality that Poole acknowledged as a "double-edged sword."
"The competitor in him is part of what makes him great, [but it] has also made him not a pleasure to play with at times," Poole said. "We all have to go through that, most of us have to go through that. There are a lot of fiery competeitors out there. We get that, and we want to help."
That assistance will come in the form of increased monetary bonuses for tournament wins, as well as equipment needs or any other assistance Williams might need in his travels.
"A big part of it is just support and encouragement, being there and having our people to talk to," Poole said. "That can be on the office side and that can be from our owners on down, and it can be in terms of being a little closer to some of our team members out there."
Still, Poole was clear that, as the company and the player grew in their relationship, Williams would have to continue on his current path of upstanding behavior.
"We're not afraid to let people go," Poole said. "If any of our players have those kinds of issues – if there are suspensions, complaints, probation, whatever – we evaluate every complaint pretty thoroughly. We have our players' backs, but at the same time we talk through it and we get to the bottom of the situation and we focus on what we can learn from it and what we can do better the next time around."
Williams acknowledged that he understood the requirements of team membership and how it relates to his conduct.
"They want to test the waters," Williams said. "They want their employees and their team members to prove themselves that they're gentlemen and they can represent the brand every way, not just on the course."
Poole was already confident that Williams was achieving that end.
"The thing that I like about Bradley, that I respect about him, is that he's always owned [his past]," Poole said. "This isn't something that he's hiding from. I would hope there's a little bit of peace there knowing that, 'Hey man, all is forgiven.' You're paying your dues, you made your mistakes, now let's look forward. Let's not look backward, let's look forward and figure out how we can help each other get to new levels in the future."
Still, Poole said that team chemistry was an important consideration in signing Williams. In that regard, Innova team captain and reigning PDGA world champion Paul McBeth had the final stamp of approval on bringing Williams aboard, and he welcomed him with open arms.
"A lot of people know Bradley as having this bad attitude, this bad reputation, this and that," McBeth said. "Everything with Brad is associated with his past. From what I've seen, he's grown a bit. I talked to him before he was on the team and was just like, 'You've got to earn it, you've got to make a relationship with Innova. They're your sponsor. If you're true to them, they'll be true to you.'"
Williams said he was up to that challenge and was looking forward to representing the brand.
"It's pretty fun, actually," Williams said. "It's a step in the process that I'm working on anyway, but it's a little more fun. You get more recognition when you're wearing an Innova shirt or you're playing for Innova, so people get excited about what you're throwing and the whole sponsorship thing. You're asked more questions and you're approached more often. It just seems like more of an opportunity to prove that I'm bettering my reputation out on the course."