More details of the incident emerge; PDGA has not issued any comments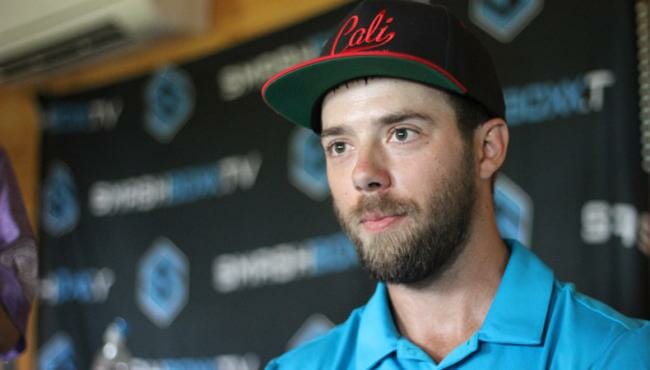 Bradley Williams' 18-month suspension was the result of an altercation with Matt Dollar during the final round of last month's Ledgestone Open, Williams confirmed to Ultiworld Disc Golf on Friday. But he characterized the incident as a "misunderstanding that got out of proportion" and called for more transparency in the PDGA disciplinary process that will now result in him missing the upcoming Disc Golf Pro Tour Championship and the United States Disc Golf Championship.
In a lengthy interview, Williams – who was on probation with the PDGA stemming from a prior suspension for unsportsmanlike conduct – also opened up about his side of the incident, the PDGA's investigation into the matter, and his plans to appeal the latest penalty.
Williams said the incident occurred on hole 13 at the Lake Eureka temporary course during the final round of the Ledgestone Open, a PDGA A-Tier and the fourth stop on the Disc Golf Pro Tour. Dollar, Nikko Locastro, and Joshua Childs were on the card. After throwing out-of-bounds three times, Williams was set up to take a six or worse on the hole, and as he walked off the tee he bumped into Dollar, who was next on the box.
"The only thing that I thought of in that situation was like – I was looking at [Dollar's] face and his face just seemed like he was really focused on getting to the tee, he looked like he was kind of in a trance," Williams said. "He wasn't really looking around, he was looking straight forward. And then I looked down at his disc to see what disc he was throwing, and the next thing I know we grazed shoulders when I walked past him.
"We didn't stop," Williams continued. "I've bumped a lot of people who were trying to get on the box right away before, it just happens. If someone's trying to get on the box and you go off in a direction you can bump into people. We bumped and I didn't think anything of it. I just thought, OK, we were too close or whatever."
Williams said he walked off to the spectator area to clear his head – he had a caddie that day and did not need to go behind the teebox to retrieve his bag – and that Dollar took umbrage with Williams being in his line of sight. Dollar wanted Williams to come to the behind the tee, Williams said, and Williams simply stood still in the spectator area, thinking that not moving would be enough to allow Dollar to properly focus and throw.
"It wasn't OK for Matt, and I think at that point Matt was drawing the conclusion that I had bumped him on purpose and now I'm taking further measures to mess with him and his game," Williams said. "I think he connected the dots there, so he was just like, 'I'm not gonna have any of it, I'm only gonna be satisfied if you move all the way to the back of the box back here where the caddies are.'"
Williams said that Dollar then changed his focus to the shoulder bump, asking Williams why he contacted him in the first place.
"I was like, 'We both didn't get out of the way, it just happened,'" Williams said. "I didn't mean for it to happen, so we started a conversation instead of like, 'Hey, is it OK if I stand here?' 'No, it's not OK, you need to leave,' we started a conversation about other things. That's when Matt decided, wow, this should have never even happened, I'm issuing you a courtesy warning."
Dollar declined to discuss specifics of the incident with Ultiworld Disc Golf, but detailed his side of the story in a Facebook post Friday night. His version of the events differs slightly – he said he immediately confronted Williams about the shoulder bump, and that another player on the card issued the courtesy warning – but did say the situation ended by the time players reached the green.
Williams said the same, but admitted that the situation got a bit heated as the players argued, and that he could tell the altercation was upsetting Dollar as the hole played out.
"At that point, he was like, 'This has messed me up,'" Williams said. "He came over to me where he made a verbal threat toward me, and he got on his phone. He said he would attack me, he said he would punch my teeth out."
When asked about the verbal threat toward Williams, Dollar said he could not remember his exact words.
"I don't remember exactly what was said between us after he made physical contact with me," Dollar said. "I'm sure that I told him he better not touch me again."
Williams said he did not report Dollar's threat to the PDGA, chalking it up to emotions in the heat of the moment.
"I just figured he said that because he was mad," Williams said. "And before he even finished the hole he was already on his phone, I assume writing a complaint or sending in a complaint."
Williams said that he was later contacted by Robert Leonard, the head of the PDGA's disciplinary committee, informing him that a complaint was filed against him. (Disclosure: Leonard has previously contributed to Ultiworld Disc Golf.)
The PDGA did not respond to multiple requests for comment for this article. When word of the investigation first broke a couple weeks ago, PDGA board president Rebecca Duffy – who oversees the disciplinary committee – declined to confirm any investigation was underway, citing player privacy concerns.
After being informed he was being investigated, Williams said he then reached out to Locastro and Childs to see how everyone was feeling about the situation and to mend fences. He said those two players considered the air cleared, and Locastro corroborated that statement when contacted on Friday. Childs did not respond to a request for comment.
"Honestly, from my understanding, I think the whole thing is completely blown out of proportion, unless there is something that I'm missing that I didn't see," Locastro said. "I heard rumors about some type of chest bump or shoulder bump or something, but I never saw anything like that with my own two eyes. All I saw was a couple guys exchange some words and that's it. That's as far as it went."
After discussing the incident with Locastro and Childs, Williams said he reached out to Dollar to get his perspective on the matter.
"He was like, 'Look, I think you bumped into me and that's that,'" Williams said. "We talked about it some more, and I was like, 'Look, I don't think I bumped into you on purpose, but we definitely bumped into each other, and I'm sorry that I walked up in your way. That situation could have been avoided. Do you think that's why you issued the courtesy warning?' And he was like, 'Yeah.'"
Williams said the conversation continued toward a discussion of Dollar filing a formal complaint about the issue.
"I was like, 'Do you think it's fair, in the heat of the moment – especially after like verbally saying something verbally to me about threatening me – do you think it's fair to write a complaint further?'" Williams said. "Which he said he thought about it and contacted the PDGA to withdraw his complaint."
Dollar said that after consulting the PDGA, though, he did not end up rescinding the complaint.
"I asked what would happen if I withdrew my complaint. They said nothing would change because they had already verified my story with a handful of witnesses," Dollar said. "I did not officially withdraw it. The incident happened, and it should be documented."
Even though he did not know the complaint still stood, Williams said that he was skeptical of the PDGA's investigation into the process, especially considering the players on the card smoothed things over after the fact.
"It just seemed like when I was talking to the PDGA that they had already made their mind up before they were taking in any other information to dispute claims against me," Williams said. "And since they've carried out their punishment and I've heard retellings of what they've had to say about the situation, and it's the same perspective they've had at the beginning without taking in anything else."
As of Sunday, Williams had not formally heard from the PDGA about his suspension and only knew about it because it showed up on the discipline list. Per the PDGA's disciplinary action process, if a player is suspended he or she will be informed via certified mail. Williams is currently on the road in Vermont and has not received any other correspondence, including email.
He said he does plan to appeal the suspension and will include his communications with other players on the card the day of the incident to bolster his case.
"The only thing that I can do is send my appeal and restate my side of the story and ask questions about the whole disciplinary appeal process," Williams said. "They say that you're on probation from point A to point B, but they don't say, 'OK, these are the infractions. OK, you can't leave the state, you can't consume alcohol, you can break curfew.' They don't tell you what exactly you can't do or if anyone anywhere at any tournament can just send in a complaint. Does that merit another year and a half suspension and another 18-months' probation?"
He also took issue with the manner in which the investigation into the incident was conducted.
"There was no transparency in the process, as far as they didn't send me an email, or say 'this is what people are saying, how do you refute that?'" Williams said. "The guy [Leonard] was kind of like, 'I have a good memory, this is what people said, we have a pretty good case against you. What do you have to say?'"
Leonard declined to comment on the situation.
With Williams and Dollar both taking to social media to explain the situation, some have questioned the length of the suspension and how the PDGA came to settle on an 18-month ban. Multiple sources have told Ultiworld Disc Golf that the PDGA was investigating allegations that Williams made gun pointing gestures toward the players on his card, but Williams and Locastro denied that ever took place. Dollar, in a reply on a Facebook thread, also said that did not occur.
"They said that the three guys said they were scared to play with me," Williams said. "But then when I messaged them, Josh Childs said he hadn't talked to [the PDGA] and Nikko said he didn't say that at all."
Locastro is one of a handful of players who has pledged his support for Williams, calling on the PDGA to reassess the length of Williams' penalty.
"I feel like 18 months is way too long for someone to get kicked out of the PDGA, especially if there wasn't any violence, there wasn't any fists thrown," Locastro said. "I can see 18 months if there was a full on fist fight, but no blows were exchanged. There were some mental and verbal blows, but besides that, in my opinion, I think they're making too big of a deal about it. They're trying to set an example or make a lesson out of somebody."
Paul McBeth took an even more stringent stance, announcing on Saturday night that he would not participate in any non-major PDGA-sanctioned events until the PDGA releases a statement about its discipline of Williams.
"In no way am I condoning misconduct on the course," McBeth said. "The issue I have is when a rule is broken or a mistake is made and our governing body issues a punishment but provides no explanation to its professional members. My security as a player feels threatened. This is my livelihood, as well as many others, and we shouldn't have to wonder what may happen if we ever make a mistake."
Disc Golf Pro Tour Director Steve Dodge also chimed in on the issue in a lengthy blog post in which he offered alternatives to a suspension and offered sympathy to a player he has seen making strides to improve his behavior.
"Bearing in mind Bradley's past issues, his clear efforts at improving, his failure to control his emotions in this instance, and the fact that we now have professional disc golfers, this is a very difficult decision," Dodge said.
Even Dollar said he felt like the term of the suspension was "really steep."
"I'm a forgive and forget kind of guy. I'm never mad for long," Dollar said in his Facebook statement. "I have to assume that his massive penalty is because he was suspended 6 months last year and still on probation when this incident occurred."
Williams, though, was not expecting the PDGA to reduce his suspension.
"I don't think so. I just think that with my history you can pretty much say 'You know what? He deserves everything he gets' sort of thing," Williams said. "I don't think it's an unbiased governing body because if they take in new information there isn't like an unbiased observation of the facts for a decision. I don't see how they can't see that in a rational, minor case. I don't think it's fair that someone can just write a complaint if they're upset."
Williams did see one positive that might come from the matter.
"I would say now I have a better understanding where Matt Dollar is coming from than I ever have," Williams said. "We've definitely both apologized to each other and said good things about each other, and I think that a friendship could definitely be in process now that we can understand who we are."