Tackle tough terrain with some simple adjustments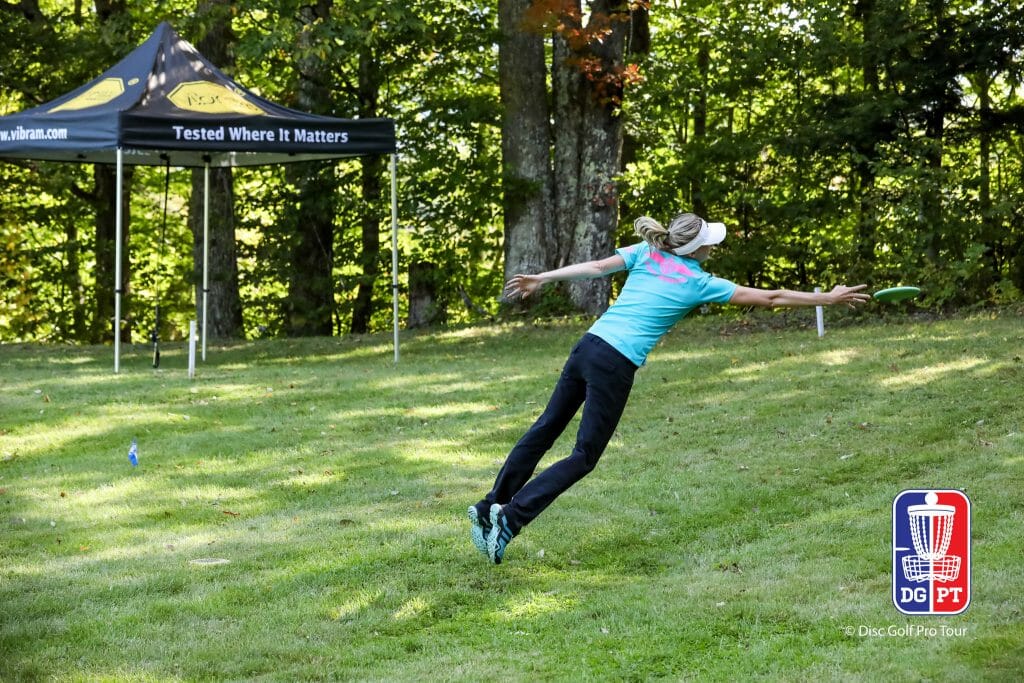 We all find ourselves off the fairway and in the rough sometimes. That's why it's important to know how to scramble and get out of tricky situations on the course. Over the next few months we'll be running a series on Utility Shots in our Tuesday Tips section, with instructional content ranging from common ways to get out of trouble to the rare and unusual. These creative throws are both a fun part of the game and a great way to lower your scores.
I don't have the best backhand touch approach game. In fact, I would say it's probably the weakest aspect of my game, by far. As a result, I find myself defaulting to forehand approaches with my putters on nearly every hole, at least when I'm playing rounds where I care about my score. Those other times, though, when a touch forehand line isn't there, I'm usually choosing a jump approach or putt.
For this installment of Utility Shots, we're going to take a look at three different kinds of putting and approaching that diverge from more standard putting styles, which we've covered before. Jump putting and approaching can give you some extra momentum from outside the 10-meter circle, and putting from a knee can help you avoid obstacles or put up better bids on severely sloped greens.
Grip
Your standard putting grip, or some type of fan grip, should be ideal for any shorter approaches or putts. Depending on the wind and terrain you're faced with, the occasional adjustment to a "power grip," or at least a tighter grip, may be warranted for longer jump approaches.
Footwork
For all three of these throws it is very important to understand the PDGA's rules about throwing from a stance and obstacles and relief if you plan on using them in a PDGA-sanctioned tournament. You must always keep a supporting point behind you lie until you release the disc. If you are outside of 10 meters, you can land in front of your lie after you've released the disc.
For jump putting and approaching it is important to square up your hips to either the basket, or the target you are approaching to on the green. When you bend at the knees and begin to move forward, make sure you transition that momentum through your body to your arm, and ultimately to the disc. Your upper body should follow your lower body as you move forward.
Arm Motion
This tip is specifically for jump putting and approaching, and plays off of some useful insight from Andrew Fish in the jump putting clinic at the end of this post. All too often, newer players who attempt to jump putt or approach are moving too quickly, especially with their upper body compared to their lower body, and their accuracy suffers (I know, I've been there too). It is important to stay smooth and controlled with your arm movements—the object of putting and approaching is to be as accurate as possible, after all—and have your upper body follow the momentum generated by your lower body.
Watch as Paul McBeth uses a controlled jumping movement on this long distance putt:
Here's Bradley Williams doing the same:
Bradley Williams Jump Approach GIF
Where To Use It On The Course
Jump approaches or putts from a knee can be very useful when you're faced with obstacles that impede more standard throws or putts.
Perhaps there is a bush or small tree on the way to the green, there isn't an option to throw around it with a hyzer or anhyzer, and you need to have the disc land flat. A jump approach where you can float the disc over the obstacle and have it land softly is a good call.
If you're faced with a steep uphill approach where you can safely give it a chance to hit chains, a jump can give you some extra momentum to get up the hill.
If you're stuck in the rough, but you could still have a look at if you just straddle out away from your lie, consider taking a knee like McBeth does here:
Maybe you've got a downhill putt with some danger behind the basket. You want to give it a run, but the more air that's under the disc, the more chance there is it could hyzer out early, or miss high and find trouble past the basket. Taking a knee for downhill putts, like Cale Leiviska does here, can keep your bid lower but still give it a chance to hit:
Which Discs To Throw
Simply using the putter you always putt with, or a designated approach putter, will work out fine for these alternate types of putting and approaching. Some circumstances, though, might warrant a slight change-up. Depending on the conditions—less windy being better—using a slightly lighter putter for longer jump putts can provide a bit more glide. If there is a lot of wind, a more stable putter comes in handy.
Additional Resources & Video
Fish shares some excellent insight into jump putting and approaching, and what it takes to do both effectively, in this short video:
Do you have any questions or tips of your own about jump putting, approaching, or putting from a knee? If so, drop them in the comments below to start the conversation.