Allen moves to second place, while Pierce fights back to stay in contention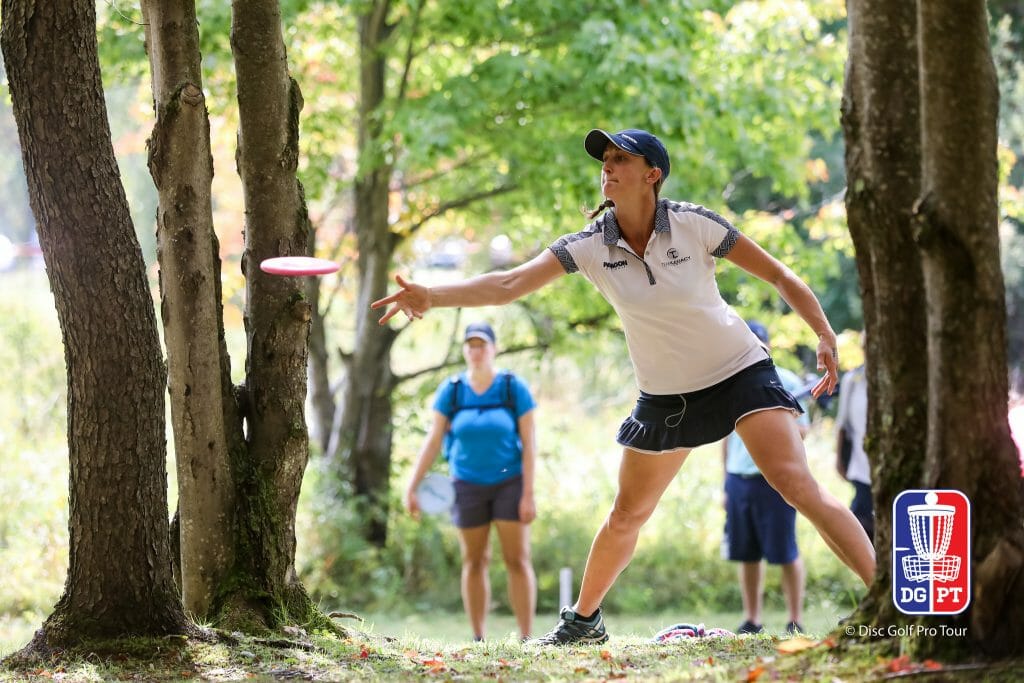 Ultiworld Disc Golf's coverage of the 2017 Green Mountain Championship is presented by Smugglers' Notch Resort; all opinions are those of the authors. With three disc golf courses on site, plus a fun zone and numerous outdoor activities, Smugglers' Notch has staked its claim as "America's Family Resort." Learn more about the facility and book your next vacation here.
Seven of 10, two times.
After Wednesday's first round at Fox Run Meadows, Sarah Hokom said she plays for par on eight of the 18 holes at that course and, as a result, realistically only has birdie opportunities on the remaining 10. She capitalized on seven of those 10 opportunities then, and seven of 10 again yesterday to solidify her place at the top of the Green Mountain Championship leaderboard.
Hokom's 3-under par 59 brought her three-round total to a 6-under par 178, while Catrina Allen matched Hokom's mark in her move to second place and is now four strokes behind with a 2-under par 182. Valarie Jenkins and Jessica Weese are tied with 1-under par 183s after Weese's 2-under par 60 score and Jenkins' 1-under par 61 effort. Paige Pierce dropped from second place to fifth after carding a 2-over par 64 round.
Hokom and Pierce each held a three and two-stroke lead, respectively, over Jenkins entering yesterday's round, but Hokom was the only of the two to start by extending her lead. She birdied the opening hole with a strong putt from 27 feet, while Pierce began what would ultimately be a roller coaster of a day with an OB tee shot that led to a bogey 5.
After three pars, Hokom hit her first snag on the 445-foot, par 3 5th that played nearly a full stroke over par for the field. Her forehand tee shot came out low as she attempted to go out over the left side OB, then got caught up in the taller grass and failed to come back into play. Hokom then missed a bogey-saving putt to drop two strokes.
The miscue did not hurt in the long run, as the rest of the lead card found trouble there as well. Pierce, like Hokom, settled for a double-bogey after her drive landed OB and her long approach slid into the pond near the green. Allen and Jenkins both missed their par putts and carded bogeys, and heading into hole 6 there was a four-way tie for second place between Pierce, Allen, Jenkins, and Weese, who had birdied hole 6 from the chase card.
While most of the lead card rebounded with birdies on the slightly uphill hole 6, Pierce found trouble again. Her turnover drive stayed too far right, never fading back toward the pin and landing between the stakes marking the OB. After measuring between the stakes with a rope, Pierce found herself just inches out of play, and her par save attempt from 35 feet splashed out weakside.
The 1,115-foot, par 5 7th loomed next, and while Hokom and Allen were able to play for safe pars, Pierce hit her deepest rut of the day. After an OB drive and two more penalty strokes on her way to the green, Pierce walked away from the most difficult hole on the course with a triple-bogey 8 to fall nine strokes behind Hokom.
Not to be deterred by the growing deficit, Pierce rallied and went on a tear through the back nine. She rattled off six straight birdies from holes 10 through 15, reaching at least 16 feet in regulation on each hole for relatively easy birdie putts. A bogey on the 560-foot, par 4 16th only briefly took the wind out of her sails, but she finished strong, hitting a 15-foot birdie putt on 18 to cap off a perfect putting performance from inside the circle.
Despite Pierce's torrid run through the back nine, she was only able to stay within six strokes Hokom, and two out of second place, as the rest of the top 5 found their own success on the back nine.
Allen almost had her own run of six straight birdies from holes 12 through 17, but a low tee shot on 15 fell short of the landing zone, resulting in an OB stroke and double-bogey 5. Weese collected three straight birdies to open the back nine, but alternating birdies and bogeys on the final four holes tempered what was otherwise the California pro's best round of the event. Jenkins finished out the back half 3-under par to keep pace.
Not to be outdone, Hokom hit four birdies through the back nine, three of which she parked under the basket—she leads the field in parked shots (%)—for easy tap-ins. But on the 655-foot, par 4 18th Hokom hit some trouble on the green. Her birdie putt from 30 feet hit the band above the chains and took a tough roll to 15 feet out. Her uphill comeback putt was high off the band again, and she finished the day with a bogey.
With the top 40 percent of the field moving on to today's final round, only 10 of 17 in the women's field get a second crack at Brewster Ridge. Des Reading was the last player to make the cut with a 19-over par 203 through three rounds, which left Erica Johnson and Katka Bodová on the outside looking in as they finished tied for 11th place with 21-over par 205s.
Six strokes separate first from fifth place, but the event still feels wide open — especially after the shake-up seen during the second round at the same course, which proved unpredictable as the wooded fairways shrunk the scoring gaps at the top of the field. The accuracy Hokom has displayed at Fox Run will have to translate to the narrower Brewster Ridge fairways for her to hold her lead, especially as two-time GMC winner Allen is on her heels. Over five rounds at Brewster Ridge the past three seasons, Allen's average round rating is 975, which is 37 points higher than Hokom's average rating over the same span.
The final round lead card of Hokom, Allen, Weese, and Jenkins tees off at 9:45 a.m. local time. Follow live scoring at UDisc Live and watch for highlights from the round during the Open lead card live broadcast at 2:30 p.m.