Fajkus climbs the leaderboard with the day's hot round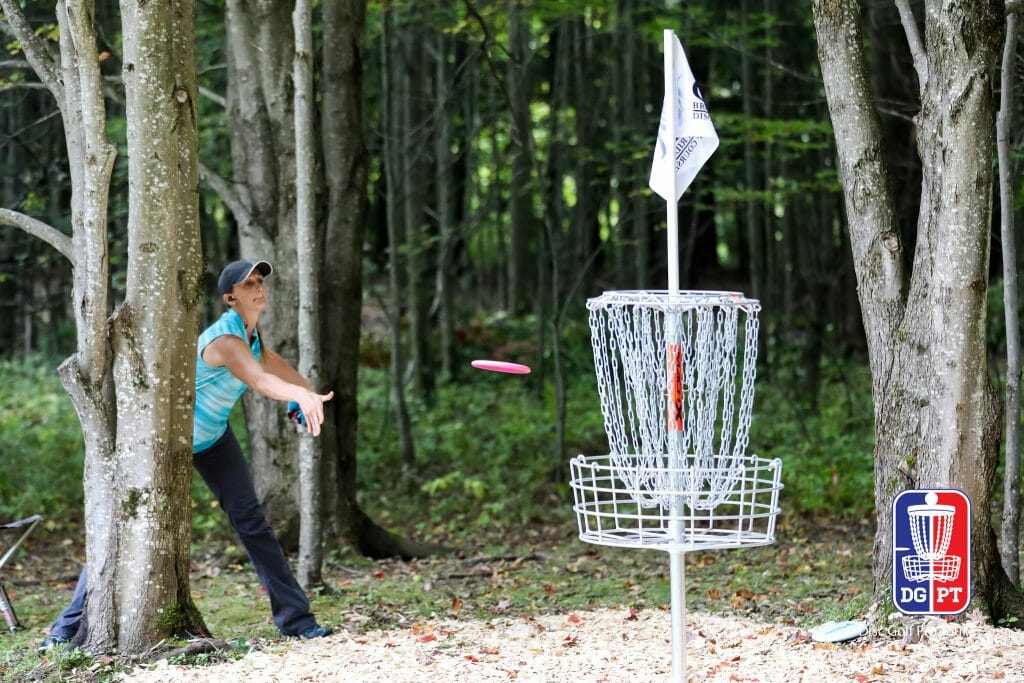 Ultiworld Disc Golf's coverage of the 2017 Green Mountain Championship is presented by Smugglers' Notch Resort; all opinions are those of the authors. With three disc golf courses on site, plus a fun zone and numerous outdoor activities, Smugglers' Notch has staked its claim as "America's Family Resort." Learn more about the facility and book your next vacation here.
The comparatively wide open spaces of the Green Mountain Championship's Fox Run Meadows course had Sarah Hokom and Paige Pierce flying high after day one, but the more wooded confines of Brewster Ridge knocked the pair back down to earth yesterday. The shake up now places Hokom in first, one stroke ahead of Pierce, as their closest competition closed the gap further down the leaderboard.
Hokom tossed a second round 2-over par 62 to bring her total to 3-under par 119, while Pierce's 4-over par 64 at Brewster Ridge pushed her to a 2-under par 120 overall. Valarie Jenkins held steady in third place after an even-par 60, while Catrina Allen and Jessica Weese matched that score to remain tied for fourth. Lisa Fajkus made the biggest move of the day, jumping up four spots and into a sixth place tie after her 1-under par 59 hot round.
Both Hokom and Pierce were in trouble early, as each carded two bogeys within the first six holes. Hokom's first came due to an out-of-bounds penalty stroke on hole 2, and her next after two-putting on hole 4. Pierce also found difficulty on the 575-foot par 4, with her tee shot hitting an early tree and kicking left. Her only option was a short pitch back out to the fairway to play for bogey, with at least 450 feet of wooded fairway still left to the pin. Then on hole 6, which plays as the easiest on the course, Pierce's tee shot was too high, hitting the low ceiling gap and kicking straight down and out-of-bounds.
While the leading pair improved slightly on the middle third of the course, there were still hiccups. Hokom took bogeys on holes 8 and 9 after again two-putting, and Pierce also struggled on the green: After her own two-putt on hole 9 found her settling for par, her birdie bid from 45 feet on the 410-foot 10th caught a tree and fell to the circle's edge. From there she missed her par putt and scrawled her third bogey on the scorecard.
More adversity was in store for Pierce on 615-foot 11th, as her drive turned over right and found the woods. After a quality recovery shot back to the fairway, her next attempt hit yet another tree. Once she finally made it to circle 1, she needed three putts to hole out and take a triple bogey 7.
The big number allowed Hokom to tie Pierce, and the two traded birdies on hole 12 to keep the score knotted up. Hokom broke the stalemate on hole 13 after an excellent forehand approach shot skipped and slid up the hill of the 555-foot par 4, leaving her with a 15-foot birdie putt. She collected pars the rest of the way to retain the lead, while Pierce traded bogeys and birdies to remain in striking distance.
Fajkus rode a hot putter at Brewster Ridge, hitting 93 percent of her putts from inside the circle and connecting three times from circle 2. The performance gave Fajkus the best combined birdie and par percentage in the field, and she tossed in a highlight-worthy par save from 100 feet on the elevated basket at hole 6.
The same lead card of Hokom, Pierce, Jenkins, and Allen tee off at 9:30 a.m. local time back at Fox Run Meadows for today's third round. Real-time scoring and statistics can be accessed at UDisc Live, and highlights from the round can be seen during the Open lead card live broadcast at 2:30 p.m.