Hokom also crests four digits to land in second place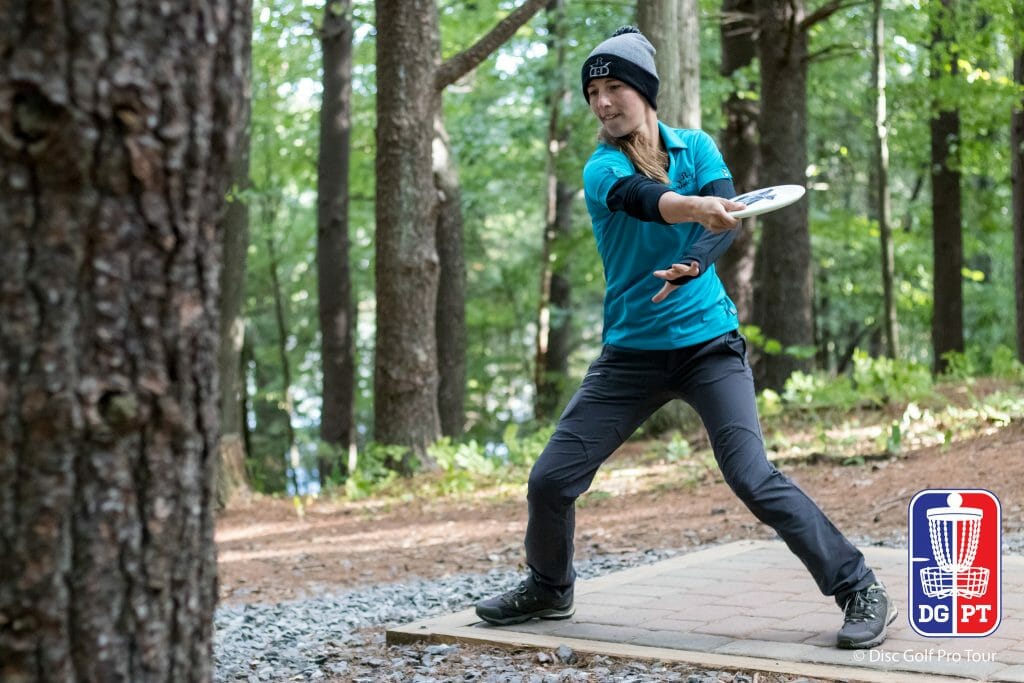 Ultiworld Disc Golf's coverage of the 2017 Green Mountain Championship is presented by Smugglers' Notch Resort; all opinions are those of the authors. With three disc golf courses on site, plus a fun zone and numerous outdoor activities, Smugglers' Notch has staked its claim as "America's Family Resort." Learn more about the facility and book your next vacation here.
Another tournament, another round rated over 1000 for Paige Pierce.
The Texas native's 1011-rated first round at the Green Mountain Championship's Fox Run Meadows course was her 18th performance to break four digits this season, and it gave her an early one-shot lead. But she wasn't the only one to cross that vaunted threshold, as Sarah Hokom posted a 1003-rated round of her own.
Pierce racked up nine birdies en route to a stellar 6-under par 56 performance, while Hokom posted seven birdies and one double bogey to finish with a 5-under par 57. Valarie Jenkins birdied the final hole of the day to finish out at an even-par 62 in third place, while Catrina Allen and Jessica Weese are both tied for fourth place with 1-over par 63s after an up-and-down first day.
Both Pierce and Hokom started off on the right foot, as the pair carded birdies on hole 1, a 600-foot par 4 that played as the third most difficult on the day. Hokom parked the next hole for birdie, while Pierce settled for a par.
Their hot starts didn't last long, though. Pierce struggled on the green over the next three holes, three-putting for bogey on hole 3 and missing a birdie putt on 4. Both Pierce and Hokom carded double-bogeys on the downhill, OB-laden hole 5, which played as the second most difficult hole for the field. The putt that Hokom missed on that hole was her only miscue inside the circle on the day.
Both players, though, rebounded quickly. Pierce birdied six of the next seven holes, including a run of five in a row from holes 8 through 12, while Hokom went on a streak of her own after the missed putt gave her some added motivation. She harnessed impressive accuracy to snag four birdies in five holes from 9 through 13, parking three of those four for easy tap-ins.
"It did kind of fire me up when I missed those two, to have missed opportunities, but that happens," Hokom said. "I play for par on eight of the 18 holes out there, and I pretty much played 14 of the 18 holes out there the best that I could. I can only get 10 birdies out there and I got seven, so it's a mix of birdie opportunities."
Pierce collected two more birdies down the stretch, finishing out the day with an impressive 3 on the 655-foot 18th after putting her approach directly under the basket. She led the field in a number of statistical categories at Fox Run, including fairway hits and reaching circle 1 and circle 2 in regulation.
While Pierce's distance accuracy was on display, Hokom leaned on a 94 percent circle 1 putting rate and a field-leading scramble rate of 88 percent. Four of her seven successful scrambles resulted in drop-in pars over the final five holes, and Hokom was putting for par or birdie from inside 16 feet on 13 of the 18 holes yesterday.
Further down the leaderboard, Des Reading and Melody Waibel are tied for sixth place after their 4-over par 66s. Zoe Andyke and Hannah Leatherman are knotted up in eighth place with 5-over par 67s, while Lisa Fajkus and Vanessa Van Dyken round out the top 10 at 6-over par.
While one might assume that the wooded confines of the GMC's Brewster Ridge course, which hosts today's round, requires the most accuracy of the two tracks, Hokom explained that Fox Run requires its own unique precision.
"I think the difference at Fox Run is it plays more technical than people realize, especially when there's a little wind because there's OB on literally every hole," Hokom said. "So if you get greedy and think you can just flex your big distance driver up the fairway and expect it to be in bounds every time, then getting greedy is going to cost you. That's pretty much why I'm playing for par on a lot of the holes there. I think experience plays a little bit to that, too. You have to play the safer shot sometimes."
That experience paid off for Hokom, who said that, when the schedule for the event was released weeks ago, she was actually wary of playing two rounds at Fox Run before the cut given that her game is more tailored to Brewster Ridge.
"I want to make sure I make the cut, and this field is super deep with great players," Hokom said. "I think 12 of the 18 players are all players who have beat me this year. I have to play good to even make the cut, but turns out I played well at Fox Run."
Those worries melted away after Hokom spent last night playing laser tag and relaxing at Smugglers' Notch Resort. Now, she's ready to take on the challenges that Brewster will throw at her.
"I'm looking forward to it. I had a really good practice round out there," Hokom said. "I've gotten into a lot of trouble on that course in past years, even though I thought it would be the one that set up for my game better. I'm heading into it as positive as I can and making sure I do my best to get off the tee and make good choices up the fairway."
The lead card of Pierce, Hokom, Jenkins and Allen tee off at 9:30 a.m. local time. Follow along with live scoring for the group and the rest of the Open Women's field at UDisc Live, and watch for footage of the lead card to be interspersed throughout the live broadcast of the Open lead card at 2:30 p.m.